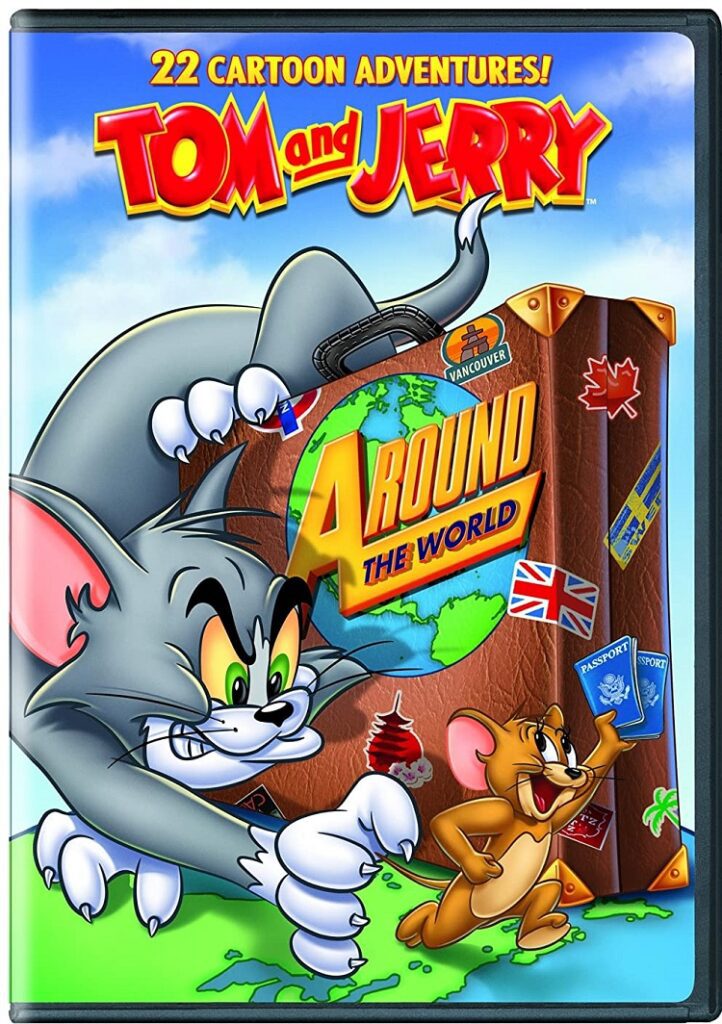 In all the world of home media, there is perhaps nothing as dreaded as the proverbial "best of" compilation — especially when it comes to cartoons. Instead of just releasing television shows or theatrical shorts in their original, unedited chronological order, some distributors insist on tossing a group of items together onto a single disc and calling it good. The latest assemblage of animation to hit the shelves of video stores near and far is something called Tom and Jerry: Around the World, and brings us nearly three hours of hijinks from the classic cat and mouse pairing.
Unfortunately, this particular collection is a real bust: the single-disc release houses 22 shorts from the franchise's earlier days in cinemas to its newer incarnations that were produced for TV. And it's those latter offerings that really hamper Tom and Jerry: Around the World. Out of the 22 shorts, only six of 'em are from the glorious MGM animators (the ones I grew up watching on television), while the remaining 16 are absolutely awful cartoons made in the mid-to-late 2000s by people who apparently just didn't "get" what the original 'toons were all about.
Boasting titles such as "Abracadumb," "Invasion of the Body Slammers," "Kangadoofus," and "Din-O-Sores," these modern abominations were manufactured for the Kids WB! series Tom and Jerry Tales. None of the charm present in the classic Fred Quimby-produced cartoons can be found in these newer shorts, and find Tom and Jerry in the most precarious of situations — on a prehistoric island, encountering menacing beings from other worlds, and so forth. Not only are they weird and brainless (even by Tom and Jerry standards) , but there's just something altogether uncomfortable about them as well.
Like many "best of" anthologies, there is little rhyme or reason to be found in Tom and Jerry: Around the World, other than the fact that some of these selections occur in scattered parts of the globe (hell, one doesn't even take place on the Earth!). There's no order in this set, either: the position of the vintage theatrical shorts is just as scattered as the various locales our stories occur in. All but one of the selections are shown in 1.33:1, while the classic "Royal Cat Nap" is shown in its original 2.35:1 widescreen aspect ratio. Sound-wise, the newer ones have Dolby Surround audio, while the older ones are in mono. Several alternate audio options are also available, as are a variety of subtitles. The only special features consist of trailers for other Warner animated titles.
While I've never been the world's biggest Tom and Jerry fan, I can still recall sitting in front of the television set in the mornings before going to grade school, and I have to say that they tend to bring about a sense of nostalgia for me. As such, these newer, inferior tales tend to repulse me — and probably will with other longtime admirers as well. In any case, the most upsetting thing here is that this is just another "best of" DVD release: something with no real meat on its bones at all. And that just does not make this particular tomcat happy.
Skip it.