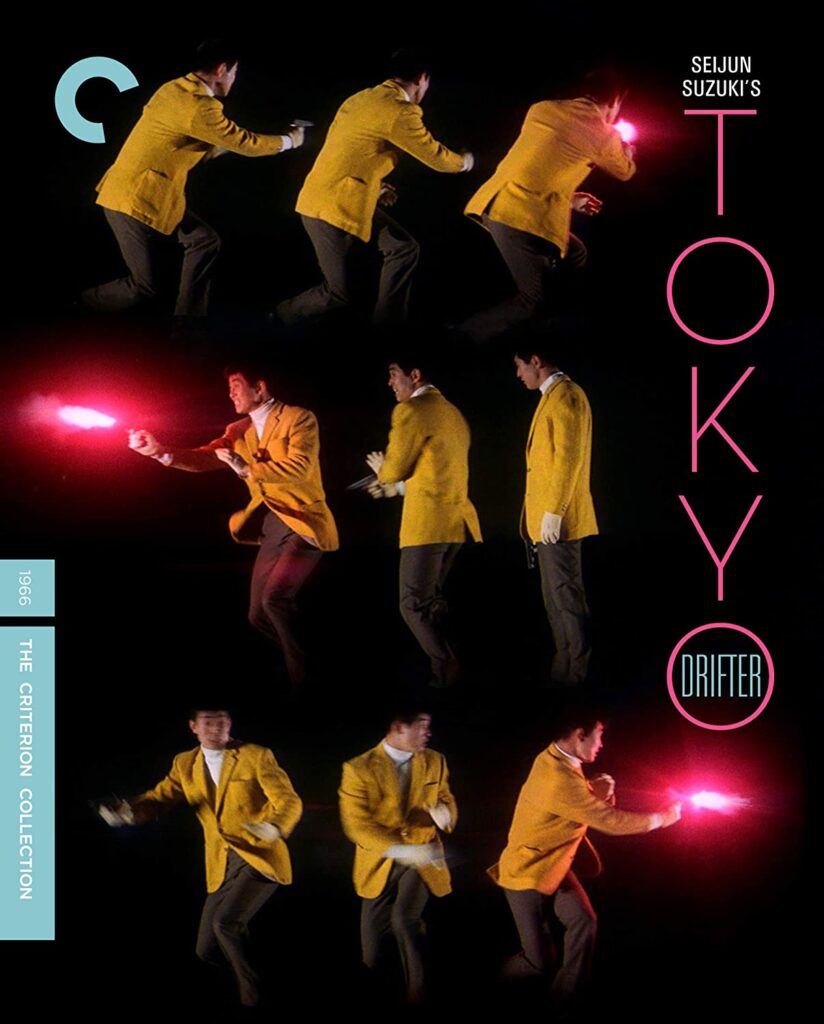 Iconic director Seijun Suzuki's film isn't very impressive from a story standpoint, but is packed with wall-to-colorful-wall visual flair. It's '60s Japanese pop culture in all its glory, arising from a pop song of the time, featuring a lead performance by a studio-mandated pop idol, and most importantly completely awash in Suzuki's vibrant and imaginatively staged scenes that giddily favor flash over logic.
Ostensibly a yakuza action drama, the film follows a talented and supposedly reformed hitman named "Phoenix" Tetsu as he drifts around Tokyo in an attempt to avoid death at the hands of rival gangs. His yakuza boss, Kurata, has attempted to go legit, leaving Tetsu open to recruitment by rival boss Otsuka, but when he rebuffs the offer and the bosses team up, he finds himself on the run from everyone. Good thing he's so supernaturally talented, as he's able to mount a viable offensive against those who wronged him, leading to a massive body count as the film winds down. So not a very original or imaginative story, but you really shouldn't be watching this film for its story anyway.
Suzuki didn't have much budget for the film, so made incredibly creative use of color and camera blocking on his studio soundstage to repurpose plain white sets into a myriad of creative combinations. Costumes tended to match too, so for instance if a set was lit light blue, the color motif would carry over to props and a yakuza thug dressed in a light blue suit as well. The Tetsu character typically favors completely white suits, reinforcing his role as the hero as well as his uncanny ability to keep those suits clean in spite of the blood and mayhem exploding around him. Even the action scenes are highly staged, with Suzuki more concerned with creating memorable images such as two immaculately attired yakuza facing each other at extremely close range gunpoint across a completely bare room rather than retaining any realism like props for cover or ambient grime of any kind. By the time the film was over, I was already forgetting its story, but its surreal, lush staging lingered long after the fade to black.
With visual imagery such an integral component of the film, Criterion's restoration and transfer to hi-def Blu-ray provides a top-notch experience. The colors pop and the image quality is remarkably clean, seemingly scoured of most imperfections. Sound is nothing special, although the Blu features uncompressed monaural soundtrack. The Blu-ray is light on special features, containing only an interview with Suzuki conducted in 1997 along with a new interview with Suzuki and assistant director Masami Kuzuu filmed this year exclusively for this release. Both interviews shed light on the restrictions placed on Suzuki and his production as well as the innovation needed to realize his vision.