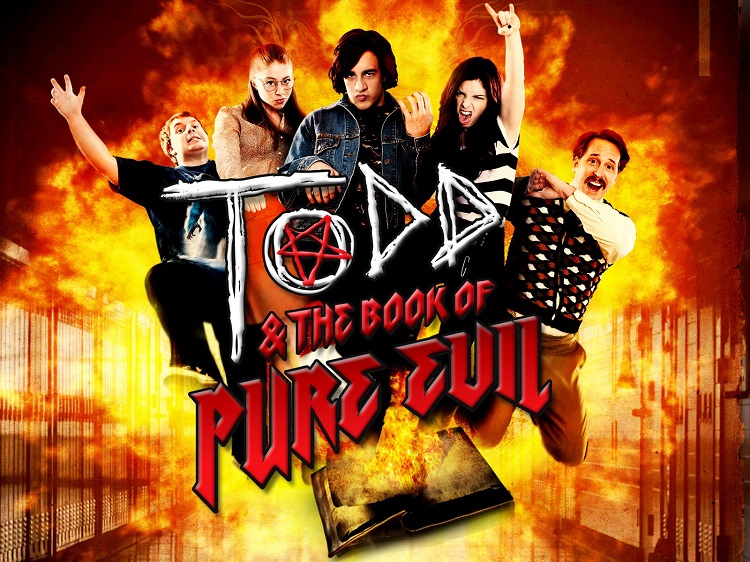 A group of high school outcasts battles supernatural beasties and their dastardly principal. Oh, and there's a musical episode. Nope, not Buffy the Vampire Slayer, but the further shenanigans of this deliciously entertaining Canadian import. With tongue planted firmly in cheek, Todd and his buds balance bawdy comedy with gory horror, resulting in a show that is most definitely not for kids but pure heaven for genre aficionados.
Todd is a typical slacker metal fan, far more interested in hitting the sheets than hitting the books. The mysterious Book of Evil is still terrorizing his school, flitting around like a demonic hummingbird and granting its readers supernatural powers that usually end up very badly for them. Todd learned last season that he's a chosen one with great latent powers, but continues his search this season to figure out if he's chosen for good or evil.
Meanwhile, he's ably abetted by his collective of friends: best friend and fellow slacker Curtis (now with cyber hand!), nerdy Hannah, and the pretty object of his affection, Jenny. Occasionally, stoner role model Jimmy (Jason Mewes) drops in to offer janitorial assistance, while deranged principal Atticus continues his quest to unlock the secrets of the Book for his own evil benefit.
Like the first season, the typical setup for each episode is that the Book curses a student, student morphs into an evil beast of some sort, and the crew battles it to the death while simultaneously trying to keep Atticus at bay. Sounds like it could get stale, but within that simple premise lies all manner of genre-bending comedy and ongoing mythology that fully reward avid viewers. Also, the musical episode this season is once again side-splittingly hilarious, with outlandish lyrics and situations that make it an instant classic and worthy of many repeat viewings. While it won't ever reach the heights of Buffy's musical episode due to the show's admittedly much smaller fan base, it's worthy of its own singalongs as well.
This season finds the show firing on all cylinders creatively, with well-balanced and gelled cast members that play off each other's strengths, inventive writing that isn't afraid to go over the top with its outrageous plots, and perfect production design that piles on the gore while retaining a decidedly lo-fi approach that keeps it from being too serious. The biggest letdown: the knowledge that the show is now cancelled, all the more baffling when you see this strongly entertaining season.
As a farewell note to the fans, the DVD set excels with a generous assortment of bonus features, including a blooper reel, deleted and extended scenes, a look at the show's special effects, a behind the scenes featurette, a funny "In Memorium" to the many fallen students of the deadly high school, and audio commentaries with cast and crew on three of the episodes.