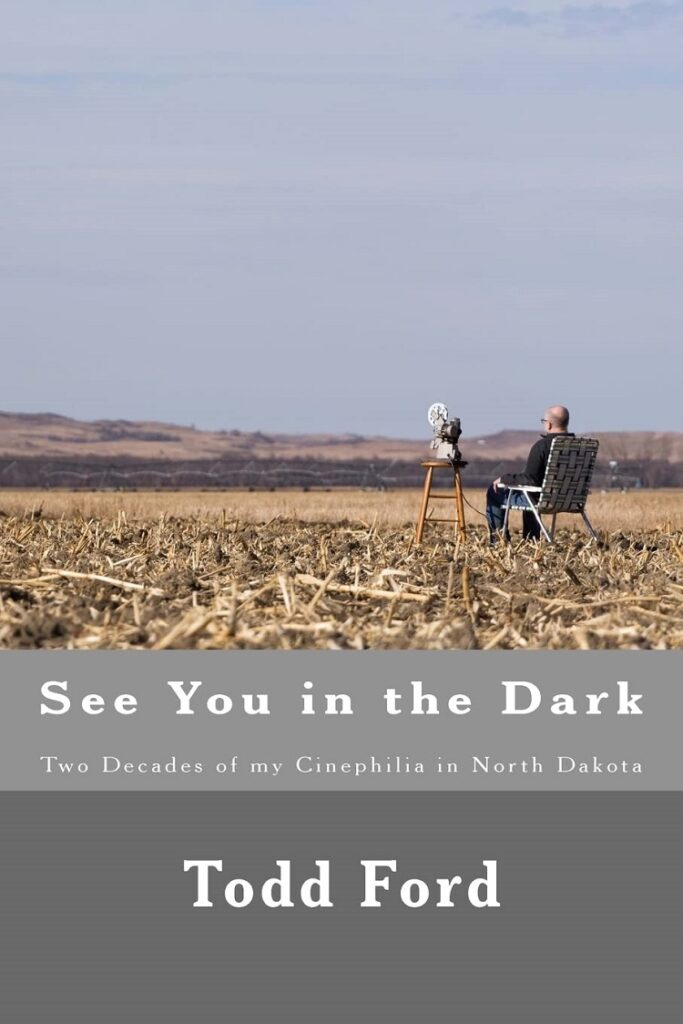 Todd Ford is a web developer by day and a film fanatic by night. He has been writing film reviews and articles for various publications since 1994 and is a curator for the Cinema 100 Film Society of Bismarck, North Dakota. See You in the Dark presents a selection of his reviews from the past two decades and reveals where his passion for film has taken him during that time.
Can you give a little bio to introduce yourself to readers?
I grew up in Southern California to parents who had little interest in the arts and were frankly terrified of the whole hippie counter culture of the sixties. So I was locked up in the house and didn't get out to movies much. I do vividly remember the first time I was set loose with friends to see a movie. It was Willy Wonka and the Chocolate Factory. The boat ride terrified me. I loved it.
I got a surge of movie going activity starting at age 15 when my parents divorced and my dad needed some reason to stay in touch. In a short span of time, I saw more movies with him that in my entire life previously including Star Wars, Close Encounters of the Third Kind, 1941, and All That Jazz. I remember being pissed off that Annie Hall (which I hadn't heard of) beat Star Wars at the Oscars, but a year later, while listening to two classmates passionately debate whether Robert De Niro or Jon Voight should win Best Actor, I started to suspect there was a lot more to movies than I'd thus far realized.
Then attending college changed everything.
In your intro, you state the Intro to Film class at UCSB is what changed you from blockbuster watcher to cinephiliac, from learning about the use of symbolism to watching a Stan Brakhage film that had a profound effect on you. Did you find a similar change in the way you appreciated other art forms?
I approached college in the same way that I've encouraged my two daughters to do so: I kept my mind open to all the new things I could experience. And the arts were certainly a big part of this.
Before I even took a film studies course, I took music appreciation. Prior to college, music for me was whatever was playing on the AM clock radio that woke me up each morning and the scarce few albums my dad owned. To give you an idea of the sort of musical hell I was escaping, when I was 16, my dad's favorite album was the soundtrack to the 1978 film Sgt. Pepper's Lonely Hearts Club Band.
My professor for music appreciation defined music in a tantalizingly open way: "organized sound." It set me up to accept and enjoy such things as the experimental works of John Cage, Ornette Coleman's Free Jazz, and an album like Weasel's Ripped My Flesh by The Mothers of Invention where a song might consist of the various band members laughing.
This all segued quite naturally into my early experiences with cinephilia. None of my classmates were remotely ready to accept a film like Deus Ex by Stan Brakhage. There was lots of grumbling while it was screened during a film studies class. I, on the other hand, felt somehow chemically altered by the experience. I realized that—as I'd learned with music—the boundaries of cinema were unlimited.
My other most transformative movie experience at the time was Jeanne Dielman, 23, Quai du Commerce, 1080 Bruxelles. The house went from a sold-out crowd of about 300 to a small smattering of us who thought it was as exciting and suspenseful in its own way as Raiders of the Lost Ark.
You went on to live in Seattle, before finally relocating in ND, not known for being a Mecca for film aficionados, where you have resided for years. What were the options then for a North Dakotan cinephiliac?
I arrived in North Dakota in 1994 after being laid-off by the Boeing Co. I'm a mechanical engineer by education. North Dakota is where my wife was raised and where she'd always dreamed of raising a family. I was frightened about moving to the state though. Seattle truly was a Mecca for film buffs. Bismarck was blockbusters only, almost.
My brother-in-law—knowing my concerns—sent me an article from The Bismarck Tribune advertising a film series by the non-profit organization The Cinema 100 Film Society. They were in the midst of a series of American indie, foreign, and classic films that was going to wrap up just before we arrived, but the article included a contact name and phone number. My first phone call once phone service in our apartment was set up was to that number and that man, Arnie Lahren, an English professor at Bismarck State College and president of the film society.
We had a long talk and he invited me to join them for future meetings. I breathed a sigh of relief. I wasn't going to be the only cinephile in North Dakota after all. In fact, I was soon surrounded by a group of film lovers who matched my passion stride for stride. I've been active in the organization ever since. It's been my lifeline.
The book's reviews are organized chronologically, in an order I assume they were written, grouped into chapters of the outlets they appeared, from alt-weeklies to the Internet. Other than putting forward what you likely consider your best work, were there any other considerations in what you have included here?
The reviews are indeed included in the order they were written and grouped by the outlets where they appeared. There is some overlap of the sections though. I was writing weekly reviews for The Bismarck Tribune, weekly promotional articles for Cinema 100, which also appeared in The Bismarck Tribune, and monthly reviews/essays for The Prairie Independent all at the same time for a few years.
I've included maybe 40% of the pieces I wrote over the 18 years chronicled by the book and they were certainly chosen because they are my favorites. Some were also favorites by others. My review of Knocked Up was used by a local English professor in his class as an example of how to write a work of criticism. My extended take on A.I. Artificial Intelligence caused a minister from Tennessee to email me and ask permission to print out copies for his evening adult Bible studies class.
I also used two other criteria while whittling down the stack of reviews to a manageable number: I chose to emphasize pieces where I felt I had succeeded in saying something about the film that no other reviewer had—such as comparing Natural Born Killers to Full Metal Jacket, Dazed and Confused to The Texas Chainsaw Massacre, and The Red Shoes to vampire movies—and I cut most of my harshest pans. I don't think I've ever been very good at ripping a film to shreds. I tend to become insufferably snarky.
What was one of the pans?
My harshest pan was Ridley Scott's Robin Hood. I considered it dreadfully dull and I wrote that the only redeeming thing was its lively animated end credit sequence which retold the entire story in a few minutes. I cut it because I felt I owed it a second viewing because I've enjoyed many other Scott films, but that would've meant sitting through it again…
Some older selections are mixed in with what were current releases. Did you find your opinion/assessment change upon revisiting any films watched with a reviewer's eye?
The majority of the reviews are of current movies showing in Bismarck and the titles suggest that it's very much a blockbuster- oriented town. The older titles are either classics screened by Cinema 100 or films I chose to write about for The Prairie Independent, which let me write about pretty much anything I wanted.
With these older films, I don't think my assessments changed much while revisiting the film, but finally seeing the film with an audience had disconcerting effects at times. I've long enjoyed John Ford's 3 Godfathers, but watching it along with a group of adults from my church and gauging their restless and eye-rolling reactions prompted me to write my piece about the film. I wrote about two related favorites—All That Heaven Allows and Ali: Fear Eats the Soul—as a pair. Later, I watched them with similarly unimpressed Cinema 100 crowds and was prompted to write my discouraged commentary that accompanies the review.
I've woven similar commentary throughout the book, prefacing every review with recent thoughts about what I'd written. I've left the reviews exactly as I wrote them as much as 20 years ago and I explain how my thoughts have changed as if the current me is visiting the old me in a time machine. For the movie Up, I wrote a whole new interpretation of the movie that's longer than my original review.
Of the reviews in the book, which films do you find yourself in disagreement with popular assessment? If any, what either worked or didn't work for you?
It cuts both ways. I sometimes suspect myself of relishing the role of contrarian, just a bit. I've included reviews of Gummo (which I like more every time I watch it) and Mission to Mars (which I consider a spiritual sequel to Brian De Palma's Carrie). I also included a piece where I took a few moments to echo Robin Wood's praise of Heaven's Gate (another film I appreciate more with each new viewing).
On the other hand, I've always been highly suspicious of Michael Moore's approach to documentary filmmaking. I'm quite left-wing and sympathetic to his aims, but I've always been irritated by his loose, even sloppy, trammeling of facts. Why give his opposition such easy excuses to dismiss and deride the films?
Quentin Tarantino has been an odd case for me. I've included three reviews of his films—Pulp Fiction, Grindhouse, and Inglourious Basterds—and in every case I was initially underwhelmed. Over time though, I've come to greatly admire all three, especially Basterds. I find them all to be such big, colorful, ballsy works that carve out a unique alternate universe.
What other reviewers do you enjoy reading?
Like many, my ideas of what a film critic was were formed by watching Siskel and Ebert and I own and often re-read a number of Roger Ebert's anthologies. I admire Pauline Kael's rather personal reflections on her viewing experiences and have always considered her to be a hero for her early celebration of Nashville, one of the greatest films I've ever seen.
As far as critical voices go, though, I'm by far the most influenced and affected by the work of the late Robin Wood. By drawing deeply upon his personal experience and ideology, he saw films in ways that nobody else did—or even could.
I spend a fair amount of time now surfing through reviews on Rotten Tomatoes and I find it saddening that so many reviews for a film, such as the recent Boyhood, seem to be saying exactly the same thing. I've always thought why bother writing about a film if you don't have something fresh and unique to say about it?
What films are your favorites so far for 2014?
"Films for 2014 in Bismarck" means a number of things. It means finally catching up with Oscar nominees from 2013. Out of those, my favorites were far and away Nebraska and Her. It means watching films I help select for Cinema 100. These highlights for the year were Touki Bouki, Frances Ha, and Tokyo Story. Finally, and what I'm sure you really meant, the new films for 2014 that I've most enjoyed have been The Grand Budapest Hotel (Anderson's most ambitious vision yet) and Boyhood. If there was ever a film made for me and about me, it's Boyhood. I loved every second. I'd love to have a few beers with Richard Linklater someday and compare notes about life.
Where can the book be purchased?
The book is available at Amazon.com in paperback and for the Kindle.