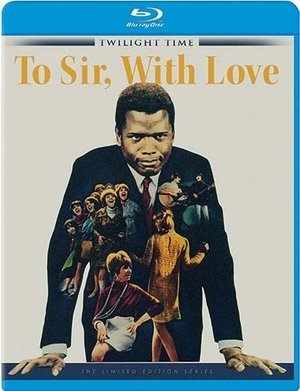 By today's standards, the classic movie motif of a determined teacher reaching a group of tough, underprivileged kids in an urban school is hardly anything new. Granted, it isn't commonly seen in cinematic outings as much as it used to be, as evidenced by viral Facebook videos of inner-city youths finding out firsthand the perils of applying a fully functional taser to an article of golden jewelry (or "bling", as I believe they call it). Indeed, were Sidney Poitier's Mark Thackeray – or even Mr. Wizard, for that matter – around in this day and age to teach kids a few instances of common sense (or blind them with science), I dare say this world just might be a slightly better place.
Alas, we may only visit the true Mark Thackeray via the classics. First, we have the original 1959 literary classic by E.R. Braithwaite, To Sir, With Love, which was a semi-autobiographical account of his own teaching experiences. Then there's the motion picture adaptation with the aforementioned Mr. Poitier from 1967. The latter even earned a mostly-unrelated TV version in 1974 (with Detroit 9000 star Hari Rhodes), as well as a direct TV-movie sequel in 1996, which very few people read about beforehand, saw, or ultimately remember. And I'm pretty darn sure there was at least one uncredited, highly-bastardized adaptation from Asia or Latin America cranked out at some point, as well.
And then there's a loving SCTV episode from 1982, "Teacher's Pet" – including a faux film with Eugene Levy playing the lead as Ricardo Montalban (complete with the white Fantasy Island suit!) and guest star Bob Geldof as the rebellious kid with whom our hero has the most difficulty reaching. Of course, if you can't get the SCTV parody (which was so spot-on, that it actually ceased to be a spoof entirely, and instead morphed into a genuinely loving homage), the original comes highly recommended. In fact, it will only make you appreciate the SCTV version that much more. And, if you're not careful, you might learn to appreciate To Sir, with Love for its own, unforgettable merits.
Here, the great Sidney Poitier assumes the role of Mark Thackeray, an unemployed engineer originally from British Guiana, who moves the East End of London after a brief stint in California (which probably wasn't as much of a prison then as it seems to be today). Unable to land a position in his preferred profession, Mr. Thackeray takes on a teaching job ("Those who can't," after all'), only to wind up with an unruly room full of delinquents and rejects who had sent their previous professor to seek out his pension prematurely. Thackeray, on the other hand, isn't about to sit still for this sort of insubordination, and following a distasteful prank that would be right at home in an E.L. James book, decides to treat the kids as that which they already misperceive themselves to be: adults. And thus begins a most sincere, highly admirable work of human drama.
Christian Roberts co-stars as Denham, the toughest nut of the lot to crack. Judy Geeson is the young class hottie who has a crush on "Sir" (as Thackeray orders them to address him as), whose beautiful innocence has met thinking of an entirely different kind of nut (note: this is why I am not a teacher, folks). British Singer Lulu makes her film debut here, belting out movie's hit single theme song (with assistance from The Mindbenders), as well another track just to make sure the B-side was filled up. Speaking of B-sides, fans of B movies will no doubt recognize the aforementioned Ms. Geeson from John Wayne's failed attempt at becoming Dirty Harry in Brannigan, as well as the much more debaucherous, sleazy sci-fi/horror offering, Inseminoid.
Further cult-movie connections (look, I cater to a wide audience here, all right?) can be found in co-stars Suzy Kendall – who plays Sidney Poitier's potential love interest here – was one of the founding scream queens of the Italian giallo, appearing in Dario Argento's The Bird with the Crystal Plumage and Sergio Martino's Torso, as well as numerous British-made thrillers featuring heavy doses of sex and violence, such as the anthology horror flick, Tales That Witness Madness. Another future anthology horror alumnus, Geoffrey Bayldon – whose mere presence in any feature will have me jumping up and down with glee, thanks mostly in part for his epic role as the orderly in Asylum – plays a grumpy, disgruntled, and slightly xenophobic teacher here.
First released in 1967, the British-made To Sir, with Love quickly rose to school every other film in the auditorium – including at least one other, similarly-themed production – to become the highest grossing film of the year for the United States box office. And nearly fifty years later, To Sir, with Love has not lost a single ounce of its heart, spirit, or soul. Or its impact, for that matter. And the fact that Twilight Time have added this important lesson to their roster is praiseworthy indeed. Add a wonderful 1080p/AVC-encoded transfer of the feature presentation that is genuinely at the head of the class and a clear and concise DTS-HD MA Mono soundtrack with optional English (SDH) subtitles, and you've already got a winner on your hands.
But it doesn't stop there. While Twilight Time includes their usual isolated score (in DTS-HD MA 2.0) and theatrical trailer as a bonus item, this Limited Edition Blu-ray release also hosts a venerable assortment of newly-produced special features, all of which are new to home video to the best of my knowledge. First off, there's an informative audio commentary with Judy Geeson, who is joined by Twilight Time's Nick Redman and Julie Kirgo. A second audio commentary by none other than E.R. Braithwaite, along with teacher/author Salome Thomas-EL, discuss the more real life aspects of the story's source, as well as the world of teaching in general.
And that's still not it, ladies and gentlemen. Further bonus materials include a featurette with Mr. Braithwaite, "E.R. Braithwaite: In His Own Words", an interview with the film's famous singer co-star ("Lulu and the B-Side"), a look back on the world of "Miniskirts, Blue Jeans, and Pop Music" of '60s London, an ode to Mr. Poitier entitled "To Sidney With Love from Marty Baum", and another contribution from Salome Thomas-EL, "Principal EL: He Chose to Stay" that focuses on educating the underprivileged (just to save them from tasing themselves on video for all the world to see, laugh at, and then feel guilty for not feeling guilty, if nothing else). Sadly, the 1996 made-for-television sequel, To Sir, with Love II is not included (although, again, it's not like anyone knows the movie even exists).
Another fine essay by Ms. Julie Kirgo conclude this highly recommended Twilight Time release, which is limited to 3,000 copies.