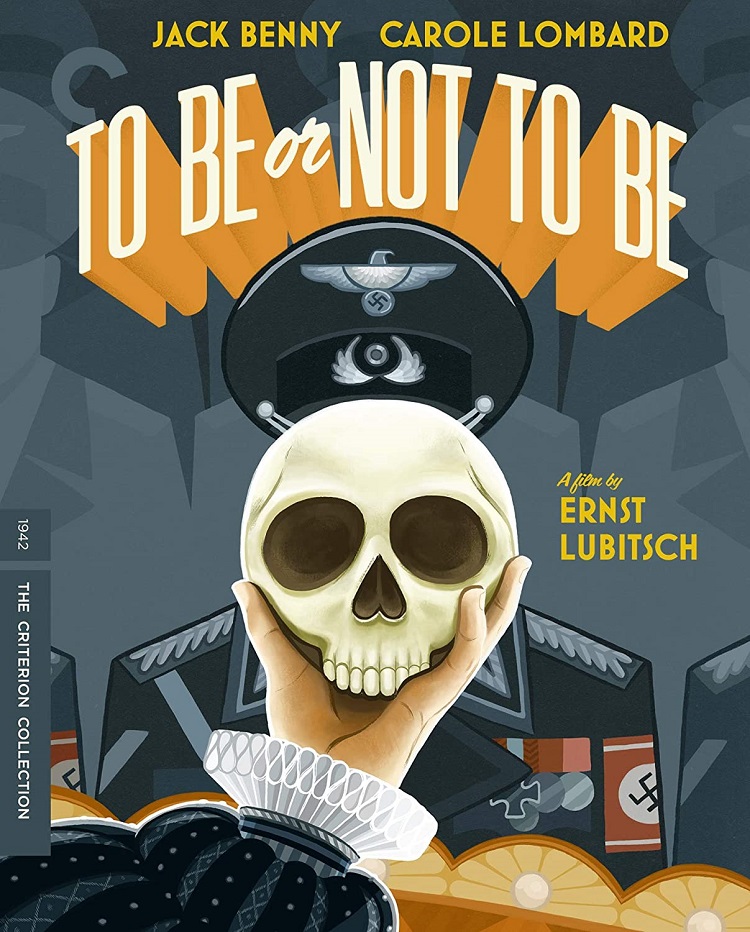 Written by Kristen Lopez
In 1942, the U.S. hadn't entered World War II and audiences were unaware of the horrific monster that Adolf Hitler would be identified as. Director Ernst Lubitsch was aware of the chaos going on in Europe and documented it – while still remaining comic and romantic – in his play within a play (or in this case film), To Be or Not to Be. Upon release it was a failure (only getting an Academy Award nomination for Best Music…seriously?), and only now has it come to be identified as a slice of life for the Europeans while opening up American audiences' eyes through humor and heart. It would be ridiculous for the Criterion Collection to avoid giving this the full Blu-ray treatment and thankfully they've created magic once again. The bonus features are well-done – especially the illustrated booklet – but for me, personally, the movie was the true stunner.
Set in Nazi-occupied Poland, a theater troupe finds their latest play – a satirical attack and exploration of the Gestapo and the Fuehrer – censored and themselves out of a job. When the play's leading lady, Maria Tura (Carole Lombard) becomes embroiled in a love triangle with her husband (Jack Benny) and a young aviator (Robert Stack), they all end up bound together in a plot to overthrow Germans while gaining a chance for one final performance.
There are several moments throughout To Be or Not to Be where you're mouth is agape at the sheer daring of Lubitsch and company; not just telling this darkly comic tale about the then current political situation, but also the pointed sexual innuendo during a time of staunch conformity to the Hollywood Production Code. It's surprising enough to make jokes about appropriate attire for Lombard's character to wear to a concentration camp (and this was before the horrors within the camps were revealed), but it's another to have a character tell her that in an hour "you'll be saying 'Heil, Hitler.'" Lubitsch's films work for the straightforward way they present the material and move on. There's no pause or knowing glance to the camera to alert the audience to the joke; they keep talking and force the audience to actively listen to the dialogue.
For a dark movie dealing with tragic and disturbing themes, Lubitsch keeps things as light as he can for as long as he can. Much of this is due to the fact that several of the characters aren't evil. As critic Geoffrey O'Brien analyzes in the fantastic essay that accompanies the film, the only truly evil character is Professor Siletsky (Stanley Ridges), the turncoat tasked with turning the names of Polish sympathizers over to the Gestapo. The rest of the cast are either actors who can be comic, or villains who are comic. You understand the drama inherent in their situation, and in hindsight you understand the drama that was truly going on at the time. When Maria, her husband Joseph, and her admirer Sobinski learn that "it's war," you feel the gravity of that phrase, particularly with the knowledge about the Holocaust and what would happen to Warsaw. Lubitsch never lets the tragedy invade too pervasively into his films, but when the Jewish businesses are destroyed, the camera lingers on the broken company signs – all bearing Jewish names – that are cracked and scattered on the ground. That appears to be the greatest moment of pure sadness as the rest of the film is a comic send-up of how inept the Gestapo are, but done in a way that you do understand the destruction in their position ("they call me, Concentration Camp Ehrhardt).
Lubitsch isn't just alerting audiences to the perils facing Poland; he's also attacking the nature of media and the frustration of censorship, particularly during times of war. The play the company is determined to put on, appropriately titled Gestapo, ends up being closed due to its comic attacks on the regime. As the plot progresses, characters mention that war cannot be censored and that's Lubitsch's aim with To Be or Not to Be; war cannot be censored. You may be able to restrict what a movie screen can show, but you can't stop people from learning and engaging in real-world events that affect them. The opening scene is a genius moment of comedy and role reversal that sets up the rest of the gags throughout. Jack Benny plays a Gestapo officer plying a small boy with a tank (a tainted Santa Claus in his own way) to get the child to rat out his father. Before that, the movie opens with a mock news reel narration discussing Hitler going out for the day; only to have it revealed it's not Hitler but the actor playing Hitler within the play. Several times throughout there's callbacks to past jokes, that all take on different meanings depending on the actor and situation; the several mentions of Concentration Camp Ehrhardt, said by Benny's impersonation of the character and the real Ehrhardt, all take on different connotations as the plot progresses.
On top of the war and espionage plot, whilst never detracting from it and yet being needed within it, is the domestic drama and love triangle between the Tura's. The film would be Carole Lombard's final role before dying in an unfortunate plane crash, and this is probably her best performance. Maria is a consummate actresses; both inviting the audience (or Siletsky) in through her breathy voice and intense gaze, while at the same time making it obvious to the audience that she's giving a performance. The only time she's real is opposite her husband, Joseph who causes quite a bit of hilarious domestic drama and one-liners. I'm not versed well in Benny's work, but he's a chameleon playing several different roles and putting on various disguises, all of which he sells completely. You also have a fun performance by Robert Stack as a love-sick admirer of Lombard's, and our requisite war hero. Lubitsch is aware of the conventions intrinsic in a war hero, and defies them by keeping Stack on the sidelines.
The bonus content includes a mix of fun and history: There's audio commentary from film historian David Kalat and it's a must-listen for those wanting to get a comprehensive overview of why To Be or Not to Be is important to film history. He explores Lombard's performance, the political climate of 1942, the production of the feature, and Lubitsch's directorial talents. After listening to the commentary take a gander at "Lubitsch le patron," a 2010 French documentary; it's a 54-minute documentary about Lubitsch's Hollywood career. It has English subtitles, and could turn people off who don't want to read a documentary, but its well worth it. There are also two episodes of Screen Guild Theater, a popular radio anthology series of the time. I find these to be fun and unique ways to take in feature films, and the Blu-ray includes a Jack Benny skit called Variety, as well as a condensed, radio version of this film with voice work by Thin Man star William Powell. The final feature is a 1916 German silent short entitled "Pinkus's Shoe Palace," directed by Lubitsch. It's a cute short involving a Jewish boy who can't stay out of trouble.
Overall, if you enjoy dark comedies with strong political satire then you can't do any better than To Be or Not to Be. Ernst Lubitsch would cement his place as one of the greatest directors ever with a diverse body of work with hilarious comic touches. The cast here is astounding, particularly Lombard and Benny, and the script is a pointed satire on government and media. Thanks Criterion for giving me another one to add to my collection.