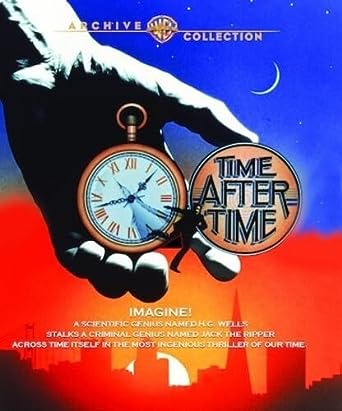 Imagine, if you will, Jack the Ripper ‒ having just committed his final murder in Victorian London ‒ hopping into a time machine built by H.G. Wells and venturing forth to modern-day (1979) San Francisco, leaving the latter famous figure no choice but to follow him. It's the sort of premise to a motion picture which definitely falls under the category of "something completely different" ‒ so much so, one might theorize the entire concept had been taken from an unfilmed Monty Python sketch. After the success of writer/director Nicholas Meyer's previous movie mashup ‒ the combination of Sherlock Holmes and Sigmund Freud in The Seven-Per-Cent Solution ‒ Meyer returned with more Victorian Era fusion.
Interestingly, several months before Time After Time hit screens, yet another similarly-themed Victorian mashup ‒ Bob Clark's Murder by Decree (a title that deserves an honorable mention here, and also comes recommended by yours truly) ‒ found the fictitious Sherlock Holmes chasing after the very real Jack the Ripper. By this point, there was already a minor case of oversaturation developing, which may have placed a bit of a crimp on Time After Time's development as a perennial hit as the years went by. It's still something I like to dive into every now and again (or time after time, if you will), so being able to watch it in a crisp new High-Definition transfer was a true delight.
Here, Nicholas Meyer ‒ who is perhaps best known to the audiences of today as the man who gave the original Star Trek film franchise an actual sense of purpose (he would write and/or direct the original big-screen series' highlights, one being a time travel adventure set in modern-day San Francisco!) ‒ brings us not one, but two delightful pairings. First off, we have two future Star Trek alumni, English actors Malcolm McDowell and David Warner, engaging in a game of wits as H.G. Wells and Jack the Ripper, respectively. Secondly, we are privy to Mr. McDowell's introduction to his future bride, Mary Steenburgen ‒ who would later appear in still another tale concerning time travel, Back to the Future Part III.
It is the latter relationship which encompasses the bulk of Time After Time as, contrary to the common misconception the 1979 science fiction dramedy is more of a heavy thriller since it features Jack the Ripper. And between the opening murder (which is "executed" via a closeup of a woman's face while the sound of her attire is "ripped") and a scene featuring a severed hand, it's easy to catch that vibe (especially considering the film is PG!). And yet, despite those moments, Time After Time is intended to be taken as a lighthearted fantasy, with a main motif of the film being the fish-out-of-water ploy. Yes, nearly 20 years before Austin Powers tuned into mind-numbing Ronco infomercials, H.G. Wells discovered fast food and Mickey Mouse phones.
Indeed, Time After Time presents us with a very playful Malcolm McDowell. And after performing the many sadistic acts he is remembered for in A Clockwork Orange and Caligula, the chance to engage in a little rom-com fun with a woman whom he later married must have seemed like a dream job. Plus, the part also permitted him to chase and track down Jack the Ripper through time and space ‒ which is something very few actors can really attest to. Likewise, David Warner is at his coolest as Dr. Stevenson (aka Jack), who is delighted to discover his outrageous antics of 1893 pale in comparison when he sees what the world has become almost ninety years later in 1979. (Just imagine if he came to visit the world today!)
Painstakingly restored by the Warner Archive Collection specifically for this Blu-ray release, Meyer's multifaceted tale with a still-relevant social commentary zaps into our confused, contemporary world via a beautifully lush 1080p transfer. The accompanying DTS-HD MA 2.0 is just as marvelous (this film, incidentally, was one of the first to feature Dolby Stereo), and the disc sports optional English (SDH) subtitles. Extras for this release include the film's original theatrical trailer and an audio commentary by Nicholas Meyer and Malcolm McDowell, which was edited together from two different recordings; it was a rather common practice back in the early '00s, when DVD itself was still new, and Time After Time received its first digital release.
The old Warner Bros. DVD included a few bonus goodies which are not to be found here, namely trailers for the 1960 and 2002 feature film versions of The Time Machine, based on the H.G. Wells novel. Their absence in this WAC Blu-ray, however, is nothing to shed a tear over: they were only there originally just to market Meyer's film to people who were ‒ for some reason ‒ perfectly willing to spend good money on the then-new Dreamworks adaptation, which, in addition being directed by H.G. Wells' great-grandson Simon Wells, is only notable today in the as much as everyone has already forgotten it ever existed in the first place. A short essay on time travel and a French audio track are also not to be found on this release (and again, they aren't missed).
In short: If you're lost, and you look, you will find this Time After Time. (Oh, come on, you didn't really think I was going to get all the way through this article without referencing the unrelated Cyndi Lauper song of the same name, now did you?)
Highly recommended.