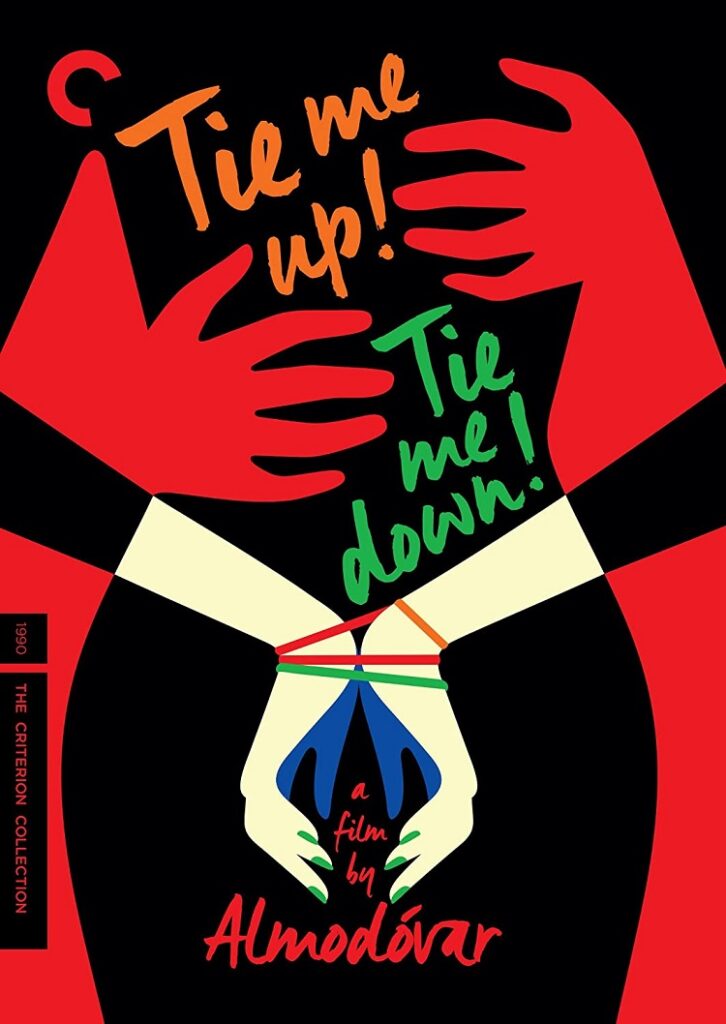 Some folks wax nostalgic about the days when MTV actually played music videos; I get all teary eyed thinking about the days when Bravo showed independent and foreign films commercial free.  It was there, on this channel that is now full of Top Chefs and Real Housewives, where I got my first taste of world cinema.
As a teenager who had grown up watching family-oriented blockbusters like The Goonies, The Karate Kid, and Raiders of the Lost Ark, seeing art-house films from places like Italy, France, and Sweden was an exotic revelation.  I don't know that I really understood what I was watching but I was entranced by their beauty, artistry, and sensuality.
It was there I first discovered Pedro Almodovar as well.  I must confess I started watching Tie Me Up! Tie Me Down! late one night because I'd heard about all the controversy over its explicit sexual nature.  But  I was quickly taken by its unhinged brilliance, its humor, and humanity.
I've since become a very big fan of Almodovar and his insane brand of genius.  I'm thrilled to see Criterion releasing this beautiful film in high definition with their usual superb brand of extras.
Also out this week that looks interesting:
Y Tu Mamá También (Criterion Collection): Before Harry Potter and Gravity, Alfonso Cuaron made this small drama. I've only seen bits of it but it gets all sorts of praise so I figure a good Criterion Blu-ray ought to be a good way to see it.
The Mindy Project: Season Two: I never much cared for Mindy Kaling's character on The Office, but she's proven she can put together a really funny (and sometimes moving) little TV show all on her own.
Parks and Recreation: Season Six:  Speaking of The Office, I caught the first few episodes of this show when it came out and it felt like just another Office clone.  Friends kept telling me to give it another chance and someone I trust told me to skip to season two. I did that and now it's one of my favorite shows.
The Good Wife: The Fifth Season: I catch this show now and again and always tell myself to start from the beginning.  From what I've seen, this isn't going to be an all-time great show, but I think it's really good at what it does. Plus, it's got Julianna Marguiles and you can't go wrong with that.
Boardwalk Empire: The Complete Fourth Season:  A great show I need to catch up on.
The Amazing Spider-Man 2: Never got around to watching the first one and the reviews of this one seemed not great. Still, I always get around to watching superhero movies eventually.