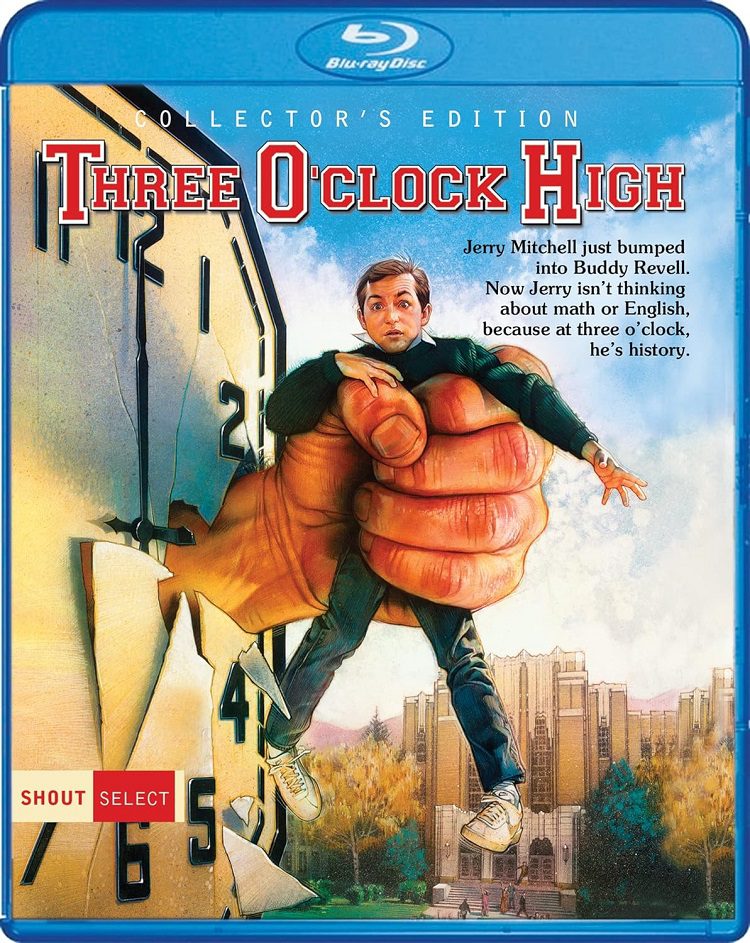 Three O'Clock High makes my list of great movies that too many people haven't seen with other films such as Robinson Crusoe on Mars and The Man From Snowy River, and it remains a wonderful film that flounders in obscurity. A year before he picked up his young gun, Casey Siemaszko combed his thinning hair, threw on some high-school threads, and became Jerry Mitchell, a young man who is relatable to many as is the situation depicted in Three O'Clock High.
Jerry awkwardly gets introduced to Buddy Revell (Richard Tyson), the embodiment of the worst high-school bully imaginable. Buddy decides he needs to work out some aggravation by beating up Jerry in the school parking lot at 3:00. And so the countdown begins. Jerry spends the day trying to get out of the fight in one failed attempt after another. He has the help of many friends, while many fans look forward to the impending teenage throw down. All the supporting characters are perfectly crafted to mirror people we knew in high school as are the stereotypical authority figures we crossed paths and butted heads with.
There are many reasons why people missed Three O'Clock High between 1987 and now, but luckily Shout! Factory brought the Blu-ray to store shelves on October 17 with more than enough bonus material to allow everyone to pass the final exam on the subject of Three O'Clock High.
Getting to know director Phil Joanou in the documentary "Head of the Class" makes it quite clear how he was able to create an environment that is so relatable to us. He is relatable to us! This is just one of the guys we hung out with in high school that followed his dream and made it all work. Unlike Jerry Mitchell.
"Passing The Test" is an insightful Interview with screenwriters Richard Christian Matheson and Tom Szollosi. Though entertaining, more information on Three O'Clock High and less on their resumes would have made this a more pleasurable experience. "School Clothes" is an Interview with costume designer Jane Ruhm is pleasant but there is really only so far you can go on the topic.
Recommendation: Get this before the bell rings! For those who loved the John Hughes films of the '80s, this will be like throwing some Pop Rocks into a Jolt Cola and sitting back for an incredible high-energy experience. Phil Joanou takes us back to high school, introduces us to old friends, and invites us to experience a non-stop energetic story that we all remember.