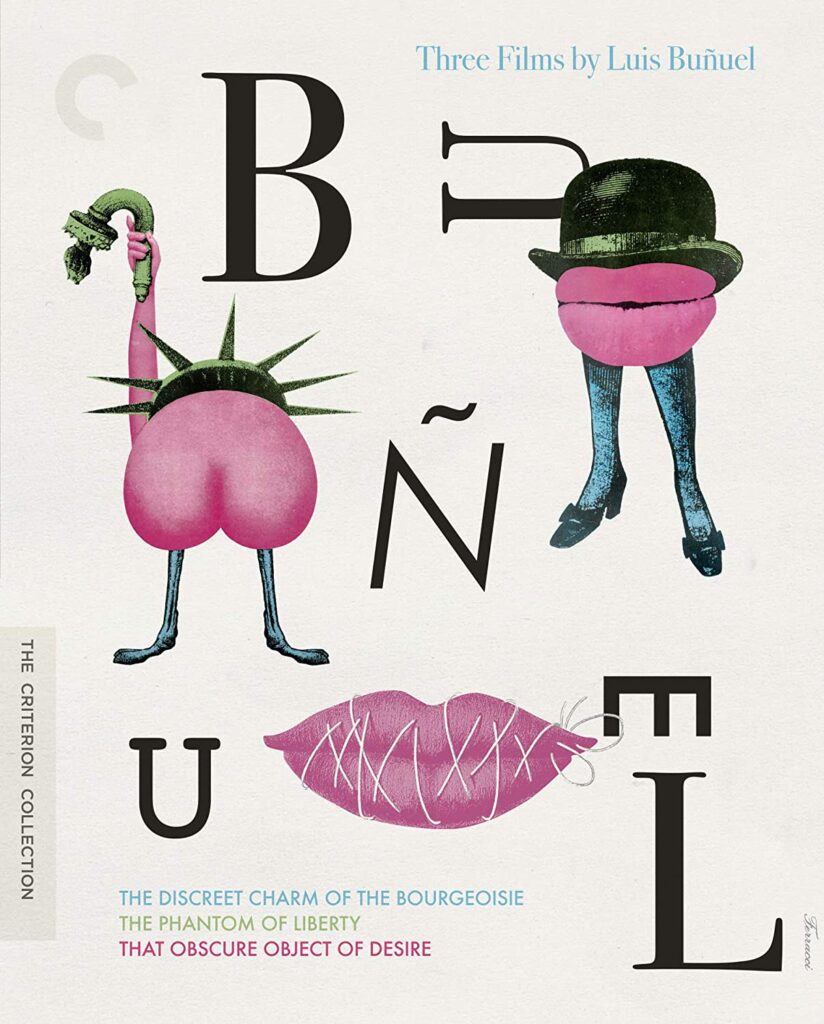 What else can any self-respecting film critic or lover say about the one and only Luis Buñuel (the father of Surrealism)?! He remains arguably cinema's greatest provocateur and troublemaker, who made often radical films that went against and definitely satirized class distinctions and sexual politics, which are themes that still exist today. From his notorious short Un Chien Andalou (1929, co-written with Salvador Dali) to his final and seductive masterwork That Obscure Object of Desire (1977), his delicious and anti-establishment influence surfaces in the works of many other filmmakers, especially those in the works of Pedro Almodovar and Woody Allen.
The three films that star in the new box set this week from Criterion: The Discreet Charm of the Bourgeoisie (1972), The Phantom of Liberty (1974), and That Obscure Object of Desire (which I mentioned earlier), not only starred his alter-ego, the iconic actor Fernando Rey, but also perhaps represented Buñuel at his boldest and most savage audaciousness.
The Discreet Charm of Bourgeoisie: Rey, along with other icons of European cinema: Stephane Audran, Delphine Seyrig, and Jean-Paul Cassel, star in this Oscar-winning black comedy about an upper-class sextet whose dinner is constantly interrupted by absurd and/or imagined events, such as terrorist attacks, military maneuvers, and ghostly apparitions. Told in a series of gleeful set pieces, the film remains one of Buñuel's most celebrated assaults on the social/ruling class.
The Phantom of Liberty: Buñuel's most taboo-breaking film about the often mundane rituals of human social interaction. In a series of hilarious surrealist sequences and zigzagging through time and space, from the Napoleonic era to the present day, the film's main character (played by Jean-Claude Brialy) is sent through from one tableaux to the next, which challenges its overall logic. In this case, Buñuel lets his mind run wild and rebel at every turn, which definitely splashed on screen.
That Obscure Object of Desire: Buñuel's final film, starring Rey again, as Mathieu, an old-age widower, who is terrorized by his lust and longing for the mysterious Conchita (played by both Carole Bouquet and Angela Molina). Based on the novel by Pierre Louÿs, this one is a really disturbing take on sexuality that connects back to the roots of Buñuel's surrealist beginnings.
The set consists of mostly vintage, but still informative and worthwhile supplements, including The Castaway of Providence Street, a 1971 homage to Luis Buñuel made by his longtime friends and fellow filmmakers Arturo Ripstein and Rafael Castanedo; Speaking of Buñuel, a documentary from 2000 on Buñuel's life and work; interviews from 2000 with screenwriter Jean-Claude Carrière on The Phantom of Liberty and That Obscure Object of Desire; documentary from 1985 about producer Serge Silberman, who worked with Buñuel on five of his final seven films; excerpts from Jacques de Baroncelli's 1929 silent film La femme et le pantin, an adaptation of Pierre Louÿs's 1898 novel of the same name, on which That Obscure Object of Desire is also based; trailers, and much more. There is also a book with essays by critic Adrian Martin and novelist and critic Gary Indiana, along with interviews with Buñuel by critics José de la Colina and Tomás Pérez Turrent.
I think this is definite 100% must-have set for film buffs everywhere, especially if you don't own any of the films already. Buñuel's legendary cinema is always essential for movie watching/studies, even if you don't particularly have a taste for it. Just watch any of his films, and you'll see why he continues to be a ground-breaking figure of movie history. Read Steve Geise's review.
Other releases:
The Man Who Would Be King (Warner Archive): John Huston's rousing 1975 adaptation of the Rudyard Kipling story about two English ex-patriots (Michael Caine and the late Sean Connery) who leave British-dominating India for an isolated part of Afghanistan to become kings.
The Train (Kino): John Frankenheimer's classic 1964 actioner with Burt Lancaster, Paul Scofield, Jeanne Moreau, and Michel Simon, in a tale set in 1944, where a German colonel loads a train with French art treasures to send to Germany. The Resistance must end the process without destroying any of those treasures.
Savage Streets: Linda Blair stars in this 1984 cult classic as a tough-as-nails leader of a high school female gang, who seeks bloody revenge after the rape of her deaf-mute younger sister (Linnea Quigley) and the murder of her best friend (Lisa Freeman) by a rival male gang of vicious goons.
Yellow Rose: Rose, a 17-year-old undocumented Filipina, who dreams of one day leaving her small town to pursue her dreams. Those dreams are uniformly destroyed when her mother is taken by Immigration and Customs Enforcement. This causes her to abandon the only life she knows to journey for a new one in Austin, Texas.
12 Hour Shift: a gruesome horror comedy about a drug-addicted nurse (Angela Bettis) and her cousin trying to find a replacement kidney for an organ trafficker, which obviously leads to tragic consequence for everyone involved.