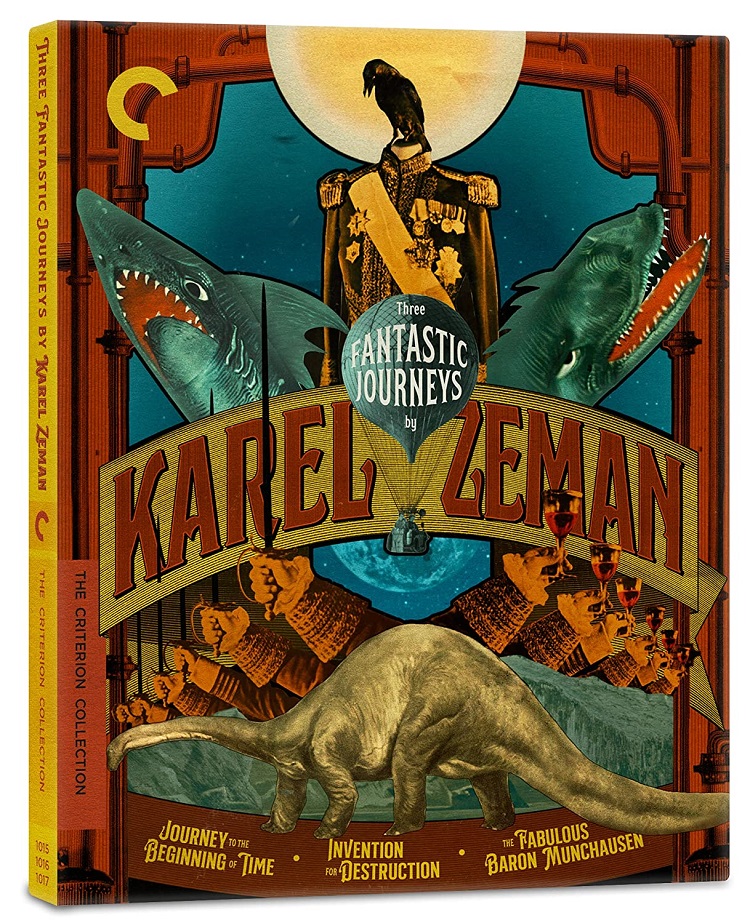 I've been a big fan of movies for most of my 50-odd years on this planet and have enjoyed a wide variety from all over the world. I am so fascinated by the medium that alongside my library of movies is a library of books about their making and their makers. I consider myself well versed in the history of cinema, so I was very surprised to discover Czech film director Karel Zeman, a true visionary whose name and work should be as well known as Georges Méliès and Ray Harryhausen, yet I had neither heard of him nor his work. Thankfully, this has been rectified by the Criterion Collection with the wondrous Three Fantastic Journeys by Karel Zeman.
Journey to the Beginning of Time (1955) is his second feature and my first introduction to his genius. Petr, the narrator, reads from the diary of the adventure he and his friends took after discovering a fossilized trilobite, which inspires them to find a live one. Since they existed 500 million years ago, the boys take inspiration from Jules Verne's Journey to the Center of the Earth. They row a boat through a cave and travel back through time the further down the river they go.
Although it starts like a typical boys adventure, I was quickly captivated by the special effects (a mixture of puppetry, stop-motion, and camera tricks) that make the film so memorable. At first, they see a mammoth on the shore, and share the frame with the creature, which moves, through the use of split screen. Later, pterodactyls pester the boys, upping the stakes and making the viewer concerned they might not all get back to the present. When two dinosaurs (possibly a T-Rex and definitely a stegosaurus) fight, it brings to mind a similar sequence from Disney's Fantasia. Geared towards young boys, Journey to the Beginning of Time is entertaining. It seems like it could have helped foster an interest in dinosaurs for children in the '50s similar to how Jurassic Park did in the '90s.
His next film, Invention for Destruction (1958), aka The Fabulous World of Jules Verne, also opens with a narrator, Simon Hart, telling a story from his journal and is also inspired by the work of Verne, particularly Facing the Flag. Hart is an assistant to Professor Roch, and both men are captured by Count Artigas, the pirate king. Although Roch doesn't realize it because he is tricked into thinking the experiments he is working on are for the benefit of mankind, but in reality they are weapons that Artigas plans to further his piracy. The story's climax is a bit ridiculous and poorly constructed as a bullet for the supergun rolls down a hill and clearly hits the camera, which would have changed its trajectory.
He followed that with The Fabulous Baron Munchausen (1962). On the moon an astronaut discovers the Baron, the characters from Jules Verne's From the Earth to the Moon, and Cyrano de Bergerac. They all assume he is a moon man. The Baron calls the astronaut "Tonik," and takes him to Earth on a ship pulled by winged horses.
They land in 18th Century Turkey and meet the Sultan. However, Tonik unwittingly causes trouble by falling for Princess Bianca, who is a prisoner. The Baron is not too pleased with him either because he feels the Princess should fall for him. The heroes get into a sword fight with palace guards, although the Baron continues a chess match with a guard as they battle. The Princess proves to be more than a damsel in distress by showing her smarts and helping them escape. There is an exciting chase on horseback, made quite perilous through editing and animation.
Though he has his flaws, the Baron makes for marvelous a hero because he believes he can accomplish whatever he sets his mind to, no matter how ridiculous it may seem such as hiding from the Turkish navy in a cloud of pipe smoke.
According to the liner notes "New digital transfer were created in 4K resolution on a Northlight 2 film scanner from the 35 mm camera negatives, though a 35 mm duplicate positive of Journey to the Beginning of Time was also used, as a substitute for sequences that were damaged in the negative." All the films are presented in their original aspect ratio of 1.37:1.
Journey presents colors in natural hues, which adds a realism to the story. The image offers a solid contrast. The texture details are sharp, from the clothes on the boys to the "wool" of the mammoth. The camera tricks remain hidden even with the video's high resolution. Film grain is noticeable while the image looks clean.
Invention delivers rich blacks and bright whites. The intentional distortion to create underwater visuals is impressive. The fantasy aspects of the story are augmented by the film's visual style which uses Victorian line engravings found in Verne's novels of the time for the production design. Not only do drawings have lines, as seen in backgrounds, but filters are used to create the appearance and the costumes and set design incorporate them as well. Although thin lines are pervasive throughout, the video holds the image and doesn't give way to aliasing. There was an ever so slight flicker as a shot pans across a ship ready to fire its cannons.
Baron visuals bring to mind a silent movie as the sequences are tinted. For example, blue for night, yellow for daytime, and sepia for inside a whale. Some objects appear in colors different from the frame tint, such as ships' white sails. The production design was inspired by the art of Gustave Doré, and the ornateness of the drawn objects is on display.
The original monaural soundtracks were remastered at Soundsquare in Prague from the original 35 mm sound negatives, as well as a 35 mm duplicate positive of Journey to the Beginning of Time using iZotope RX6 Advanced Audio."The audio for all three films is free from signs of wear or age. The Czech dialogue is clear, and is balanced well in the mix with the effects and scores.
Journey… extras:
Directed by Karel Zeman (12 min) finds animation filmmaker John Stevenson singing Zeman's praises and reveals some biographical facts and an overview of his work
U.S. Release of Journey to the Beginning of Time (84 min) from 1960 is a composite restoration assembled from best audio and video elements. This version has a different framing device. Four boys cross the Queensboro bridge into Manhattan and go into the American Museum of Natural History. We never see their faces. They take a boat on a lake and go into a cave, which is where the journeys merge, but then they find themselves in the museum at the end.
Museum Documentaries made in 2019 – The Birth of a Film Legend (5 min) Zeman and others talk about him. The rest cover the film: Why Zeman Made the Film (3 min), Where the Film Was Shot (4 min), Special-Effects Techniques (3 min), and Restoration Demonstration (2 min).
Invention… extras
U.S. Alternate Opening (3 min) – Hugh Downs offering an introduction to the 1961 U.S.-release.
Making Magic (23 min): Visual-effects supervisor Phil Tippett and visual-effects artist Jim Aupperle discuss Zeman, Maybe wait until you see all three films because there;s a lot of great behind-the-scenes pictures that give away tricks
Short Films: These four early works by Zeman include A Christmas Dream (1945) (11 min) where a doll abandoned for new gifts causes mischief in a blend of stop motion and live action; A Horseshoe for Luck (1946) (5 min) a stop-motion film where a man makes an unlucky find but turns it over for the common good; Inspiration (1949) (11 min) is dedicated to glass makers, and uses glass and string to create objects, like in a droplet of water; King Lavra (1950) (30 min) hides his donkey ears under his crown and hair. He as a barber give him a trim and executes the man for finding the ears but what choice was there? One guy outsmarts him and stays alive. This short goes on way too long
Museum Documentaries made in 2015 – Why Zelman Made the Film (4 min) Special-Effects Techniques (4 min), About the Restoration (4 min), and Restoration Demonstration (3 min)
Alternate English-dubbed soundtrack for Invention for Destruction for 1961 U.S release
Trailer
Baron… extras
Film Adventurer: Karel Zeman (102 min)is a 2015 documentary that tells his story with filmmakers such as Terry Gilliam and Koji Yamamura paying their respects, insight from his daughter, illustrator Ludmila Zeman, and producer Karel Hutecka. In addition, a group of film students attempt to recreate his work.
Museum Documentaries from 2016 – Why Zelman Made the Film (4 min), The Cast (2 min) Special-Effects Techniques (3 min), Karel Zeman, The Legend Continues (4 min), Karel Zeman and the World(5 min) which excerpts from Film Adventurer, and Restoration Demonstration (3 min)
Museum Promo (1 min) – for the Karel Zeman Museum
Trailer
The three-disc digipak is housed within a slipcase. Each film has its own section that opens to reveal a pop-up cut-out and a cardboard sleeve to hold the disc.
Three Fantastic Journeys by Karel Zeman is highly recommend. Fans will appreciate the high-definition presentations and the behind-the-scenes extras. Those new to Zeman will likely become fans like I did, especially if they enjoy fantasy and/or animation. I am glad Criterion has added him to their collection and hope more people will discover his work.