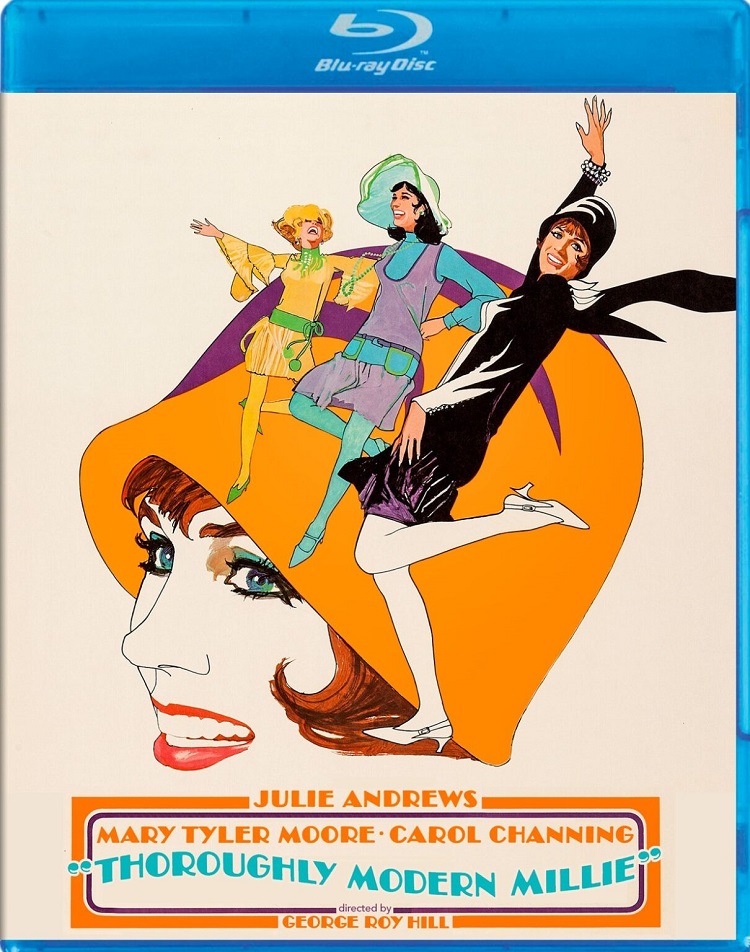 This zany musical was a big hit in the 1960s, garnering huge box office and seven Oscar nominations, along with one win for Elmer Bernstein's score. It was created for the screen, not adapted from the stage, although it has gone on to multiple reincarnations on Broadway and stages around the world. Now it's finally available on Blu-ray in this newly remastered release.
Julie Andrews stars as a small-town girl trying to make her way in the big city in 1922. Her goal is to get a job working for a rich bachelor so she can entice him to marry her, but first she has to find a suitable target. As a single lady in the early 20th century, she has to live in an apartment building exclusively for her kind, bringing her into contact with a fellow new arrival named Miss Dorothy (Mary Tyler Moore), as well as the scheming and nosy landlady Mrs. Meers (Beatrice Lillie). She encounters a flighty and seemingly poor but sweet young man named Jimmy (James Fox) and cherishes their wild adventures together, but keeps her eyes on the prize of a rich boss and finally succeeds when she lands a job as secretary for the dreamy Trevor Graydon (John Gavin). Along the way, she meets a free-spirited super-rich older lady named Muzzy (Carol Channing) and discovers a white slavery ring. Yes, white slavery, where young ladies are disappearing and reportedly being sold off as slaves, because that seemed like a good musical idea to screenwriter Richard Morris.
The 1920s setting is fun, but the white slavery aspect and its related evil Asian stereotypes are incredibly poor fits for a fizzy, nonsensical musical. Also, the zaniness gets to be a bit much, a regrettable aspect of its production era that forces the game Andrews to mug to the camera and play along with wacky aspects like a silly biplane ride and a carnival-like acrobat stunt. With that said, the most ridiculous but also most enjoyable scene is probably the staging of the production number "The Tapioca", where Jimmy makes up a dance and lyrics on the spot and leads a ballroom full of dancers and Andrews in a seriously crazy dance.
Andrews is fine in her starring role, hamming it up as needed for the screwball elements while also shining in her vocal and dance numbers. Channing nearly steals the show as the loopy socialite, while Moore is underutilized but does get to sing and dance a bit. Fox is goofy but adorable, while Gavin is a perfect choice as the highly desirable bachelor boss. Beatrice Lillie as Mrs. Meers is a thoroughly confusing character. She's clearly white with blue eyes, but seems to culturally appropriate Chinese fashion, has chopsticks in her hair, and speaks Chinese to her cronies. Watch for Pat Morita as one of her henchmen, paying his dues in only his second screen appearance.
This is the debut appearance of the film on Blu-ray in the U.S., and Kino Lorber has opted to provide the full roadshow version of the film, upping the runtime to a whopping 152 minutes versus the original standard release time of 138 minutes. There are no apparent additional or extended scenes; the extra time is simply taken up by the inclusion of an overture, intermission, and outro music after the conclusion.
The film has been fully restored in 4K by Universal Pictures, and the results are suitably pristine. Colors are vibrant and consistent, and no noticeable defects are present. The soundtrack is delivered in DTS-HD Master Audio 2.0, also with no discernible flaws. Unfortunately, there are no worthwhile bonus features, just a new commentary track by a couple of film critics, two trailers for the film, and a handful of trailers for other Kino Lorber releases.
Thoroughly Modern Millie is available on Blu-ray on August 24th.