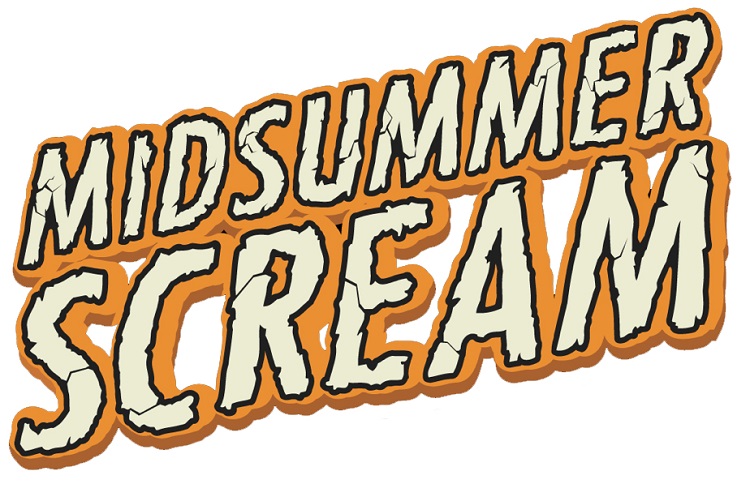 Summer is around the corner, Halloween seems ages away … yet for three days in July, the most frightening time of the year will take center stage at MIDSUMMER SCREAM, the world's largest Halloween and Horror Convention. Single and multi-day passes are on sale now at www.MidsummerScream.org.
Within MIDSUMMER SCREAM, all passes give attendees access to THE HALL OF SHADOWS, a stunning array of haunts from local and regional creators of some of the best haunted attractions in the world. Professional and home haunters alike come together to create more than 75,000 square feet of frights, bringing to life the most unique (and uniquely terrifying) fan-convention attraction anywhere.
With scares around every corner, THE HALL OF SHADOWS is an incredible weekend destination in its own right, but it's only the start of what MIDSUMMER SCREAM has in store for its guests. Throughout the weekend they'll get sneak peeks at what's coming this Halloween season from some of the most ambitious haunt producers in the world, including Universal Studios Hollywood's Halloween Horror Nights, Six Flags Magic Mountain's Fright Fest, and Thirteenth Floor Entertainment, creators of the L.A. Haunted Hayride, Delusion, and Shaqtoberfest.
"Midsummer Scream has become the kick-off of the Halloween season for an ever-growing community of fans of all things spooky," said David Markland, co-founder and executive director of Midsummer Scream. "We're proud to feature both the biggest names in horror entertainment as well as hundreds of independent creators, all contributing a dynamic and unique experience for new and repeat guests."
The theme of this year's MIDSUMMER SCREAM is "Ghoulish Games." Guests will be able to explore an enormous array of horror-themed games-from video and role-playing games to board and tabletop games. A special game area on the show floor, along with game-themed presentations, all join a full lineup of MIDSUMMER SCREAM weekend activities that include: 
The Screaming Room presented by Horror Buzz, a curated short-film festival of terror-filled with submissions from around the world, screened throughout the weekend;
Panels, Presentations and Performances across five stages and multiple breakout rooms, offering in-depth, close-up looks at the best in haunts, horror and fandom, including a horror video games panel, and a The Lost Boys reunion panel featuring actors Jason Patric, Alex Winter and Billy Wirth;
Paranormal Pixie's Pumpkin Patch, a gore and scare-free zone for the "little monsters" who visit MIDSUMMER SCREAM;
Spooky Shopping on a massive show floor filled with more than 350 vendors of the most ghoulishly delightful products and collectibles, perfect to have on hand for Halloween … or any time of year when the spirit moves you;
Black Cat Lounge, a unique way to take a break from the action of the weekend, cuddle with adorable feline friends all available for adoption;
Additional Surprises to be announced in the coming weeks! (Please note that all programming and guest appearances are subject to change and are not guaranteed.)
In addition to attractions, events and experiences throughout the weekend, MIDSUMMER SCREAM also hosts "Midsummer Scream After Dark," its special Saturday-night party, replete with dancing, a costume contest, cocktails and games. Attendance at "Midsummer Scream After Dark" requires a separate, nominal fee for general admission passholders, and is included with Gold Bat Pass package.
Now in its sixth year, the annual MIDSUMMER SCREAM hosts more than 40,000 Halloween and Horror fans at the Long Beach Convention and Entertainment Center. Single-day passes range from $35 for adult admission to $140 for a three-day VIP "Gold Bat" pass. Children under 10 are free with an accompanying adult. More information on passes to MIDSUMMER SCREAM, plus full details on the show schedule and area accommodations, can be found at www.MidsummerScream.org.