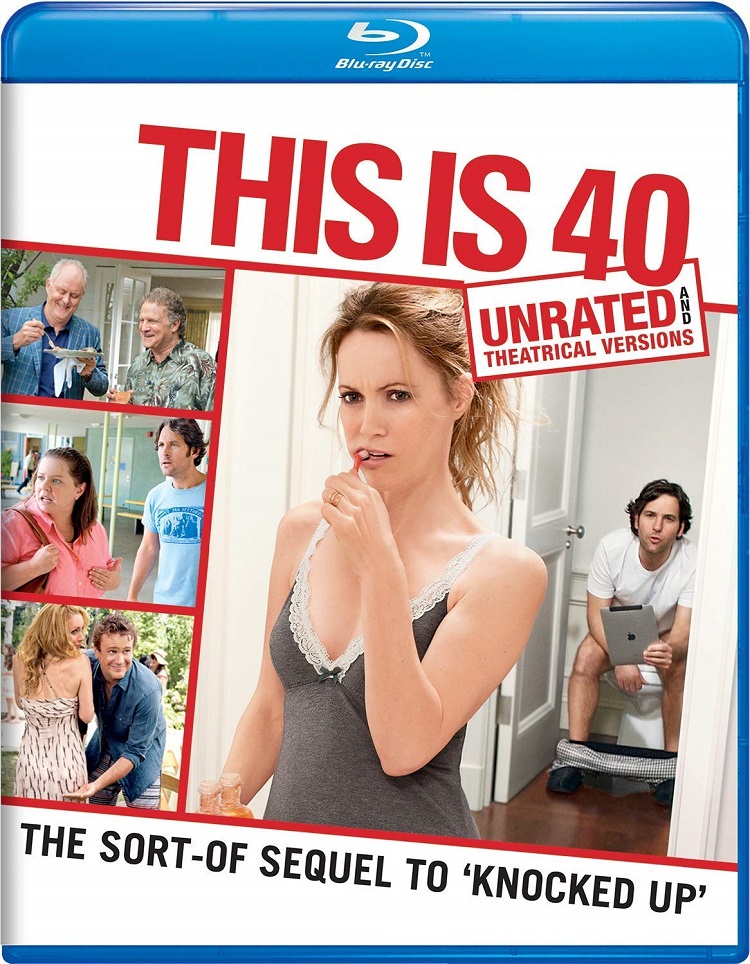 Some have lambasted This Is 40 for not having a strong central storyline. Guess what? Neither does real life. Some of the greatest challenges both in this movie and life in general are themes rather than objectives. The problems depicted here — parental abandonment, teenage anxiety, financial problems, cyber-bullying, compromising one's dreams, the emotional see-saw of any relationship, while bluntly avoiding cliche, overdone topics like infidelity and jealousy — speak to a wide audience, and we aren't led along by the hand to a tidy, gift-wrapped happily-ever-after ending 90 minutes later. Real life is messy, and so is This Is 40. Having said that, it's also very funny.
The story picks up a few years after Ben (Seth Rogen) and Alison (Katherine Heigl) — both conspicuously absent from this flick — worked through the challenges of finding a relationship amidst a pregnancy in Knocked Up. In This Is 40, Alison's sister Debbie (Leslie Mann) and her husband Pete (Paul Rudd) are confronted with the realities of breaching the fourth decade of their lives, and the difficulties that come with it, with both the generation ahead and behind. Debbie's absent father sees her for only the second time in 15 years, introducing the complexities of a distant parent (John Lithgow) who thinks he does the least harm when he stays away from everyone. Contrasting against that is Pete's father (Albert Brooks) who mooches endlessly off his son's strained finances to support his younger wife and young triplets whose names he can never keep straight. Lithgow and Brooks play opposite ends of the needs spectrum, which I imagine many people can relate to in one way or another, myself included.
Then there are the challenges of Pete and Debbie's daughters, aged 8 and 13 years. As a younger brother, I related to their behavior and general disdain for one another really well. Sadie (Maude Apatow) and Charlotte (Iris Apatow) definitely had chemistry, which isn't that surprising given they were playing off their actual mom (Mann) as real-life sisters. One is facing online bullying and technology addiction while the other just wants everyone to stop fighting with one another.
Pete's idealistic retro record label is struggling to get off the ground despite the best efforts of staffers Ronnie (The IT Crowd's Chris O'Dowd) and Cat (Girls creator and star Lena Dunham). Debbie's hip clothing store is thriving, yet somehow showing cash shortages in the thousands of dollars, as both of her employees Desi (Transformers' Megan Fox) and Jodi (Charlyne Yi of House M.D.and Paper Heart) blames the other for the situation. Then there are the pressures of getting in shape, eating right, a poke at Eastern versus traditional medicine, and speculation of how each could get out of the troubled marriage — there's never a moment's peace for this couple, and with my 40s just around the corner, I expect to contend with some similar issues. I only hope I manage to do it as tongue-in-cheek as it's done here. Despite all the weighty subjects and social commentary, the story remains surprisingly light, eliciting big laughs the entire way through.
At around two-and-a-quarter hours, it runs a bit long for a typical comedy, but I didn't mind. I checked the time once or twice, not because I was bored or impatient, but because the story doesn't develop in a typical manner. Again, neat-and-tidy takes a backseat to messy reality. Without a central key storyline for the audience to follow, you might think the gags would get tiresome or scene after scene of trouble laden with levity would wear thin, but my wife and I enjoyed every minute of it. It has plenty of signature Apatow crude humor, harsh language, and a pinch of nudity here and there, but nothing I wouldn't expect to be happening in households across America day in and day out.
The feature looks excellent in sharp 1080p on Blu-ray, and the disc come packed with extras, including a making-of, deleted scenes, extended and alternate scenes, a gag reel, music from the film, and feature commentary with Judd Apatow. Snagging the Blu-ray combo pack also nets you DVD, digital, and Ultraviolet copies of the movie.
It's been six years since Knocked Up. Surely some of you have had your fill of Judd Apatow, but if he can keep telling compelling, relatable stories while lining up solid talent to deliver the laughs and heartfelt moments, I'll keep watching. If this were to be his last movie, it would be a memorable, worthwhile end to an era.