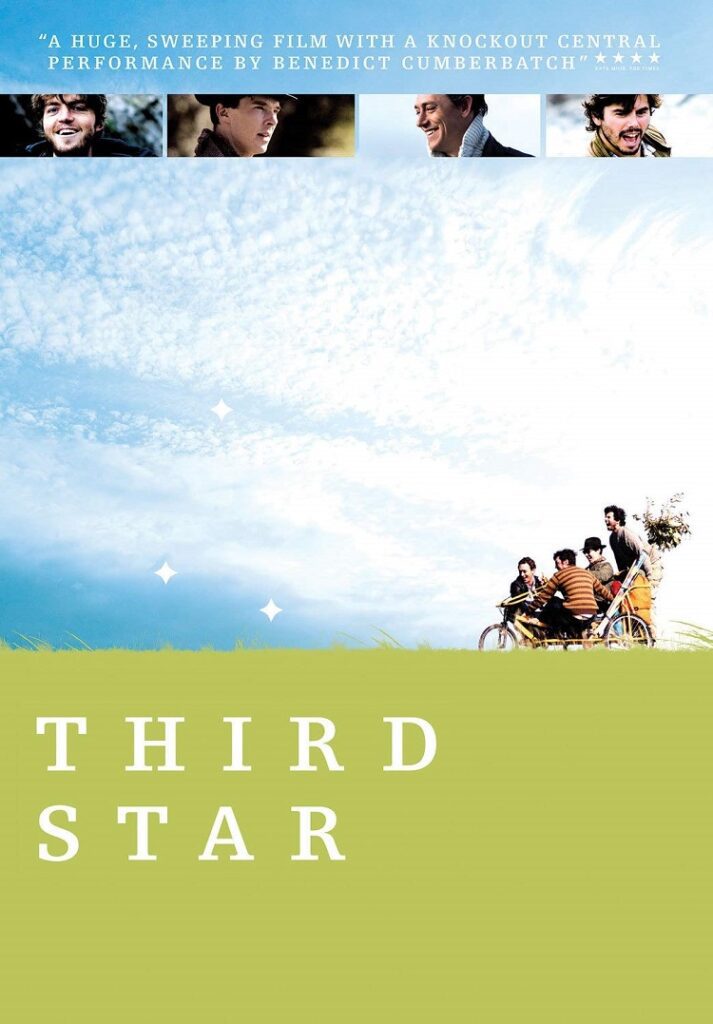 "I'm 29 today. Won't see 30." With that opening line, Third Star clearly defines its theme and outcome, tracing the final days in the life of a terminally ill man. James (Benedict Cumberbatch) has declined so much that he's confined to a wheelchair, but with his imminent demise looming he convinces his three closest friends to take him camping to his favorite place on Earth, a secluded bay near his home. What follows is a very loosely scripted trip that finds the mates hanging out, living and laughing together as they inch closer to their destination.
The bay isn't accessible by vehicle, so the guys are tasked with walking to their destination and moving James and his wheelchair with them, slowing down their progress but giving them plenty of time to reminisce about the past and enjoy the present. You might expect some heartfelt, melodramatic conversations between the men as they face the loss of their friend, but writer Vaughan Sivell's script instead opts for naturalistic dialogue that generally steers so far clear of emotion and importance that it comes off as ad-libbed. There's little to be gleaned from their interactions, and hence little reason to tune in for the bulk of the trip. We know what's coming right from the start, and we don't gain any greater meaning or impact out of it until the final scenes, leaving most of the movie a fairly dull slog of a camping adventure. Even the characters aren't really fleshed out, they're just three unassuming and completely unremarkable guys accompanying their dying friend.
So why even watch this? There's only one reason: Benedict Cumberbatch. He's since exploded in popularity in his ongoing lead role in BBC's Sherlock series, leading to movie work in some very high-profile Hollywood projects, making this low-budget 2010 UK film what may be a rare chance to see him in a minor project for quite some time to come. As the dying man, he doesn't get many showy monologues, but his masterful and subdued use of facial expressions tells us all we need to know about his character and the immense toll his condition is taking on him. He's especially great in the final scenes, giving this lightweight film the emotional resonance absent from the rest of the production.
As for his co-stars, JJ Feild is easily the most distinguished of the remaining trio and does decent work in spite of the lightweight script, marking him as another actor to keep on your radar. The other two guys aren't even worth mentioning, offering nothing here to further the plot or their careers. Likewise, director Hattie Dalton fails to construct anything memorable out of the material, with flat shot selection and meandering pacing throughout.