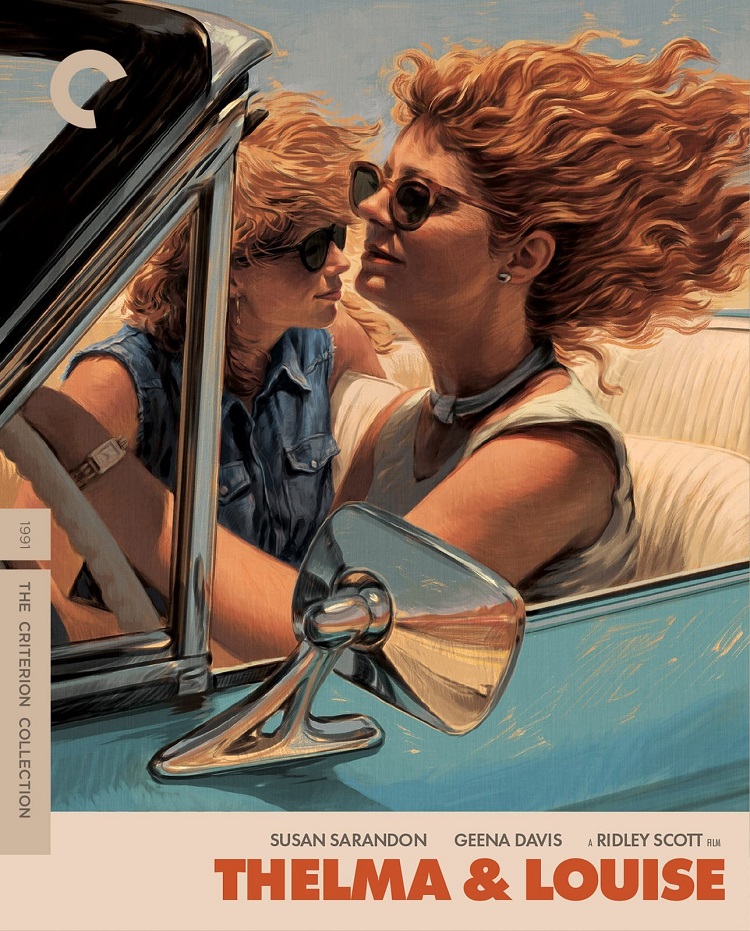 Ridley Scott's Thelma & Louise tells a familiar story about two friends on a road trip who unintentionally become outlaws, but screenwriter Callie Khouri makes it compelling because the lead characters are unfamiliar. Not only was it rare in 1991 to have two females lead a movie, it was particularly rare for them to lead this type of story, and the opportunities that provided are what led to the film's success and enduring appeal.
Thelma (Geena Davis) doesn't tell her husband Darryl (Christopher McDonald) about her trip to the mountains with best friend Louise (Susan Saradon). They stop off to get a drink at a bar because Thelma never gets to do anything like that. Thelma loves the attention from Harlan (Timothy Carhart). Louise runs him off but Thelma, who throws back shots, dances with him. Feeling dizzy, she is escorted outside by Harlan, who almost rapes her until Louise shows up with the gun Thelma brought. Harlan keeps running his mouth and Louise kills him.
Not wanting to deal with the authorities as Thelma suggests, Louise determines her only option is to head to Mexico. Thelma calls her husband, who is more interested in college football playing on the TV, and she decides to join Louise. Oddly, Louise doesn't want to drive through Texas from Arkansas, making the journey to Mexico a long one. As the film progresses, what happened with Louise in Texas isn't clearly defined, but enough clues are offered for the viewers can come to a conclusion.
Louise has her boyfriend Jimmy (Michael Madsen) empty her savings, but instead of wiring the money to her, he shows up a motel. He wants to know what Louise is up to, but she doesn't want to make him a knowing accessory, so provides him with little information. Thelma holds onto the money, but loses it to a handsome hitchhiker J.D. (Brad Pitt) she is smitten with. Angry at herself for disappointing Louise, Thelma holds up a store.
Arkansas State Police Investigator Hal Slocumb (Harvey Keitel) is tasked with the case. The more he learns about the ladies, the more he sympathizes with what occurred with Harlan. He tries to get them to surrender, but has no luck. The ladies compound their plight with what they leave in their wake and increase the amount of law enforcement after them. When eventually cornered in the Grand Canyon, they decide to "keep going," leading to the iconic imagery that concludes the film,
The video has been given a 1080p/MPEG-4 AVC encoded transfer displayed at the film's original aspect ratio of 2.39:1. The liner notes reveal "this new digital transfer was created from the 35 mm original camera negative, which was scanned in 4K resolution on a Lasergraphics Director film scanner." The image captures a spectrum of bold colors, from a variety of sunlit exteriors to the controlled interiors. There are lush greens and browns and strong hues of red and orange. The latter seen in the gasoline truck explosion. Fine texture detail is evident in many objects
Also from the liner notes, "The [DTS-HD Master Audio] 5.1 surround soundtrack was remastered from the original LCRS magnetic track." The dialogue is consistently clear. Hans Zimmer's score, songs, and ambient effects can be heard in the surrounds. The rain as Hal and the Feds go to Thelma's house stands out. Semi trucks pan across the front speakers.
The director-approved special features are:
Disc 1
Audio Commentary with Ridley Scott – He sits alone and delivers an engaging commentary as he takes the listener through his process.
Audio Commentary with Callie Khouri, Geena Davis, and Susan Sarandon – The trio are together offering their thoughts on the making of the film and the response it got.
Ridley Scott: Beginnings (22 min) – A 2022 interview by film critic Scott Foundas. Under this item can be found Boy on a Bicycle (28 min), which was shot on 16 mm and stars his brother Tony, and Ploughman (1 min), a Guinness beer ad from 1977
Interview with Callie Khouri (20 min) – She talks about creating the script.
Disc 2
Thelma & Louise: The Last Journey (60 min) – Created for the film's 10th anniversary, this three-part feature covers "Conception and Casting," "Production and Performance," and "Reaction and Resonance" with interviews from cast and crew members along with archival photos and video.
Original Theatrical Featurette (5 min)
Extended Scenes (33 min) – Seven different scenes including an extended ending with and without director's commentary.
Storyboards: The Final Scene (6 min) – The storyboards are paired with film scenes. A continuation of his interview with Foundas. Also just the Storyboards (5 min) with the score
Ten Deleted Scenes (14 min), the Original Theatrical Trailer (2 min), and three TV spots.
Music Video: "Part of Me, Part of You" (4 min) – Glenn Frey sings the song the appeared on the closing credits.
Thelma & Louise stands alongside other classic, outlaw buddy pictures like Butch Cassidy and the Sundance Kid and Bonnie and Clyde. Sarandon and Davis give great performances as imperfect, sympathetic characters making their way in a world stacked against them. Khouri's script sends them on a powerful journey, which Scott and his team do a masterful job capturing. It's a welcome addition to the Criterion Collection with a Blu-ray that delivers a wonderful high-definition visual presentation and is so full of features about the film it required two discs. A must-have for fans of the film or its participants. Well worth checking out for the first time.