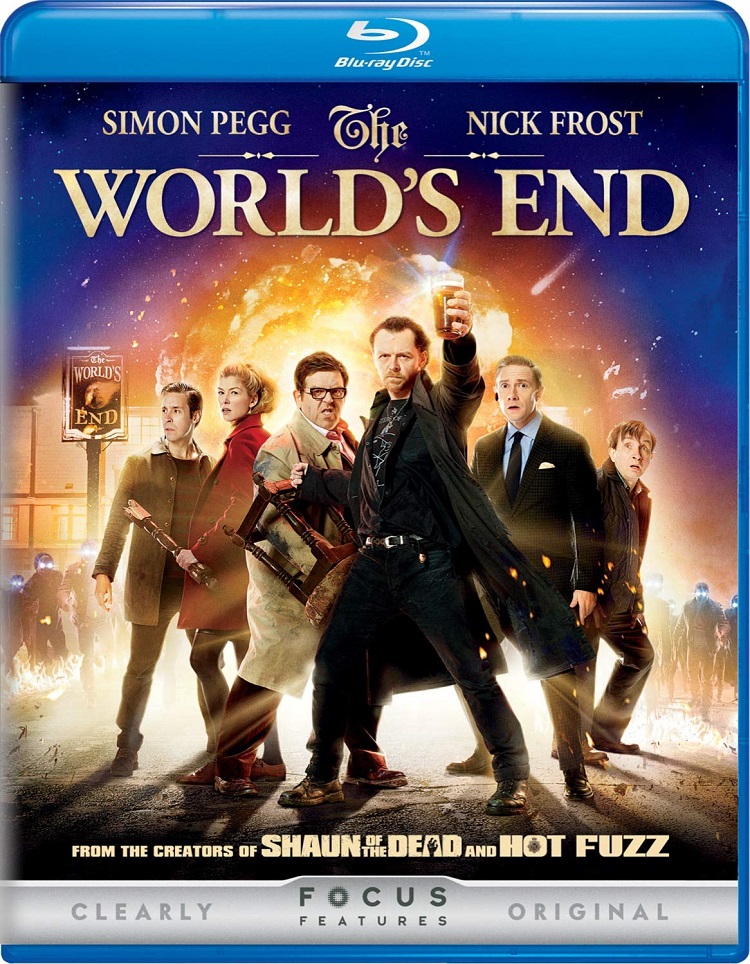 The Three Flavours Cornetto Trilogy is not so much a trilogy as it is three films made by the same people with the loose theme of satirizing a very specific genre. In fact, the entire trilogy is named after a joke. Cornetto's are a type of ice cream snack in England and after characters ate some in both Shaun of the Dead and Hot Fuzz an interviewer pointed out the connection and director Edgar Wright joked that it would be a trilogy in the vein of Krystof Kieslowki's Three Colours Trilogy (with a different colored Cornetto representing different themes in the three films.)
Whatever you call them, the first two in the series were fantastic spoofs of their respective genres (Shaun of the Dead with zombies, Hot Fuzz with action films.) The both spoof the genres, are incredibly funny and are, in fact, rather good takes on the genres themselves.
To say that I was excited when I learned that The World's End, reviewed by Gordon S. Miller, would complete the trilogy as a sci-fi/end-of-the-world movie would be to put it mildly. To say that when it came out on DVD it would be my Pick of the Week would be putting it exactly.
I expect we'll see a big box Cornetto Trilogy sometime in the future. In fact, you can already buy them in a set, but with no additional features than already come with the singles. I'm happy to enjoy them as they are for now and will save up for the big set, when it comes.
And in fact the features on this one are plentiful. There's the usual commentaries with director and cast and the DP. There are storyboards, and features. Lots of features. By my take, there are at least a dozen plus alternate takes, trailers, photos, and a trivia track.
Also out this week that looks interesting:
The Twilight Zone: the Complete Series (Episodes Only Collection): All 156 episodes in the series five seasons in one big box.
Doctor Who: The Tenth Planet: William Hartnell's last regular appearance as the Doctor and the first appearance of the Cybermen come together in this serial from 1966. One of the four episodes is missing from it but has been recreated with animation. Read the review by Greg Barbrick
Treme: The Complete Third Season: David Simon's follow-up to the brilliant The Wire isn't quite as gripping as I'd like it to be, but there's still plenty to love.
The To Do List: I'm not usually one for teen sex comedies, but I'm a huge fan of Aubrey Plaza's work on Parks and Recreation and the turn around of it being a girl who needs to lose her virginity is at least somewhat creative.
Tokyo Story (Criterion Blu-ray): I've never seen a Yasujiro Ozu film but essentially every critic worth his stuff praises the director to high heaven. Tokyo Story is supposed to be his best. Add in the Criterion treatment and I've got to get my hands on this.
Crossroads Guitar Festival 2013: Every year Eric Clapton invites a bunch of guitar heroes to come jam with him. This year's crop included Vince Gill, Booker T, Keb Mo, Gary Clark Jr., Albert Lee, Taj Mahal, and many more.
Paranoia: I've never heard of this spy thriller but it stars Harrison Ford, Gary Oldman, and Liam Hemsworth, which at least makes it worth a gander.
Lilyhammer: Season 1: Netflix's first foray into original content was underwhelming. At least for the first couple of episodes at which point I gave up. I've heard it gets better and I'm willing to give it another chance, but I don't have my hopes up.