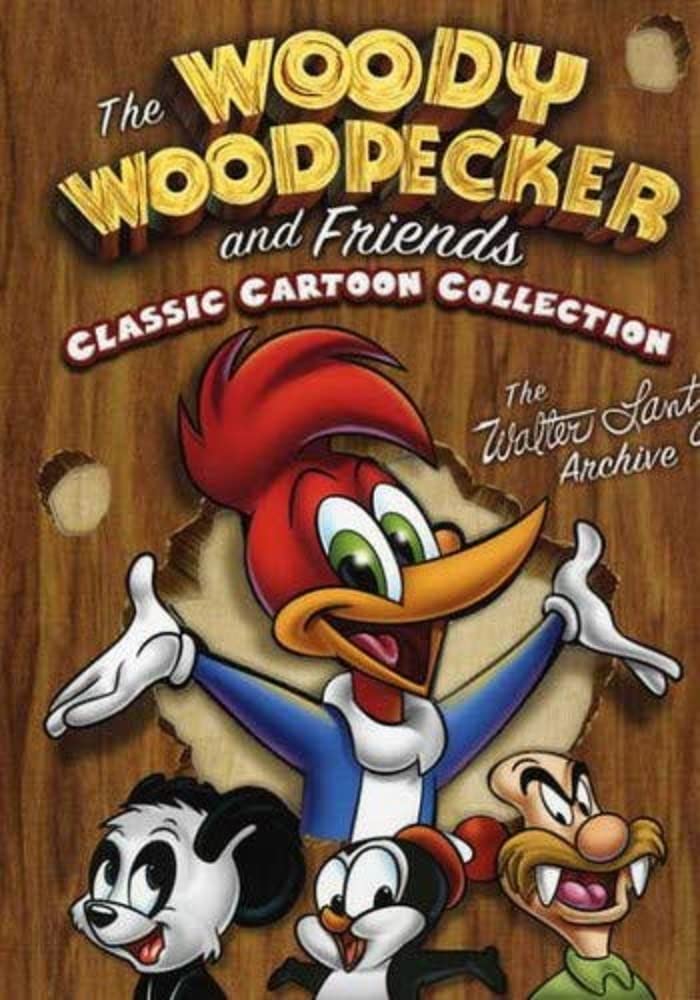 This three-disc set features 75 digitally remastered cartoons from the Walter Lantz Archive. The biggest star to come out of his productions is Woody Woodpecker and this set features the character in 45 cartoons, from his first appearance in 1940's Knock Knock, an Andy Panda cartoon, to 1952's The Great Who-Dood-It.
Over the 12 years, Woody goes through a metamorphosis. Originally, he started out as an antagonistic wise guy, borderline lunatic, reminiscent of the early appearances of Warner Brothers' Daffy Duck. This is no coincidence as two of the same men worked on both birds. The legendary voice actor Mel Blanc voiced Woody on his first four shorts; however, Woody's iconic laugh, which Blanc had used previously for Happy Rabbit, a precursor to Bugs Bunny, was re-used for many years afterwards until Blanc sued. Storyboard artist Ben Hardaway was also at Warner Brothers in the late '30s. Not only had he worked on characters like Daffy Duck, but his nickname "Bugs" was bestowed upon a soon-to-be-famous rabbit. He worked on Woody's stories and, combined with some post-production work, took over the voice the character until 1949.
Woody is barely recognizable in his early days. He is more birdlike, his head and beak are elongated, he has a red belly, and his eyes don't always look the same way. He's much harsher than the cute little bird so many know today. His features get slightly refined over the years. In 1946, Disney veteran Dick Lundy began directing Woody's cartoons and toned the character down unless provoked. Lantz' wife, Grace Stafford, took over as the voice of Woody from 1950 on, although the character didn't talk as much.
Eventually Woody had regular foils to play off. The Swedish-accented Wally Walrus first appeared in 1944's The Beach Nut. Buzz Buzzard debuted in 1948's Wet Blanket Policy as did the Academy Award-nominated "The Woody Woodpecker Song" recorded by Kay Kyser. That was one of the eight nominations for the cartoons in this set, the other seven being for short subjects.
The remaining 30 cartoons are a varied lot. There are five Andy Panda cartoons including the first from 1939 and the last from 1949; five Chilly Willy cartoons; five Swing Symphonies, which were cartoons worked around popular hit songs; ten Cartune Classics from 1933's King Klunk, a King Kong spoof, to 1955's Sh-h-h-h-h-h, where a man is prescribed to find silence to keep his nervous system from shattering; and for the serious cartoon buff, five cartoons from the '30s starring Oswald the Lucky Rabbit, who was created by Walt Disney and Ub Iwerks in 1927.
The work of other cartoon legends graces these discs. Tex Avery directed four cartoons: I'm Cold, The Legend of Rockabye Point, Crazy Mixed Up Pup, and Sh-h-h-h-h-h. The first two listed starred Chilly Willy and the middle two were nominated for Academy Awards. Writer Heck Allen worked on a few of the stories throughout.
Bonus features include a 13-minute biography about Walter Lantz and Woody's origins from 1982; a Universal feature short from 1936 called Going Places that looks at how an Oswald the Lucky Rabbit cartoon is created; a six-part behind-the-scenes look with Lantz taken from The Woody Woodpecker Show that covers where story ideas come from, animation techniques, and Woody's development over the years; and a special Halloween episode with the only original Woody Woodpecker cartoon created for the television series, "Spook-a-Nanny," which featured a lot of Lantz characters.
Of course, it wouldn't be a collection of cartoons from the '40s and '50s without the inevitable, embarrassing characterizations of Indians, Africans, Italians, etc., but for the most part this is a fantastic set with a lot of laughs. The Woody Woodpecker and Friends Classic Cartoon Collection belongs in the library of every serious fan of animation and those who enjoy a good laugh.