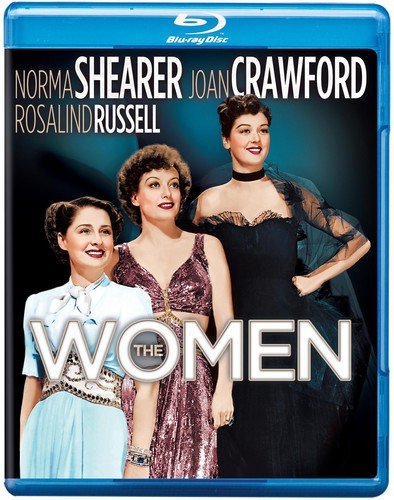 Based on Clare Boothe Luce's play of the same name, George Cukor's The Women uses the intriguing narrative device of having no men appear on screen even though their presence is felt throughout. Considering how bold a choice that would be for a film in 2014, 75 years after its release which this Blu-ray release commemorates, I am fascinated by how The Women must have been received in 1939. Unfortunately, what it suggests and what viewers are shown in regards to the main characters' strength, intelligence, and independence is inevitably undermined by their decisions.
The story is set among well-to-do Park Avenue socialites, a group of wise-cracking ladies who frequently one-up each other with rapid-fire put-downs, so hats off to Luce and screenwriters Anita Loos and Jane Murfin. The main plotline involves Mary Haines (Norma Shearer), the last among her social circle to learn her husband Stephen is having an affair with department store counter girl, Crystal Allen (Joan Crawford). That's due in part because Mary's cousin, Sylvia Fowler (Rosalind Russell), prefers gossiping rather than helping out her relative. In fact, Sylvia is so cruel she sends Mary to a blabbermouth manicurist, a friend of Crystal, who has been spreading the salacious news.
A six-minute Technicolor sequence at a fashion show occurs that likely impressed audiences at the time, but drags the film to a screeching halt since color no longer has the same novelty. According to the film's Wikipedia page but without a reference link, director Cukor told TCM host Robert Osborne "stated that he did not like the sequence and that he wanted to remove it from the film." Don't know of its accuracy, but if it is, I agree with him on both counts.
After the event, Mary confronts Crystal at the urging of Sylvia, who is looking to stir things up for her viewing pleasure. However, Crystal has no remorse and tells Mary to just accept what's happening or lose Stephen and the lifestyle he affords her. Eventually, Mary can't take any more and heads to Reno for a divorce. While there, she stays at a ranch along with other women in town for the same reason. Some are there so they can quickly move on to their new man waiting in the wings, causing them to look weak and conniving. Having time before finalizing the paperwork, Mary calls to give Stephen one last chance only to find out he's already married Crystal. Surprisingly, there's no mention of Stephen being a bigamist.
Two years pass, and Crystal is stepping out behind Stephen. Once Mary finds out, she inexplicably schemes to get Stephen back, but it's not clear why. She's a smart, beautiful woman that surely had suitors calling, yet here she is crawling back to the bum who cheated on her, remarried before they were divorced, and is only available because Crystal has moved on. It's such a shame to see Mary and many of the women in the story embarrass themselves by accepting whatever it takes to get a man, including fighting amongst themselves. That may be all that most women had to look forward to in 1939, but it's disappointing and depressing now.
The Blu-ray has been given a 1080p/ MPEG-4 AVC encoded transfer and the video is displayed with an aspect ratio of 1.37:1 Film grain is evident and increases when Mary is looking at home movies. There's a good range of grays, and whites really shine, as seen in the light reflecting off Crystal's shimmering dress. The Technicolor sequence offers strong hues. The DTS-HD Master Audio is understandably limited in dynamics but offers an adequate experience.
Most of the extras previously appeared with Warner Brothers' 2005 DVD and all are SD. Two featurettes from the Another Romance of Celluloid series. "From the Ends of the Earth" (10 min)is a 1939 travelogue that previews upcoming MGM films by showing places around the world where items were found to create them. "Hollywood: Style Center of the World" (11 min) is a 1940 short about women wanting to dress like stars, such as Joan Crawford. "Alternate Fashion Show Sequence" (6 min) shows a version of the fashion show in black-and-white. "Scoring Stage Sessions" (Audio, 39 min): I wish there had been some info attached to this explaining what we are hearing. Trailers for The Women (3 min) and its 1956 musical remake, The Opposite Sex (4 min). The MGM cartoon, "One Mother's Family,"(9 min) is about a mother hen and her chicks.
The Women began with great potential, showing women are as good as any man. Unfortunately, the message by the film's conclusion is women are only good if they have a man. Now available on blu-ray for the first time, the high-def presentation meets expectations for a film of its age and the extras are interesting.