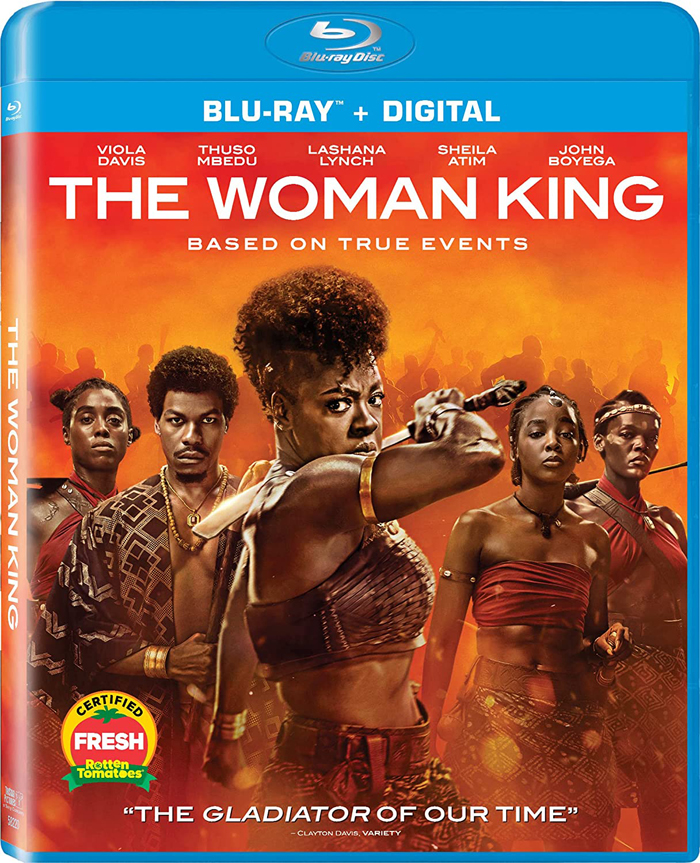 When the majority of PG-13-rated action films being released today have a Marvel or DC label attached to them, one would suspect that Gina Prince-Bythewood's The Woman King would be as watered-down and heavily edited to make it more appealing to all moviegoers. Boy, are people in for a surprise when they see how Prince-Bythewood tiptoes on the fine line between PG-13 and R-rated violence. There were times when even I winced at certain scenes, and my wife had to look completely away from the screen.
One has to wonder if there is an alternate cut for the film. And if there isn't, this is proof that Prince-Bythewood is highly skilled in her craft and that adult epics don't necessarily need to be like Braveheart or Gladiator. And yet, The Woman King belongs right up there with those two films in terms of its craftsmanship. It's a skillfully directed epic that is reminiscent of old-school filmmaking.
The Woman King states that it is based on true events. How accurate it is to the true story on which it is based is beyond me, as I am not too familiar with it. But even if it is wildly off-target from historical accuracy, as some commentators I watch have stated, that doesn't deter from the fact that Prince-Bythewood has crafted an engrossing epic that is tense and entertaining.
Set in West Africa in the 1820s, primarily in the African Kingdom of Dahomey, the story tells of General Nanisca (Viola Davis) as she trains the next generation of warriors of the all-female Royal Guard known as the Agojie. General Nanisca is a fierce leader, and Davis owns the role with strong conviction. She and the Agojie serve as protectors of the kingdom, even if its ruler, King Ghezo (John Boyega), doesn't have the same values as its citizens. Deals with Portuguese slave traders have become a common thing in the kingdom, despite its citizens not agreeing with the negotiations.
The Woman King also focuses on a younger character named Nawi (Thuso Mbedu), whose father abandoned her because she wouldn't marry a much older man. She is taken under the wing of Izogie (Lashana Lynch), General Nanisca's partner, who then trains and develops her to become as bold and as brave as the other women in the Agojie.
Written by Dana Stevens, who partnered with actress Maria Bello to conceive the story, The Woman King does become a bit complicated with some plot lines that occur later on in the film and some twists that don't exactly hit as hard as intended. Some of the characters who arrive almost seem too clean and pretty for the time period, especially in comparison to Davis' General Nanisca. But Prince-Bythewood overcomes all obstacles to deliver a solid epic that, once again, shows how much of a force Davis is to be reckoned with, when it comes to any role she is given.
The supporting cast does excellent work as well, with Lynch being a standout amongst the secondary characters and Mbedu capturing the naivety of Nawi perfectly. But this is more of a film for Davis when it comes to the strong performances. She has always shown her wide range in dramatic films such as Fences and Doubt. But The Woman King gives her something that is out of her normal realm, and she owns every minute of it.
The Blu-ray release for The Woman King comes with an impressive 1080p High Definition transfer that really captures all of the imagery of the film spectacularly. The colors and the atmospheric settings are engrossing and truly something to behold on the biggest screen possible. And with the 5.1 Dolby Digital Track capturing the sounds of battle, it shows that this is a movie worthy of the big screen experience.
The special features clock in at more than one hour and contain the following:
A Caterpillar's Destruction: Viola Davis on Set
Representation Matters
Woman/Warrior
Storytellers
Thuso Mbedu Auditions
Filmmakers Commentary
As a history buff, I do get irked by some things if it's glaringly inaccurate. And while I don't know much about the true story behind The Woman King, it will be one exception I'll make. Gina Prince-Bythewood has crafted something that is raw and brutal and is also another reminder of how tremendous of an actress Viola Davis is in any role she takes on.