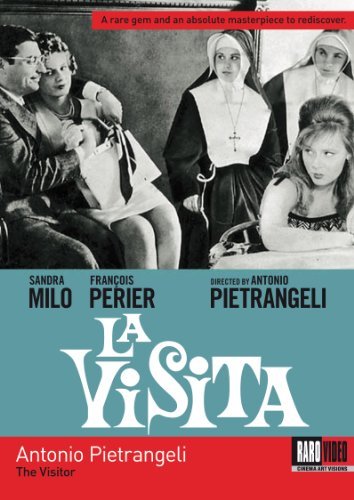 An increasingly nuanced and complex portrayal of the things we do for security and love, Antonio Pietrangeli's The Visitor (La Visita) is a small masterwork. Following up their superb release of Pietrangeli's Adua and Her Friends, Raro Video presents another solid DVD from this criminally little known Italian filmmaker. Unfortunately, a non-anamorphic transfer makes it a little harder to recommend this disc.
The film opens with government employee Pina (Sandra Milo) meeting bookstore clerk Adolfo (François Périer) at the train station in her small provincial town. The film sketches out a few bare details — this is their first meeting; they corresponded through the personal ads — and soon, they have retired to her spacious country home to get to know each other. She's looking for a husband who can whisk her away to Rome; he's looking for a wealthy woman who can take care of him. Soon, a series of brief flashbacks reveal further details about their private lives — he's mostly despised by his boss and coworkers; she's generally well-liked but laughingly derided behind her back as well.
Anyone with even a passing interest in Italian film will likely have some preconceived notions about the two leads. Milo, Guido's lusty mistress in 8 ½, is more buttoned-down but still stunningly beautiful here, making her worries about becoming an old maid seem like she has the worst self-esteem possible. Périer, the untrustworthy Oscar in Nights of Cabiria, possesses the same smarmy, sniveling edge in this film, and his constant inquiries about Pina's finances, his cruelty toward her pets and his casual racism make him almost wholly despicable.
Pina's eagerness to be married seemingly blinds her to all these qualities, and she begins planning out their married life even as Adolfo's eye is already wandering toward the 16-year-old who lives next door. Much of the film proceeds as light comedy, as Adolfo's own romantic ineptness thwarts him despite Pina's smitten disposition, and the townspeople show little regard for the self-satisfied big city man.
One hopes that Pina will wise up and see Adolfo for the unsuitable partner he clearly is, but it seems inevitable she will end up making a mistake. For some time, the film seems to be positioning itself as a cynical, bitter comedy about the nature of romance, but expectations are upended as the flashbacks introduce new character wrinkles, and by the end, The Visitor has emerged as an exceptionally poignant portrait.
As mentioned before, Raro Video has unfortunately given the 1.85:1 a letterboxed, non-anamorphic transfer, which is certainly not their usual policy. The disc comes equipped with a trio of interviews with filmmaker and screenwriter Ettore Scola, composer Armando Trovajoli and Pietrangeli's son Paolo. In another corner-cutting move, the typically excellent booklet is offered up here as a DVD-ROM PDF file, which contains an essay by Gabrielle Lucantonio, critical excerpts, notes from Pietrangeli and Milo, and biographical info. Mostly, this is another excellent release of an overlooked film from Raro; let's just hope the more disappointing aspects of the disc aren't new company policy.