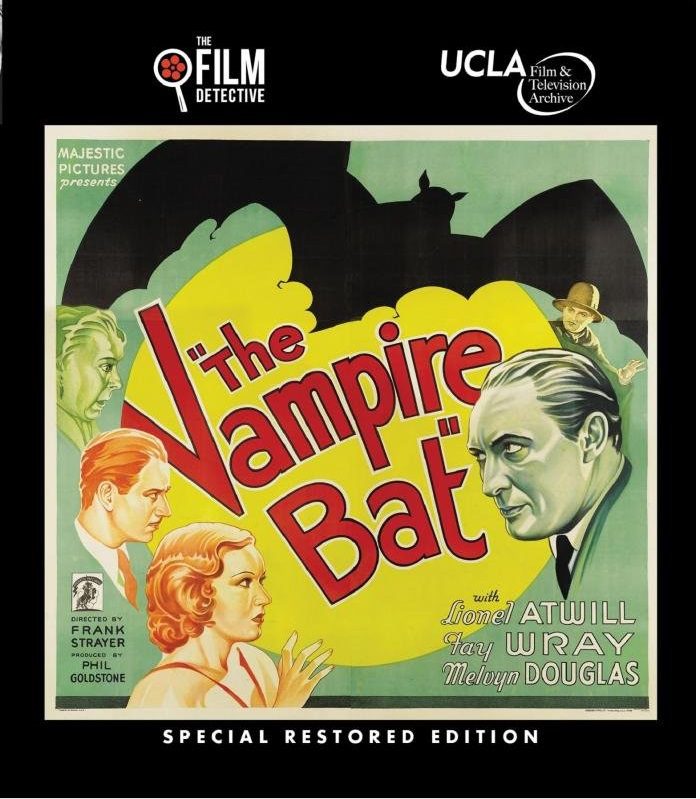 Sometimes, being in the right place at the right time is all it takes. And when it comes to fairly forgotten B horror pictures from Poverty Row during the 1930s, Frank R. Strayer's underrated gem The Vampire Bat essentially flew down from the skies and into motion picture history just for its impeccable timing alone. Filmed at night on leftover sets from earlier big studio productions and rounding up a fine cast from various other recent horror hits ‒ independent or otherwise ‒ this 1933 chiller from mystery/thriller writer Edward T. Lowe Jr. has all of the heart, humor, and horror its major competitors did, along with a little extra added bite for good measure.
People are dying mysteriously in a small European village; mysterious exsanguinations which leave superstitious locals to conclude it must be the work of a vampire (what else?). The local police inspector ‒ played by the charismatic and remarkably accent-less Melvyn Douglas, who is clearly having a good time making easy money ‒ finds the idea too far-fetched. Lionel Atwill (as Dr. Otto von Niemann) isn't terribly certain about the old mountain village lore, either, but his odd tendency to stare off into the distance and make random wide-eyed expressions to what we can only assume was the camera operator's hot assistant make us all begin to suspect otherwise.
But tensions soon begin to arise within the underdeveloped minds of the locals, leading them all to cast their rotten suppositions on the proverbial village idiot, Herman, brought to fabulously fey life by the one and only Dwight Frye ‒ who cemented his name into the annals of horror two years before as the entomophagous Renfield in Tod Browning's Dracula. While the part may have only helped to typecast the legendary character actor (as he plays yet another lunatic here), his extended cameo special guest star appearance (which, in all honesty, is the best way to describe his part) has since proved to be one of The Vampire Bat's greatest assets.
Speaking of greatest assets, we can't forget the casting of the beautiful Fay Wray as the film's heroine. Sure, she doesn't have a lot to do here other than to flirt with Melvyn Douglas or react to the outrageous antics of co-star Maude Eburne (who portrays Wray's annoying hypochondriac auntie), but, by golly, the timing of her casting couldn't have been any better. Having previously starred opposite Lionel Atwill in the two-strip Technicolor Doctor X, the team of Atwill & Wray had just finished filming Mystery of the Wax Museum at Warner Bros. and was on the verge of becoming a cult icon in a tiny little RKO flick called King Kong.
Lionel Belmore, who played the bürgermeister in at least a half-dozen Universal horror pictures, including James Whale's Frankenstein (which The Vampire Bat borrowed its European village set from wholesale), once again plays a bürgermeister here (now that's some serious typecasting). Cinema's first Robin Hood (as well as one of filmdom's earliest Christs), the enigmatic Robert Frazer ‒ who fell under Bela Lugosi's spell in White Zombie, much like Dwight Frye did in Dracula ‒ plays Atwill's servant here; two years later, the actor would pop up in another Poverty Row vampiric thriller, Condemned to Live with Ralph Morgan.
Rushed into production and released a month before Mystery of the Wax Museum could first stun audiences, this memorable quickie from Majestic Pictures was one of many titles which would someday fall into the dreaded Public Domain. As such, nearly every release since home video became a serious thing in the 1980s have seemed like copies of second-generation 16mm dupes at best. Recently, however, the UCLA Film & Television Archive managed to unearth not only a 35mm composite acetate fine grain master, but also a 35mm nitrate print of this pre-Code gem ‒ both of which were used for this BD-R release from indie label The Film Detective.
Both prints used clearly show their own signs of wear, but all in all, I can safely say that this is the best The Vampire Bat has ever looked on home video. From the opening credits alone, there's a remarkable amount of clarity which has never been seen; a genuine improvement in quality that had me staring in amazement on several occasions, especially at the subtle eye movements Lionel Atwill, Fay Wray, or Dwight Frye display. Furthermore, UCLA archivists went to the extra added trouble of recreating Gustav Brock's hand-drawn colors for the torches during the Bronson Cavern chase sequence, making this the first home video release to include the same.
Sporting a (greatly appreciated) higher bitrate than many of The Film Detective's other BD-R releases, The Vampire Bat is presented in its original Academy aspect ratio with Dolby Digital sound and optional English subtitles. You probably won't need the latter if you aren't hard of hearing, as the audio is very clear. Since special features for budget releases aren't too terribly common, the inclusion of an audio commentary by exploitation movie guru Sam Sherman (who is always a blast to listen to) is nice. A second bonus offering, a newly-produced featurette about Melvyn Douglas by his son, Gregory Hesselberg, is very personal, but informative just the same.
Highly Recommended.