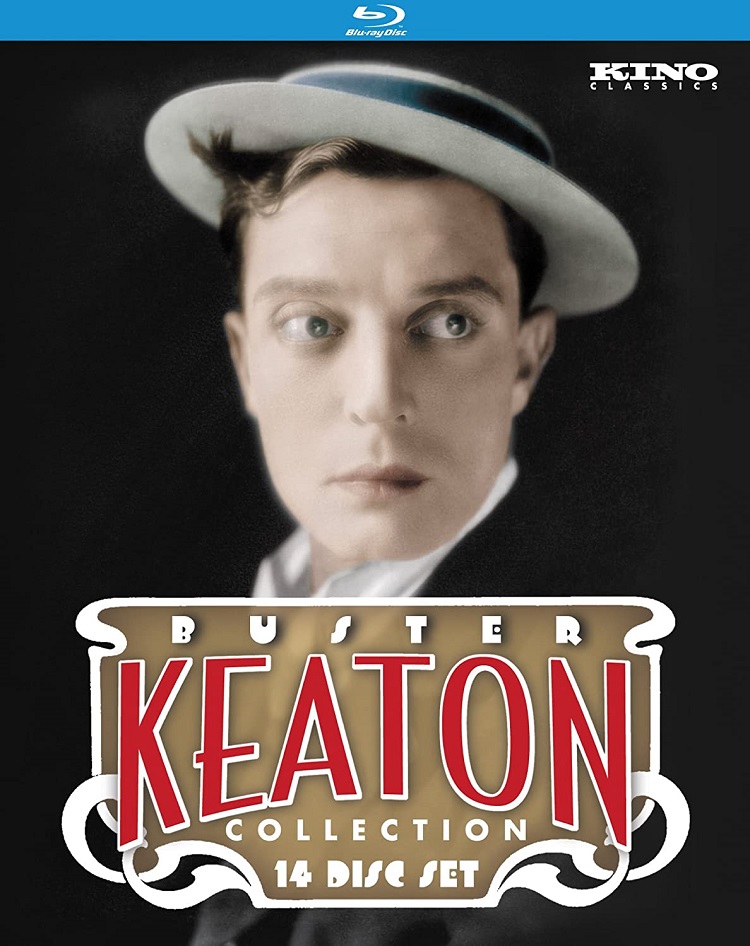 One of the more liberating things about college was to find people just as passionate about movies as I was. Sure I used to go to the movies with my parents on a regular basis, and me and my buddies would rent flicks about every weekend, but to everyone else it seemed as if films were just a way to pass time – mere entertainment – while to my mind they were so much more. They were Art, they were Life, they had Meaning and Import. At university, I was able to find like-minded folks who took these things seriously and we schooled each other in film.
We'd often go to the movies together then spend our time afterwards discussing its merits and flaws. On weekends when we had nothing else to do, we'd rent older films that one or more of us loved and show of our film knowledge. On one such weekend one of my friends introduced me to the wonderful world of Buster Keaton. Up until that point my knowledge of silent films consisted of a few Charlie Chaplin routines, Laurel and Hardy via the adventures of Scooby-Doo, and the last 10 minutes or so of Nosferatu.
Keaton was a revelation. A crazy, brilliant, hilarious revelation. Me and the boys spent the rest of the night being amazed by the audacity of his stunts. My friend, the one who brought the Keaton, was a bit of a physical comedian himself having previously graduated from Ringling Bros. Clown College and often wowed folk with his juggling/fire swallowing act around town. He provided the audio commentary to our show, highlighting the ingenuity and technical prowess of Keaton while guffawing at his humor. It was a great night and whenever I see Keaton's named mention I always think of it.
I am a bit ashamed to admit that though that night opened my eyes to what silent films could do I've continued to mostly neglect them. I have no excuse for that except to say that somewhere in my brain there is this idea that watching a silent film is hard, like reading Joyce or understanding Jackson Pollack's splashes of color. I know this isn't true as I remember how completely undifficult those Keaton films were but I can't seem to unlodge the idea from my mind and thus I tend to put off watching more.
With this 14-disk Buster Keaton collection from Kino I not only have found my excuse to prove that thought wrong, but I've also named my Pick of the Week.
The set includes all of the previously released Kino Keaton Ultimate Edition releases (Buster Keaton: Short Films Collection: 1920-1923, The Saphead (1920), Our Hospitality (1923) Sherlock Jr. / Three Ages (1923/1924), The Navigator (1924), Seven Chances (1925), Go West / Battling Butler (1925/1926), The General (1926), Steamboat Bill, Jr. (1928) and Lost Keaton (1934-1937) plus College which has not previously been released on Blu-ray. That's a whole lot of goodness wrapped up in one box. From what I can tell, beyond the additional extra movie there are no special features not already included in the smaller boxed sets previously released, so if you've got those, there is no reason to buy this (and College has plans for a release as a single next year.) But if you are like me and don't have those sets this is a pretty good buy.
Also out this week that looks interesting:
Mission: Impossible – The Complete Series: I'm a fan of the films but I've never seen the TV show. This set collects the original run of seven seasons plus the two seasons of its 1980s revival and they put it in a collectible dynamite box.
Following (Criterion Blu-ray): Christopher Nolan's fascinating first film gets the Criterion treatment. Extras include an interview with the director about the film, a linear edit of the story in chronological order, parts of the shooting script are included with clips from those scenes to show how closely Nolan followed the script, trailers, an early Nolan short film and an essay by Scott Foundas.
Girls: The Complete First Season: A much-buzzed-about HBO series. I caught the first episode and enjoyed it but the second episode started with a pretty high volume sex scene which was a bit more than I could take while my 18-month old-daughter watched on so its been put on the back burner until the girl gets a bit older (or takes better naps.)
Ice Age: Continental Drift: I checked out of the Ice Age series after film one, but they keep making them and people keep watching them, like Steve Geise, who reviewed it for the site.
The Bourne Legacy: I also checked out of the Bourne films after two of them and here we are at the fourth.
Ted: I've never cared much for Seth MacFarlane's animated series, and so I left this live action feature completely alone. Some people have said its funny, though. Chad Derdowski is one of them, as his review reveals.
The Story of Film: An Odyssey: A 15-part series on the history of cinema.
The Toxic Avenger – Japanese Cut: A few extra scenes have been added to this Citizen Kane of trash flicks.