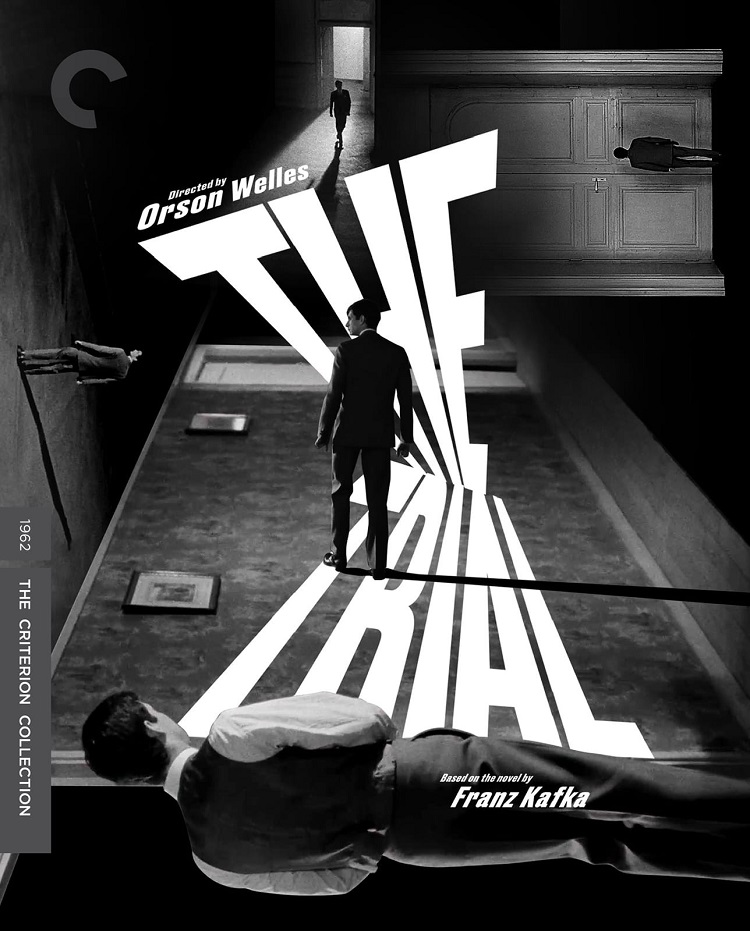 Orson Welles remains one of the most legendary figures in film history. His talent (and ego) knew no bounds. He was a groundbreaking (and controversial) actor, director, screenwriter, and producer who had very eclectic tastes. Of course, he's still incredibly well known for his 1941 game-changing masterpiece Citizen Kane and other classics, such as The Magnificent Ambersons and Touch of Evil, but I actually prefer his small-scale ones, which definitely include his many literary adaptations. The one that really drew me in is his stark and nightmarish 1962 interpretation of Frank Kafka's celebrated, absurdist novella, The Trial.
Anthony Perkins, in a pitch-perfect performance, plays Joseph K., an ordinary office drone worker who is suddenly arrested by two detectives for an unspecified crime. Getting extremely pissed, he tries to figure out what the crime was and why he was charged with it. The deeper he goes to clear his name, the further his mind starts to play tricks on him, which leads to him to the point of no return.
Even after my first viewing of this on TCM recently, I was immediately struck by its overall disturbing narrative and Welles' disorienting direction, as well as Perkins' brilliant portrayal of an everyman forced into extraordinarily bleak circumstances that are way out of his league. Watching it, I felt like I was in another world, a dark and unforgiving one that Welles may have been a little too eager to expose to an unsuspecting audience. We still (and sometimes loathe) him for that. Whatever you think of him, he will always be a part of cinematic myth, and personally I think that The Trail will remain forever ahead of its time.
Being released by the amazing people at Criterion on both 4K UHD and Blu-ray, the supplements sound viable. They include an exclusive audio commentary by noted film historian Joseph McBride; a 1981 documentary about the film's production; archival interviews with Welles, actor Jeanne Moreau, and director of photography Edmond Richard; and trailer. There's also a new essay by author Jonathan Lethem.
If you're a fan of Welles, Perkins, and/or Kafka, then adding this release is definitely a no-brainer. It's a hauntingly warped and paranoiac masterpiece on every level.
Other releases:
The Exorcist 4K UHD: A new 50th anniversary of William Fredkin's pioneering horror masterpiece with Linda Blair as the possessed Regan McNeil, her distressed mother Chris (Ellen Burstyn), and the priests Father Merrin (Max von Sydow) and Damien Karras (Jason Miller) determined to save her.
The Lost City of Z 4K UHD: Acclaimed adaptation of David Grann's best-selling book centering on British explorer Col. Percival Fawcett (Charlie Huunam), who disappeared while searching for a mysterious city in the Amazon in the 1920s.
Ringu 4K UHD (Arrow): The original 1998 Japanese classic chiller where an inquisitive journalist's life is in danger after finding a mysterious tape that may be responsible for a series of gruesome deaths.
Past Lives: A touching story of potential romance between two deeply connected childhood friends from South Korea who after 20 years reunite for one fateful week in New York.