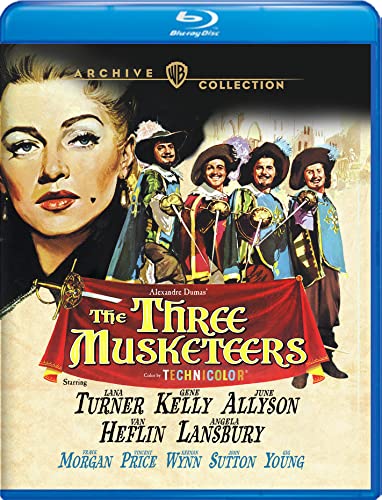 MGM's 1948 version of this classic tale is full of stars but short on clear direction. The first act plays like a zany swashbuckling spoof, with Gene Kelly as D'Artagnan in peak overacting mode that makes him seem more like the fourth Stooge than the fourth Musketeer. Unfortunately, the rest of the film devolves to a stodgy, dull, and overlong approach that bears the hallmarks of a studio executive demanding a course correction after viewing the dailies.
In spite of the film's split personality, it's worth viewing for the amazing amount and variety of stars. Where else can you see Kelly and Vincent Price facing off against each other? Or the Wizard of Oz himself, Frank Morgan, ruling over France as King Louis with his queen, Angela Lansbury? Lana Turner brings the heat and heart-shaped beauty marks as the villainous Lady de Winter, while June Allyson plays the good girl, Constance. Keenan Wynn pops in for additional comic relief as D'Artagnan's dopey loyal friend, while Van Heflin leads the core trio of Musketeers. The film clearly belongs to Kelly though, with much of the cast seemingly just picking up a few days of work in between other projects on the MGM studio lot.
Although the cast is heavy with musical legends, there are no songs in the film. That doesn't stop Kelly from displaying some fancy footwork in the film's many sword fight scenes. The first brawl takes place in a garden that amusingly looks like a common California municipal park, with Kelly leaping and tumbling to gain the advantage over his foes. A later tussle goes down on a beach for no discernible reason other than a fun outing for the cast. The lazy exterior locations don't blend well with the ornate interior sets, but do give the stuntmen plenty of opportunities to daringly leap onto horseback from afar.
The new Blu-ray is sourced from a remarkably clean, restored print and formatted at 1.37:1. Colors look a bit artificial as typical of Technicolor works of the era, but hold their consistency throughout all scenes. The sound is presented in a DTS-HD Master Audio 2.0 mono format that is also free of defects.
The lead bonus feature is a vintage FitzPatrick Traveltalks short looking at London in the aftermath of World War II. The camera pans across memorable monuments and surveys some of the war's destruction, but doesn't offer much more than one would see in common photos of that time. The disc also includes a funny Tex Avery cartoon about a dog and his flea best friend, as well as an audio-only radio promo for the feature film and a theatrical trailer.
The Three Musketeers is now available for purchase from select retailers and Warner Archive's Amazon store.