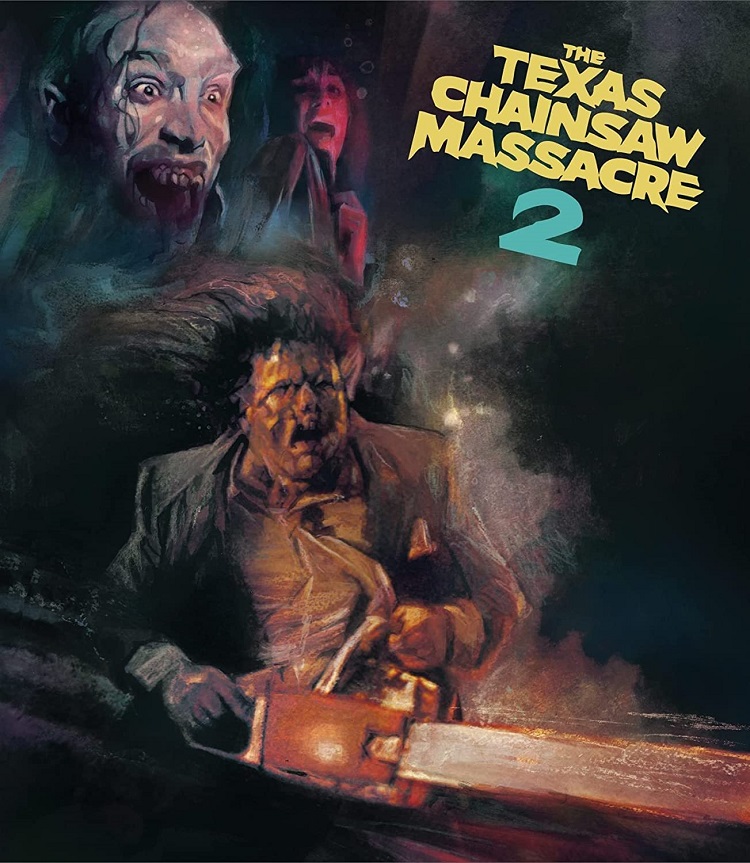 The Texas Chainsaw Massacre 2, legendary genre director Tobe Hooper's wild and viciously bonkers follow-up to his groundbreaking and still terrifying 1974 masterpiece, is probably never going to reach the heights of that original film, but it does manage to have its own merits. It's gory, unpredictable, and completely insane, which is why is still works.
The plot, albeit secondary to the film's darkly comedic savagery, has the late, great Dennis Hopper playing Texas lawman Lefty Enright, who seeks revenge for the death of his nephew Franklin (from the first film) on Leatherface and his cannibalistic clan, with the help of pretty disc jockey Vanita "Stretch" Brock (the lovely Caroline Williams) at an abandoned amusement park.
That's it. Again, the plot doesn't really matter because there is a bold display of nightmarish buffoonery going on here. It's madness but you have to admire Hopper for pulling out all the stops and not apologizing for any it. He also gets an impressively committed cast, led by not just Hopper and Williams, but also the great Bill Moseley as 'Chop-Top', Jim Siedow (who returns as the iconic Drayton Sawyer from the first film), and Bill Johnson as Leatherface. His approach to this mammoth, murderous hulk may not be as iconic as Gunner Hansen's from the original, but he manages to provide some actual personality, especially in a scene where he threatens (and falls in love with) "Stretch" with his chainsaw blatantly positioned at her crotch. He also contributes to perhaps one of the great jump scares in horror history when Leatherface first shows up at the radio station.
Despite the compromised and troubled production, the final product is quite interesting and manages to do something a little different in the franchise, which makes it just as weirdly watchable as the original, and way better than the later sequels and reboots/remakes that unfortunately came after it. It also benefits from amazing practical effects from the one and only Tom Savini. You can't get any better than that.
There have been previous releases from Scream Factory and Arrow already, but this new 4K UHD from Vinegar Syndrome, looks to be the most definitive edition of this controversial but often and unfairly maligned sequel.
The stacked releases includes newly produced and vintage special features, including a new commentary by film historian/critic Patrick Bromley; commentaries with Hooper, Williams, Moseley, Savini, cinematographer Richard Kooris, production designer Cary White, script supervisor Laura Kooris, and property master Michael Sullivan; interviews with Savini, Williams, makeup effects artists Gabe Bartalos and Barton Mixon; featurettes, alternate opening, deleted scenes; extensive still galleries, original U.S. and Japanese theatrical trailers; tv spots, and much, much more!
If you don't already own the previous releases, but you have a 4K player and are diehard horror fanatic, then this release should definitely be a no-brainer for your collection, depending on your tastes. Just make sure you hurry, since there are only 10,000 copies available.
Other releases:
Cutter's Way (Fun City Editions): Jeff Bridges, John Heard, and Lisa Eichhorn star in this underrated neonoir about a boozy and deeply cynical Vietnam veteran (Heard) seeking revenge after his playboy friend (Bridges) is falsely accused of murder.
Train to Busan 4K UHD (Well Go USA): This modern zombie classic takes place on a train from Seoul to Busan as survivors try to survive an outbreak that breaks out in South Korea.
In The Soup (Factory 25): Steve Buscemi stars as an aspiring writer-director is really down on his luck. Plagued by self-doubt, money troubles, and unrequited love for his neighbor (Jennifer Beals), he decides to sell his 500-page script to the highest bidder, a fast-talking crook (the late Seymour Cassel) who has his own agenda.
Detective Story (Kino): During a 24-hour period, assorted characters form a backdrop for the hardships of a New York detective (Kirk Douglas).
Alma's Rainbow (Milestone): Rainbow Gold is a teenager in Brooklyn entering womanhood and self-discovery under the guidance of her show-biz aunt.