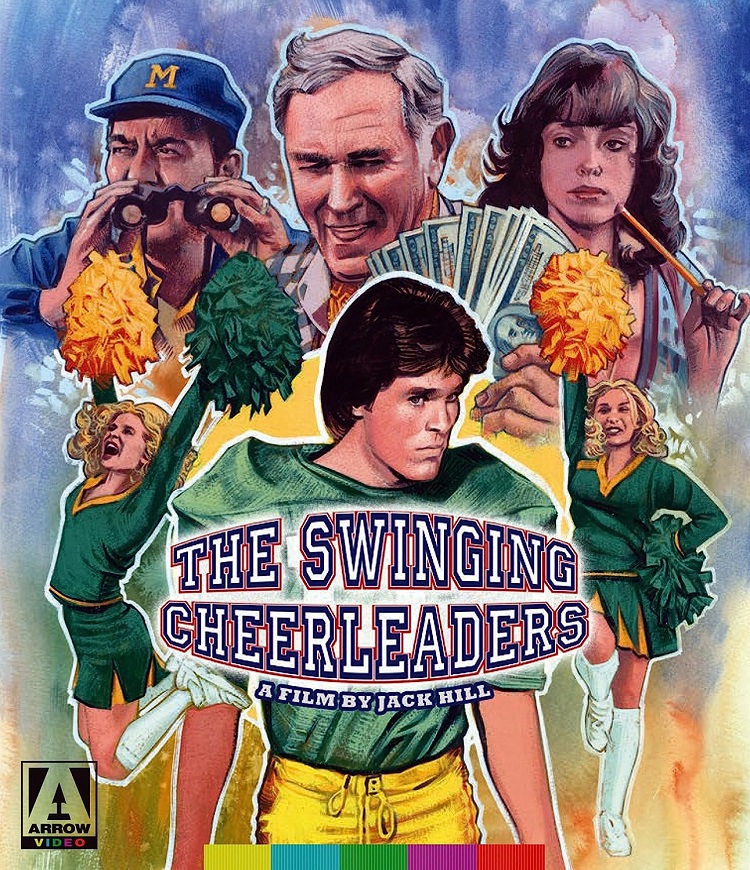 While exploitation cinema may seem like straightforward T&A or violence most of the time, there are ‒ much like a rotten onion ‒ many layers that make it so unique. One of my favorite facets embedded in such a terrible analogy was the genre's ability to flat-out lie to potential audiences about what it had to offer. Shady folks who liked to call themselves distributors would frequently re-title, re-cut, and re-release other films ‒ sometimes going as far to shoot new footage or record new dialogue ‒ all in the name of deliberately marketing their product something it was not.
This trickery continued well up into the home video boom of the '80s and '90s, wherein young men like myself were constantly stumbling across rechristened movies advertised as something else. One such displeasure happened to me and a friend when we picked up something that was advertised as a steamy erotic romp into sexual depravity. In fact, it was an edited version of the 1979 sex comedy H.O.T.S., which sadly, completely failed to live up to its hype and destroyed our oversexed little teenaged desires in the process.
Several years before H.O.T.S. made its way to drive-in screens across the nation, former Roger Corman protege Jack Hill (Spider Baby, Switchblade Sisters) ‒ fresh from defining the blaxploitation genre and all-but creating the Women in Prison movie craze ‒ dived head first into the wet and wild waters of sexploitation film with The Swinging Cheerleaders. And, in keeping up with one of exploitation cinema's greatest stratagem, Mr. Hill's seemingly tawdry and titillating 1974 opus is very much not what it may seem to be what its advertising campaign promises.
The film ‒ which was actually released on home video at one point in time as H.O.T.S. II, unbelievably enough ‒ is quite tame when compared to its sorta-kinda predecessor, 1973's The Cheerleaders, which focused on the eponymous members of a Southern California high-school using their God-given assets in order to wear out their football team's competition. Football once again is the sport of (public) recreation in The Swinging Cheerleaders, which finds the Mesa University football team in the midst of a miraculous winning streak they simply cannot lose.
Into this arena steps the lovely Jo Johnston, in her one and only role (at least, under that name) as college journalist Kate, who intends to expose the rampant sexism afoot between cheerleaders and the multitude of (straight) men who will do anything for them. But, as opposed to the wild and uninhibited sex-fest you'd imagine (or perhaps, hope) it would be, Jack Hill and co-writer David Kidd ‒ both using female writing aliases ‒ lead their lead character into a slightly less naughty foray. Sure, there's nudity and sex afoot here, but not in quite the manner you would expect.
In fact, Kate soon abandons her journalistic dream once she begins to hang out with her newfound peppy peers and their very horny preppy boy toys. Meanwhile, in the mostly hidden plot, Coach Jack Denton (former gag-writer for Milton Berle) and corrupt dean George Wallace (Radar Men from the Moon) decide to turn their football team's winning streak into an illegal gambling affair. Jason Sommers (Detroit 9000) is the only black college professor who is bedding the only black cheerleader (and who is also the university's bookie!).
Doomed sexpot Cheryl Rainbeaux Smith (The Incredible Melting Man) is the virgin cheerleader. Future Playboy Playmate Rosanne Katon (September 1978) is the one sleeping with the professor. Colleen Camp, whom those of you who grew up watching the same sort of dynamic filmfare as I did will no doubt remember as Tackleberry's love interest in the Police Academy films, is the leader of the cheerleaders, who rules with an iron fist: something she has obviously inherited her shady dean of a father. Ron Hajak and Ric Carrott are the fly-by-night football studs of the tale.
Representing the other bad guys in the tale are the late Ian Sander (later a prolific television producer), who plays Kate's scuzzball boyfriend who plans an impromptu group activity for Rainbeaux Smith. Also popping up in this footnote from Jack Hill's filmography are Bob Minor and ugly John Quade as a pair of corrupt campus policemen, and Mae Mercer (Frogs, Dirty Harry) as the angry, bloodthirsty wife of Jason Sommers' wayward college professor. These baddies are only seen briefly, overall; the bulk of the film is played out in a much lighter tone.
Wrapping up the really minor fragments of the cast here (there isn't much else to talk about, really), is an ill fated ex-pornographic actress named Sandy Dempsey, who died in a 1975 boating accident shortly after retiring from the adult film industry. She can be seen as one of the girls who doesn't make the cheerleading team tryouts, which is pretty ironic for a '70s skin flick. But, as I said before, The Swinging Cheerleaders (which was reissued theatrically in 1981 by the unscrupulous distributor outfit MPM as Locker Room Girls!) is not entirely what it appears to be.
Previously released (and re-released) on every conceivable home video format possible, The Swinging Cheerleaders makes its High-Definition Blu-ray debut courtesy the folks at Arrow Video. Looking as good as it is ever likely to, Arrow's 1080p 1.66:1 widescreen transfer is culled from an original camera negative, and is definitely the best presentation the film has ever received. Accompanying the feature film is an LPCM Mono audio track, and English subtitles are included. Arrow's Blu-ray/DVD Combo set also includes an informative booklet featuring stills and an essay on the movie.
Special features for The Swinging Cheerleaders include a new interview with Jack Hill himself, who also returns for the disc's audio commentary. An archival interview with Hill and Johnny Legend, recorded by the former with a camcorder in the '90s or so. A newer, slightly archival interview with cinematographer Alfred Taylor was originally filmed for Arrow's release of my favorite Jack Hill film, Spider Baby. A Q&A from a 2007 New Beverly Cinema screening and two TV spots (both with classic grindhouse narration) conclude the assortment of goodies.
In short, The Swinging Cheerleaders doesn't really swing very much. It's a fun way to waste an hour-and-a-half, and Hill and Co. most definitely give it their all. Alas, there doesn't seem to be a whole lot to give here, but I would still recommend it to fans of Jack Hill and/or '70s (s)exploitation.