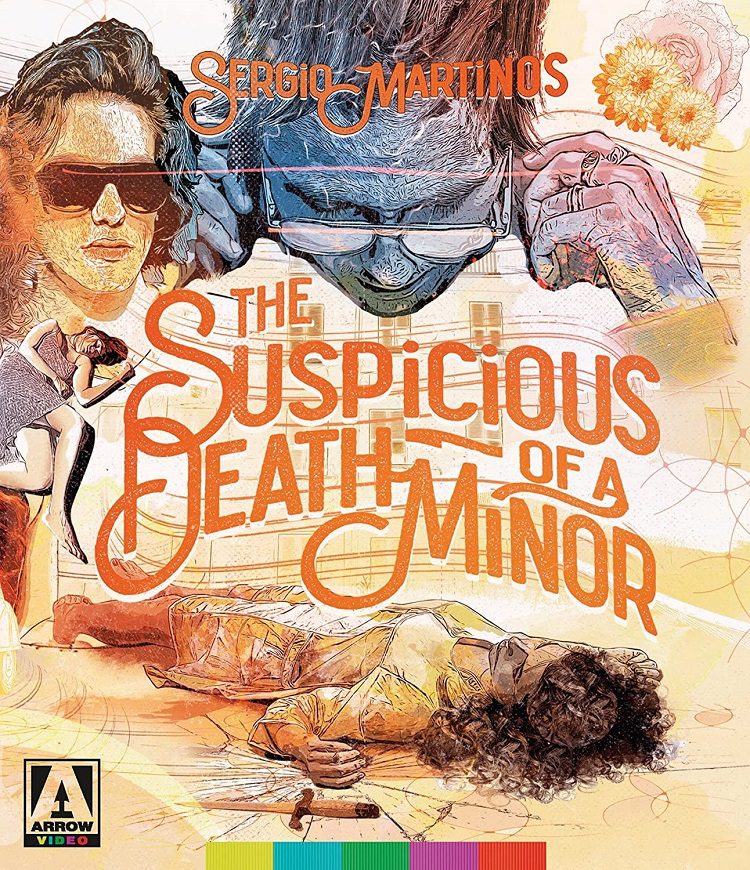 An ordinary man of an artistic nature witnesses a brutal murder, only to meet a cast of kooky characters as he sets out to find the killer since the local police captain can't or won't do anything. Even if you've only ever seen one Italian giallo in your life, the aforementioned synopsis would go on to become one of the most conventional themes in an the otherwise unconventional subgenre. The motif is especially prominent in the early (and even later) works of Dario Argento, who changed both the face and style of filmmaking forever throughout the first half of the 1970s, beginning with The Bird with the Crystal Plumage in 1970, and climaxing with another game-changer, 1975's Deep Red.
So why am I here talking about Argento on a Sergio Martino film? Well kids, it just so happens that the same year Argento's Deep Red made a successful debut in its native Italy, Sergio Martino produced and released this very different ‒ to say nothing of wild ‒ take on the genre. No stranger to the giallo himself, Martino had previously helmed a number of favorites from the field, crafting such quintessential, more "standard" entries as Torso, Your Vice is a Locked Room and Only I Have the Key, The Strange Vice of Mrs. Wardh, and All the Colors of the Dark. In fact, Martino's previous experience directing gialli only makes The Suspicious Death of a Minor all the more fascinating.
For starters, it's not really a giallo at all. Rather, Martino set out to create a more prototype entry to another popular film movement going on in Italy at the time, the poliziotteschi. But he didn't stop there. And you'll find out for yourself once you're sitting there with your lower jaw set to the "It's only attached because there's skin holding it there" setting as what at first appears to be a bloody sleazy thriller transforms into an action crime drama with euphorically mind-blowing scenes of slapstick comedy grafted onto it for good measure. It's the sort of thing only the genuine genius of Italian cinema who made the equally insane, post-apocalyptic cult classic 2019: After the Fall of New York could pull off.
And it's just one reason to add The Suspicious Death of a Minor to your collection. Borrowing more than just a skosh from Argento's Deep Red ‒ to the point where I adoringly nicknamed this one "Deep Red Something" (a bad '90s music reference that almost feels appropriate when one takes note of the casting of Audrey Hepburn's ex-husband) ‒ The Suspicious Death of a Minor (Morte sospetta di una minorerre) finds the late great Claudio Cassinelli as a police detective who works secretly on kidnapping cases. He's the guy who goes undercover into the seedy underbelly of the city to find out the whos, whats, and whys as the rest of the boys take care of the wheres and how muches.
For this case, however, Claudio (who drives around in an increasingly deteriorating automobile, à la Daria Nicolodi's vehicle in Deep Red) finds himself getting into one hot mess after another. And while the actual plot itself as something of a necessary evil, it's a good thing here, as it affords Martino to catapult his protagonist into one strange situation after another. One minute, you're in the middle of a wacky car chase, followed by a shootout on a moving roller coaster. Then you have several brutal murders. And let's not forget about that sleazy cinema with the sunroof ceiling! All this amid a confused and seemingly despondent Mel Ferrer as the grumpy police captain and a sea of female Harpo Marx impersonators.
Were that not enough to garner your interest some, how about that funky music score by Luciano Michelini? One day in the near future, a composition from an obscured collaboration between Martino and he would become the theme song of Larry David's Curb Your Enthusiasm. Here, however, he gives us a highly enjoyable progressive rock score, the theme of which is so heavily influenced by the main track of Argento's Deep Red (right down to a similar bass line even!), that I can only describe it is the best giallo score Goblin never made. Had it been included in any other movie but this Sergio Martino giallo/poliziotteschi hybrid, it would have been outright sacrilege. Here, however, it's something akin to sheer subgenius.
Speaking of amalgamations, director and co-writer Sergio Martino disposes of the classic "conventional" gialli characters here. Normally, we'd have the unholy trinity of hero, the hero's romantic interest, and the usually condescending (but nevertheless usually pretty cool when all the chips are down) police official. Here, we really only get one main lead: the late great Claudio Cassanelli. Though he flies solo throughout, Claudio occasionally recruits a goofy-looking young thief (Adolfo Caruso) to help him break every rule in the book as he tracks down the hired the killer in sunglasses offing underage prostitutes. Claudio also smugly traumatizes the poor kid by making him move dead folk or helping them to get their start. What a guy.
Also featured in this wonderfully weird movie are Lia Tanzi, Gianfranco Barra, Lia Tanzi, Jenny Tamburi, Barbara Magnolfi (Suspiria), Aldo Massasso, Massimo Girotti, and Robert Posse (also in Martino's The Island of the Fishmen with Claudio Cassinelli, released in the US as Screamers with newly-shot footage of Mel Ferrer tacked on to the beginning). It would be the last giallo Sergio Martino made for a spell, even if it technically isn't one. Like many of Sergio's movies, it was produced by his brother, Luciano. Ernesto Gastaldi (co-wrote the screenplay, and Giancarlo Ferrando (The Big Alligator River, which also starred Cassinelli!) provides the praise-worthy cinematography.
Arrow Video adds this very unique title to their ever-expanding library of amazing titles as a Blu-ray/DVD Combo. On most accounts, Arrow's new 1080p MPEG-4 AVC encode of The Suspicious Death of a Minor looks quite superb, although I found the color timing to be a little too far on the reddish side, so you purists may want to adjust the hue a wee bit. (For the record, the DVD version is lighter on the reds, but appears as if it may be a little too heavy on the blues.) Other than that, this is a beautiful widescreen transfer, and the Italian and English LPCM Mono soundtracks never failed to disappoint. One set of English (SDH) subtitles is included for the two audio tracks, and appears to be more of what we sometimes call "dubtitles."
Special features for The Suspicious Death of a Minor are limited, but well worth your time. First off is an informative and lively audio commentary by genre specialist and author Troy Howarth (So Deadly, So Perverse: 50 Years of Italian Giallo Films). As a longtime giallo fan myself (and someone who enjoys seeing Mel Ferrer pop up in B movies or TV shows), it was like listening to my own subconscious speaking throughout, so I was quite entertained by the track. A surprisingly lengthy new interview with director Sergio Martino entitled Violent Milan follows, giving Signori Martino ample opportunity to discuss his weird cinematic offspring, as well as his other work from the same period. Lastly for this release, we get the original European trailer.
Wrapping up the release is the semi-perfunctory reversible sleeve option Arrow Video extends to many of their titles. The original artwork is complimented by a newly commissioned design by artist Chris Malbon. Finally, Arrow has included a limited (to the initial pressings of this release) illustrated collectible booklet with a new essay on the film by British crime/noir writer Barry Forshaw. All in all, it's a great little assembly of odds and ends for such a fascinatingly outré entry to one of filmdom's most alluring subgenres. Even though the bizarre moments of comedy sometimes border on being merciless (and despite there not being nearly enough Mel Ferrer to gawk at), The Suspicious Death of a Minor makes for a darn good time just the same.
In fact, it's the best legal fun you can have with a Minor. Highly Recommended.