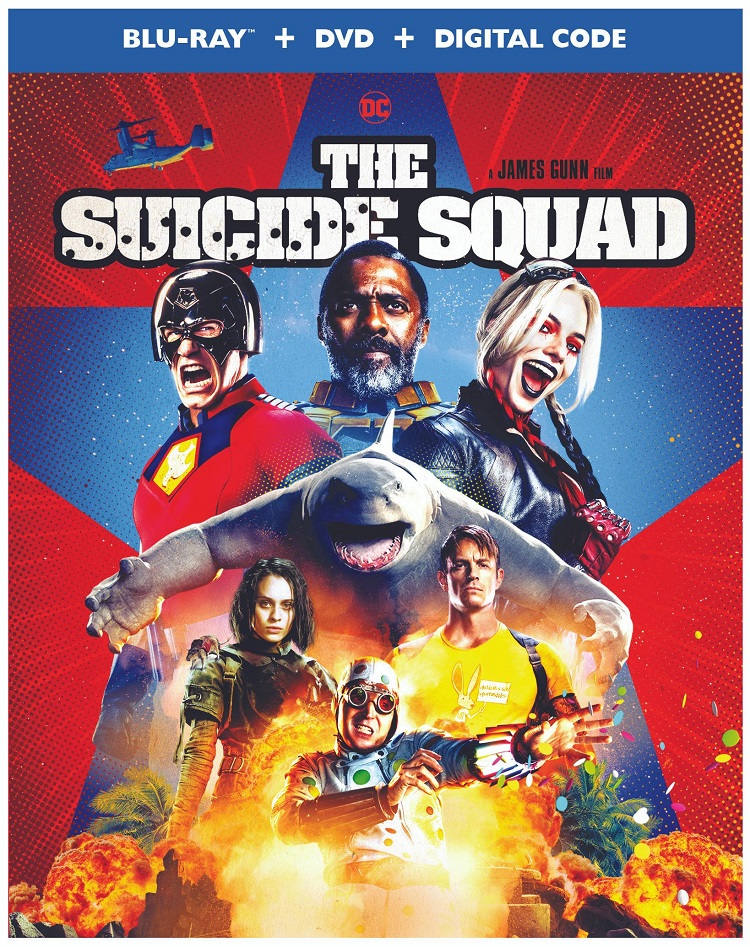 As mentioned in my review of the movie, the main reason for its success is because James "Gunn is a talented filmmaker. As a writer, he has a gift for bringing together disparate characters and keeping their voices unique. Much of the movie's humor comes from character interaction, and aspects of their personalities become essential to the story's resolution…As a director, he is great at casting, making so many perfect choices and using a number of familiar faces for fans of his work. He also has a great eye in staging elaborate action sequences, such as the collapse of the laboratory tower, and the framing of the violence as there are memorable moments where bodily destruction is meticulously detailed."
This version of the Suicide Squad "is comprised of mostly new members which include Bloodsport (Idris Alba), a notable weapons expert who shot Superman with a Kryptonite bullet; Peacemaker (John Cena), whose American patriotism is only surpassed by his belief that killing brings peace; Nanaue/King Shark (voiced by Sylverster Stallone), a human/great white shark hybrid; Polka-Dot Man (David Dastmalchian), whose ability to shoot colored dots is much more powerful then it sounds; and Ratcatcher 2 (Daniela Melchior), who took the name from her father and has an ability to communicate with rats, including her frequent companion Sebastian. Colonel Rick Flag (Joel Kinnaman), Harley Quinn (Margot Robbie), and Captain Boomerang (Jai Courtney) return from the previous team."
The video has been presented in an 1080p/MPEG-4 AVC encoded transfer displayed at its original aspect ratio of 1.90:1. Colors appear in rich hues, especially primary colors as seen in Peacemaker's costume. Blacks are inky and whites are accurate, contributing to the image's contrast. The picture delivers fine texture detail, from the CGI-created Starro's body to the villain's costumes and outfits.
The audio is available in Dolby Atmos, which defaults to 7.1 for those without, and makes good use of the surround system. Gunfire and explosions, both of which get great bass support from the subwoofer, go off around the viewer. Ambiant effects and composer John Murphy's score fill the speakers. Dialogue is clear and is balanced well in the mix with the other elements.
The Special Features are:
Eight Deleted & Extended Scenes (17 min) but nothing that movie lacks.
Gag Reel (10 min)
Bringing King Shark to Life (6 min) – Comments about the creation of the CGI character including those who brought him to life including Stallone, who did the voice, Agee, who portrayed him on set.
Gotta Love the Squad (12 min) – The origins of the characters and costumes
The Way of the Gunn (8 min) – A focus on the director with people singing his praises
Scene Breakdowns – A dive into four scenes with Gunn and cast: It's A Suicide Mission (7 min), My Gun's Bigger Than Yours (6 min), Harley's Great Escape (7 min), The Fall of Jotunheim (6 min)
Starro: It's a Freakin' Kaiju (6 min) – A look at this classic DC villain and how they dealt with it on set.
Trailers done in different genres: War Movie Retro (3 min), Horror Movie Retro (1 min), and a foucs on Peacemaker and Bloodsport in Buddy-Cop Retro (1 min).
Commentary by Gunn allows the writer/director to discuss and reflect on the movie's creation.
Wrapping up my movie review, I stated, "while not for the faint of heart, The Suicide Squad is a top-tier title in the DC Extended Universe for those with a dark sense of humor who are ready for a bit of the old ultraviolence." The Blu-ray's high-definition presentation of the video and audio showcases the skilled work of the crew, and the extras allow fans to dig a little deeper into it.