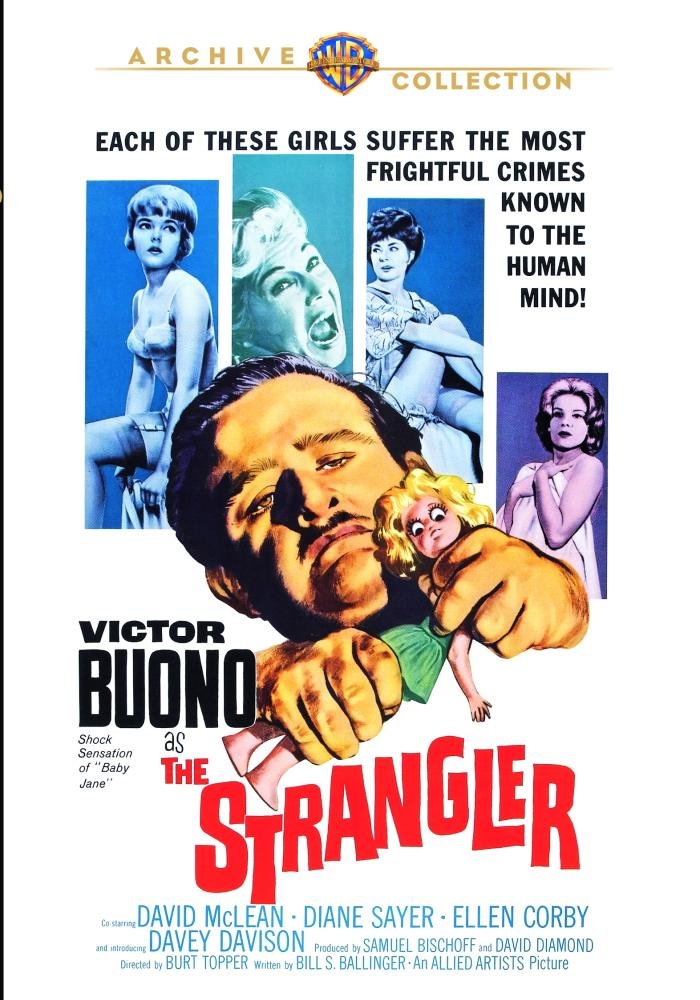 With school shootings occurring almost daily within the confines of the American border, and acts of terrorism (domestic and otherwise) filling in the gaps between the thousands of Star Wars-related posts on our social media feeds, the once-feared serial killer seems to have become somewhat (and I phrase this as delicately as I can, folks) "passé." To think that, as recently as two decades ago ‒ just before postal workers first started to become disgruntled ‒ the unfortunate, unpredictable actions of mentally disturbed mass murderers and/or manipulatively psychopathic cult leaders would have at least garnered a swiftly-produced, exploitative television drama starring the likes of Tim Daly or Powers Boothe.
Prior to that, heinous crimes generally produced heinous movies on much larger scales. Namely, the cinema. And it was during the 1960s ‒ when serial killers essentially became a part of contemporary society, as well as an object of obsession with both the media and masses alike ‒ that we first started to see filmic adaptations of some of the nation's most revered villains. Sure, Jack the Ripper had been committed to celluloid long before then, but the infamous butcher of the Whitechapel District had basically become nothing more than legend at that point in time: making a movie about the Boston Strangler just a few months after Albert DeSalvo was arrested for and confessed to being said serial killer was practically unheard of.
But the key to exploitation has always been (and always will be) that of timing. So, almost three months to the day after the Boston Strangler had taken the life of his final victim, Allied Artists had managed to whip out and release a B-grade thriller pseudonymously inspired by the aforementioned serial killer himself. Thus, The Strangler ‒ starring the great Victor Buono ‒ came to pass. Here, the late heavy (fat joke possibly intentional) portrays a seemingly mild-mannered hospital lab technician who is actually a cool, collected nurse-murdering maniac. Naturally, his domineering, ill mother (Ellen Corby) is entirely to blame for his disorder, raising him to believe no other female will ever love him since he's fat and ugly and all.
Speaking of weight, the hefty Mr. Buono ‒ who had recently received an Oscar nomination for his role in What Ever Happened to Baby Jane? ‒ essentially carries the bulk of the film upon his broad shoulders, easily giving the film its best performance. Whether he is cunningly evade questions by the suspicious police with a unique zest of pomposity, or attempting to flirt with a darling young lady at a ring tossing booth where he picks up the little dolls which serve as the effigies of his prey, Buono is large and in charge here. In fact, the actor's pride extended well beyond cinematographer Jacques Marquette's excellent field of vision, resulting in several conflicts with director Burt Topper, wherein the (conservatively homosexual) Buono objected to instances where the film was too suggestive (less is more, right?) or involved nudity.
Burt Topper himself had previously directed a film entitled War is Hell in 1963, which was the film playing at the Texas Theater in Dallas where another famous killer from contemporary American history, Lee Harvey Oswald, snuck in to hide after assassinating President John F. Kennedy. Many of the actors featured in The Strangler were part of his "stock" company, popping up in most of his productions (Russ Bender, Baynes Barron, Wally Campo, et al). David McLean, one-time star of nearly-forgotten television series Tate, takes second-billing as the policeman searching for The Strangler, and who quite literally phones his performance in for a good portion of the film.
Sultry Diane Sayer (who had appeared as Tony Dow's bad girl date in a memorable episode of Leave It to Beaver the previous year) is cast here as the doomed ring toss booth girl who works beside the object of Buono's affection, who is portrayed by beautiful Davey Davison. Jeanne Bates is the nurse Buono murders in a frenzied rage, thus enabling the police to finally get a clue (apparently, the FBI doesn't exist in the film's unnamed city); young James Sikking is a police sketch artist. Screenwriter Bill S. Ballinger's credits into the world of mystery included The Outer Limits, Alfred Hitchcock Presents, and Kolchak: The Night Stalker. Composer Marlin Skiles also wrote scores for many B-grade horror and sci-fi films, as well as several Bowery Boys outings.
Though Burt Topper's meager little exploitative cash-in on unfortunate real life events is quite intriguing for that aspect alone, it is ultimately Victor Buono's commanding, larger-than-life performance that enables The Strangler to maintain his grip upon us. The Warner Archive Collection unveils this 1964 cult item to DVD as a barebones release, but the matted anamorphic widescreen presentation is so crisp, clear, and beautiful (witness Jacques Marquette's opening composite, wherein we watch a soon-to-be-done-strangled-dead young woman undressing in the hypnotized iris of Buono's ogling eye), one cannot help but enjoy it despite the lack of a trailer.
Recommended.