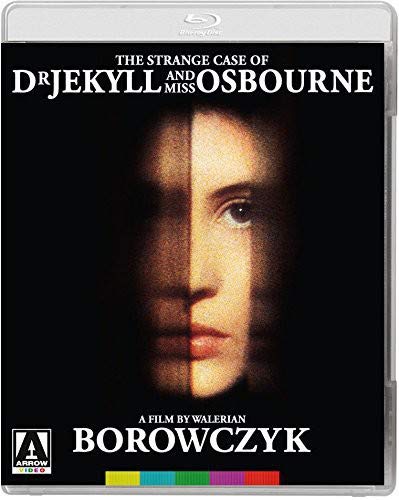 In Great Britain, they were banned from being made available to the public outright. In the United States of America, they usually wound up being released in a heavily altered form. And sometimes, even in their native countries, they wound up being the subjects of much controversy. I refer, of course, to those magical motion pictures that the former powers of the UK so unknowingly assigned the lovable nickname of "Video Nasties" to. Those various cannibal and/or zombie holocausts those of us who grew up without the Interwebs had to track down from mail-order companies advertised in the back of Psychotronic Video, European Cult Cinema, or whatever particular genre-specific publications you may have dove into on a semi-quarterly basis back then.
Naturally, in today's "Everything is just a Google search away" age, things have changed substantially. Censorship is no longer concerned with sheltering young impressionable eyes from such unforgettable sights as explicit rough sex, incest, and bloody gory deaths. Not when it has people accidentally cursing or experiencing a wardrobe malfunction on live television! (To say nothing of covering up the various truths about certain government conspiracies – according to some, that is.) Thus, the Video Nasties have – at long last – become a permanent part of our contemporary (and perhaps slightly desensitized) civilization. Thankfully, the newly-launched American sublabel of the UK's much-revered Arrow Video is as proud as can be about exposing everyone to such taboos.
One such admirable inclusion to this fray would be the French/West German production of Walerian Borowczyk's 1981 sex-horror shocker The Strange Case of Dr. Jekyll and Miss Osbourne. At least that's one of its titles. There were many, in fact, but this was what the late Polish artist wanted to call his bizarre adaptation of the Robert Louis Stevenson classic, and Arrow Video has kindly preserved his wish. I'm sure, somewhere, Mr. Borowczyk is grateful for that alone – to say nothing of the remarkable efforts made in order to preserve this rather rough arthouse horror flick in general. (Whereas I'm sure Robert Louis Stevenson is reenacting the ending of Jekyll and Hyde… Together Again, wherein the deceased author can be seen literally turning in his grave for ruining his story.)
That said, however, there may actually be more Stevenson present in Borowczyk's film than in most of the other, more popular, versions. And by that, I mean the actual parable of Jekyll and Hyde's vastly different personas. I'm sure Robert Louis Stevenson never dared to envision the great Udo Kier transforming into a weird Euro Lost Highway-era Robert Blake-looking fellow who systematically murders his guests one fateful night, offing (or at least defiling) most with a massive (and deadly) male sexual organ. That's just part of what Mr. Borowczyk delivers here, infusing his photoplay with the right amounts of sleaze, art, depravity, beauty, fear, and freedom as Mr. Hyde traps and preys upon Dr. Jekyll's "socially superior" guests during a weekend party to celebrate the aforementioned's forthcoming nuptials.
Plus, we get to see Patrick Magee (in one of his final films, looking like he's going to keel over from a heart attack any minute), Euro cult/sleaze favorite Howard Vernon, and many European beauties (and in some cases, their inner beasts, as well) such as Marina Pierro, who plays the other eponymous character. Arrow Video USA's near immaculate BD/DVD combo release (the first time the world has seen an issue on either format) not only includes a new stabilized presentation of the film supervised by cinematographer Noël Véry with English and French audio option, but also boasts a slew (heh) of special features ranging from an introduction (by Borowczyk scholar Michael Brooke), an audio commentary comprised of new and archival interviews, additional (new) interviews, and even several short films.
Heck, there's even an audio commentary for the goddamned trailer on this release. It's like Borowczyk's creepy Euro Lost Highway-era Robert Blake-looking Mr. Hyde fellow whipped out his elephantine instrument of destruction and slapped those balls to the wall for this one! And, on that colorful note, I only have one place to go here. Down. And it just so happens that the second and final feature for this piece – Island of Death – is about as far down as one can go before even Satan starts to question what you're doing. Another fine feature from the annals of unforgiving exploitation filmmaking, the 1976 video nasty is the kind of movie that is so lacking in any sort of moral values (or even social commentary!) whatsoever, it could very well have you assuming the fetal position in a corner to cry.
Inspired by the financial success of the bloodless 1974 classic The Texas Chain Saw Massacre, Greek filmmaker Nico Mastorakis decided he could one up Tobe Hooper's nightmarish vision. Brother, did he succeed. (Oh, God, I said "brother"! Ahh!) Here, Mr. Mastorakis – figuring he could make more money than his American counterpart – sheds himself of all dignity, virtue, humanity, and grace solely in the name of shocking, tasteless, visceral abuse. Tenfold. Yes, it's violence and vice solely for the purpose of making money (the very definition of exploitation, to some). It's not a smooth ride. At all. The story (!?) finds an incestuous brother and sister (Robert Behling and Jane Lyle, respectively) who pose as a newlywed couple (look, I'm not worried about giving any spoilers away on this one, all right?).
Arriving on the Greek island of Mykonos for the vacation of a lifetime – and that's because their furlough will result in the end of many lives, both figuratively and literally – the sinister siblings promptly begin judging and sentencing anyone they deem guilty of sin in various, horrific, and OK, hilarious-because-of-the-movie's-shoestring-budget ways. But seriously, Island of Death should come with its own suicide prevention hotline number – and I don't say that because the male star's untimely death in 2011 was reportedly self-inflicted, either. But that doesn't stop Arrow Video from going all out for another special features-packed submersion into sleaze, including new featurettes, interviews from the past and present, selections from the soundtrack, and even more goodies for a film that will surely warrant a trip to church.
Like The Strange Case of Dr. Jekyll and Miss Osbourne, Arrow Video's release of Island of Death makes its Blu-ray debut with this release (a Standard-Definition DVD had been previously issued to unsuspecting consumers in the UK by Arrow a few years back; this marks the movie's first uncut release in North America, I believe) comes with reversible artwork and an illustrated booklet featuring even more information on the title. And if the thought of all that extra work put into a High-Definition version of a movie like this leaves a thoroughly unpleasant taste in your mouth, you may take some solace in the fact that Arrow Video USA are in no means finished with bringing us classic, exploitative video nasties. So sleep well, folks. After all, they're doing this for us!