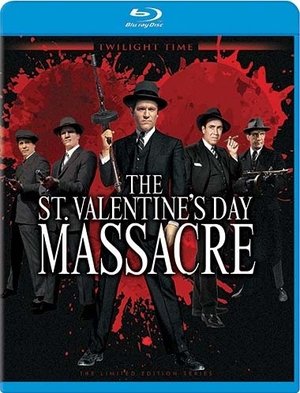 While movies like Sam Peckinpah's The Wild Bunch and Arthur Penn's Bonnie and Clyde generally get the most credit for being the movies that really introduced gritty onscreen violence into the movies (the former was released just months after the MPAA rating system was introduced in 1968), they weren't the first to do so. Not by a long shot. In fact, copious amounts of blood were being spilled by Herschell Gordon Lewis in his outrageous horror movies that made a real killing at drive-ins for jaded teen and rural audiences during the early '60s. The occasional big-budget Cinemascope war film and western flick also provided moviegoers the chance to see some bullets piercing flesh, but to do so otherwise would have left audiences feeling jaded for entirely different reasons.
But one of the titles that truly opened fire on its viewers occurred when a long-established, independent B movie maker went to work for a big studio for the first time. Roger Corman, the legendary King of Bs himself, started out making low-budget exploitation quickies in the mid 1950s with his own money. By the time 1967 rolled around, he had produced and directed literally dozens of movies, so the fine art of making a movie on-time and without going over budget was second nature to him. And, after recently having just finished the highly successful, profitable, and now equally legendary series of Edgar Allan Poe adaptations for AIP (which usually starred the great Vincent Price), it was only fitting that the filmmaker finally unite with the big boys. They were game, and so was he, so why not?
Ironically, even though The St. Valentine's Day Massacre is undoubtedly one of Corman's most polished and professional-looking works (he even brought it in under budget, because that was something he knew how to do), it has become one of the least-appreciated films the still-very-active (and independent) producer/director has ever made. It's a shame, too, as some of the movie's (now dated) moments of violence not only rival some of the bloody bits shown in the more popular, previously mentioned movies, but even beat them to the punch (or shot, if you will) by two months in the instance of Bonnie and Clyde, and a full two years in the case of The Wild Bunch! Even odder is the fact that, despite some dramatic liberties taken with the story, The St. Valentine's Day Massacre is surprisingly historically accurate for a B movie (made by Roger Corman at that).
A lot of this may be attributed to the fact that it was a gangster movie made in the late '60s, long after the appeal for such a cinematic subgenre had all but evaporated (and which wouldn't successfully re-emerge until The Godfather five years later, as made by one of Corman's former proteges, Francis Ford Coppola). Based on a Playhouse 90 episode written by Harold Browne, The St. Valentine's Day Massacre not only sports the same writer, but several supporting cast members reprising the same roles they played in the TV adaptation, "Seven Against the Wall" (Milton Frome, Celia Lovsky, and Frank Silvera). But it's probably Corman's top-billed cast that gets the most attention here (well, when the movie doesget attention, that is), such as Jason Robards, George Segal, and Ralph Meeker.
Sure, the casting is pretty odd. Most of the actors portraying people of various ethnic backgrounds are only slightly more believable as, say, Jack Palance as Fidel Castro. And Mr. Robards' interpretation of notorious Chicago gangster Al Capone is probably right at the very top of the list. But once Robards starts chewing on his cigars and barking out orders to put his onscreen rival Ralph Meeker as George "Bugs" Moran – in a part that was originally supposed to go to Robards, with Capone assigned to Orson Welles (yes, always!) – you begin to ignore the wrong eye colors and over exaggerated (or just plain bad) accents, and just start to have fun with it all. And that's what you should be doing anyway. After all, no matter what studio logo may be branded on it, this is still a Roger Corman movie.
George Segal is Peter Gusenberg, Jean Hale (in her last big-screen role) is his gold digger of a significant other, and David Canary is his trigger-happy brother. Clint Ritchie plays Machine Gun Jack McGurn, who organizes the infamous Hallmark Holiday's most noteworthy accomplishment. Harold J. Stone, Alex D'Arcy, Joseph Campanella, Joe Turkel, Reed Hadley, Leo Gordon, and my B movie hero John Agar (in a small part as Dion O'Banion, seen only in a flashback sequence) are some of the many Hollywood regulars who can be seen in this fun throwback to the gangster movie era. Corman ups the ante with rising stars from his own film factory, including Bruce Dern, Jack Nicholson, Jonathan Haze, and, of course, That Guy Dick Miller.
Narrated in a very Orson Welles like manner by the marvelous Paul Frees, Corman's St. Valentine's Day Massacre isn't the high-grade motion picture art we would see in later gangster films, but it can certainly served as a starting point. Either way, it's great to see this movie hit Blu-ray via the efforts of the devoted men and women at Twilight Time. Presented in its original widescreen aspect ratio of 2.35:1, this 1080p release brings us a new look at an ignored cult underdog, with a transfer that is pretty flawless for the most part, save for some inherent grain and a noticeable shift when the film goes into flashback mode. Other than that, it looks like it could have been shot (filmed) recently. The original mono track receives a 1.0 DTS-HD MA makeover, and is accompanied by English (SDH) subtitles.
I honestly didn't expect any special features to be included on this release apart from the usual isolated music score and maybe a trailer. Rest assured, both of those items are here (with the Lionel Newman score presented to us in 2.0 DTS-HD MA), but a few other items also found their way to this Blu-ray. First off is a vintage Fox Movietone News reel about Mr. Al Capone and the era he is forever associated with, second is a new short interview with Roger Corman himself (made available by the good people at Scorpion Releasing), wherein the famous B movie guru briefly looks back on the making of the film, offering a little insight to anyone who hasn't already his 1990 autobiography, How I Made a Hundred Movie in Hollywood and Never Lost a Dime. It's required reading, B movie lovers.
Speaking of required reading, Twilight Time's own Julie Kirgo provides the excellent liner notes for this release, which is limited to 3,000 copies.