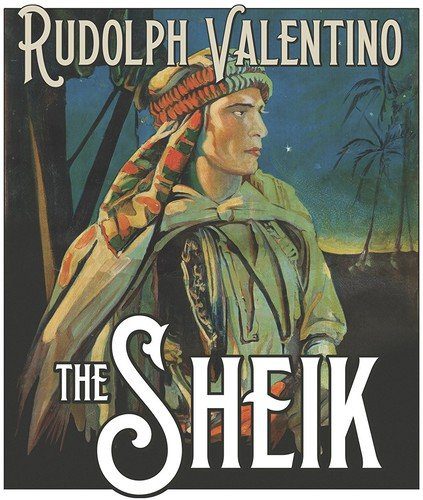 One of the civilized world's first heartthrobs and cultural icons returns in two of his most famous works, now available on Blu-ray for the first time from the folks at Kino Lorber. Although the sands [terribly pun possibly intentional] of time may have obliterated the name of Rudolph Valentino from the limited lexicons of today's youth (especially his full name at birth: Rodolfo Alfonso Raffaello Pierre Filibert Guglielmi di Valentina d'Antonguella!), the impression the Silent Era film legend left behind ‒ as well as the universal vogue his raw sex appeal launched ‒ are the sort of things which shall never be completely erased from cinematic history.
After seven years of uncredited bit parts and minor roles (usually as heavies), Valentino received his first big break in 1921 with Rex Ingram's The Four Horsemen of the Apocalypse for Metro Pictures. Later that same year, Valentino signed on to star in what has since become one of his most famous contributions to the world: Famous Players-Lasky's production of The Sheik. Released by Paramount Pictures, The Sheik proved to be a hit around the globe, breaking the million-dollar mark the first year and escalating filmdom's paragon "Latin lover" to that of unparalleled international fame.
All this from a movie about a white-bred desert sheik who abducts a (white) woman and keeps her hostage until she finally starts to "love" him.
Based on the equally popular best-selling novel of the same name by Britain's own Edith Maude (E.M.) Hull ‒ a story that all-but revived the sort of exotic romantic fiction tale which resulted in a Fabio book cover more than a half-century years later ‒ The Sheik finds Valentino as Sheik Ahmed Ben Hassan, which is pretty much the Middle Eastern equivalent of "John Smith." The story opens with a headstrong (and very privileged) young Brit named Lady Diana Mayo (Agnes Ayres) flaunting her arrogant independence in front of a local North African bigwig when he closes the casino she wishes to visit in order to host a female slave auction.
You can imagine Lady Diana's surprise when she discovers the man she attempted to humiliate is actually the same feller she has hired to escort her into the desert for a month-long excursion so that she may get away from her brother and forced marriage proposals. You may also imagine how surprised the spoiled little bratling is when The Sheik decides it'll be fun to keep her for himself instead. With all of rape from Hull's original story omitted, the bulk of Diana's humiliation in this version of the tale consists of her contracting a bad case of hysteria when a fellow white man comes to call and sees her garbed in local foreigner clothing.
In case I didn't mention it earlier, Hollywood didn't used to be as sensitive as it is today. Eventually, Diana's apprehensions about "going native" are laid to rest when she discovers her captor is actually of English/Spanish descent, therefore making it acceptable for her to welcome his affection. Needless to say, such story elements wouldn't fare well with a majority of audiences today. In fact, The Sheik received a fair bit of criticizing itself back when it was first released. But for the time it was made ‒ and the "culturally unsophisticated" audience it was made for ‒ The Sheik was the very sort of thing blockbusters were made of then.
Co-starring in this fun little politically incorrect caravan into the seaside sand dunes of Southern California (where you can still find bits and pieces of Cecil B. DeMille's The Ten Commandments today if you look hard enough) are the great Adolphe Menjou, Ruth Miller, Frank Butler (who would go on to pen several screenplays from the Bob Hope/Bing Crosby Road to… pictures), George Waggner (who later directed The Wolf Man as well as several episodes of Batman and The Man from U.N.C.L.E.), Lucien Littlefield, Walter Long (one of Laurel and Hardy's regular foils), and early uncredited appearances by sisters Loretta and Polly Ann Young.
Following the rampant success of The Sheik, Rudolph Valentino's unique form of machismo charisma became the subject of both idolization and parody from audiences and actors alike. After starring in his other best-known work, 1922's Blood and Sand, Valentino experienced a brief decline from the limelight in the mid '20s following two box office duds (yes, we were quick to forget all about our heroes even back then, kids), but was determined to make a comeback. So, after a falling out with his Famous Players-Lasky contractees, Valentino signed on with United Artists to make what would become his swan song.
With the 1925 publication of Edith Maude Hull's sequel The Son of the Sheik fresh on everyone's minds, it seemed like a good time for Valentino to return to the role which made him famous. Well, sort of. In actuality, Valentino portrays twocharacters in the subsequent 1926 film version with the same title ‒ an aged Sheik Ahmed Ben Hassan and his adventurous young grown-up son who also happens to be named Ahmed. Also returning in this followup features is actress Agnes Ayres, who reprises her role as Lady Diana, although she is now quite comfortable in her sand-soaked surroundings as Sheik Ahmed's wife.
But the film is all about The Son of the Sheik, as you may have guessed by the title (it's not like Son of Dracula actually featured Dracula's son!). And that means lots of adventure with young Ahmed galavanting across the desert pursuing a young beauty named Yasmin (Vilma Bánky) after a grave miscalculation in her character convinces him that she's one of the bad guys, lead by father Andre (George Fawcett). After being captured and tortured, young Ahmed understandably escapes the clutches of Andre's incompetent minions (one of whom, a creepy coot of a diminutive nature, looks like he could be Peter Bark's grandfather).
One of filmdom's first sequels, The Son of the Sheik is a strange hybrid of the occasional heavy subject matter with a lot of lighthearted comedy wrapped around it. In one of the included special features for this title, famed filmmaker Orson Welles tells us not to take the film seriously at all (despite an instance of off-screen rape) ‒ a suggested method of viewing few contemporary scholars or fans seem to suggest anymore. But it wasn't the movie's tone, Valentino's convincing old man make-up, or the early split-screen effects that made The Son of the Sheik a hit: It was his premature death at the age of 31.
As the star was touring the country to promote his forthcoming masterpiece, Valentino collapsed in his New York City hotel room after an advanced screening of the film in 1926. Recovering from a perforated ulcer, Valentino died from peritonitis eight days after an emergency surgery. Two weeks later, the Great Lover's final contribution to cinema premiered, becoming an instant classic overnight, thus cementing Rudolph Valentino's name and legacy into the annals of history. Nearly 80 years later, in 2003, The Son of the Sheik was added to the National Film Registry by the Library of Congress for its significance to the world of film.
More than a century since Valentino made his debut on celluloid, Kino Lorber brings us these two landmark movies to Blu-ray for the very first time via all-new transfers and with a number of nifty special features to boot. Alas, time and the elements have not shown either film a whole lot of love, so don't expect perfection. That said, both presentations are better than I expected them to look, and each film is tinted to match the settings of their respective scenes (daytime and interiors are tinted yellow, nighttime is blue, etc). Frankly, these are as good as these two movies will ever look (unless a perfectly preserved print of either pops up), so I'll take 'em.
In keeping up with the classic silent film style, each title features a newly-recorded soundtrack. The Sheik's organ score is by silent movie composer Ben Model, while the Alloy Orchestra provides the sounds for the sequel. Special features for the first movie include an audio commentary by author Gaylyn Studlar, a trailer for Blood and Sand, and three-minute look at the fallen star's funeral procession, in which an estimated 100,000 people showed up to pay their respects to the man men respected (even if they were jealous and took a lot of cheap shots at him, his masculinity, and rumored sexuality) and women loved.
Extras for The Son of the Sheik include a filmed introduction by Orson Welles, as part of a vintage silent film re-issues in the '70s. Footage from many a Valentino project is highlighted in this retro featurette, with the great Mr. Welles commentating. Next up are two short subjects ‒ one a documentary, the other a silly short subject of Valentino taking a trip to the beach to show off his enviable bod (the short is unofficially known as "The Sheik's Physique") ‒ followed by a trailer for the 1922 film The Young Ralph. Finally, there's another morbid curiosity bonus: newspaper headlines depicting Valentino's surgery and untimely demise.
While it has almost been a century since Rudolph Valentino left his one-of-a-kind legacy behind, Kino Lorber's restoring and releasing of these ‒ two of his most famous works ‒ to Blu-ray should serve as a strong testament to the late actor's everlasting popularity. There is no denying the impact Valentino had on both the public and the film industry during his short tenure as the epitome of exotic heartthrobs, and Kino's unleashing of The Sheik and The Son of the Sheik come highly recommended to classic film fans, silent movie lovers, and just about anyone who has ever wondered what it really takes to be a Latin lover.