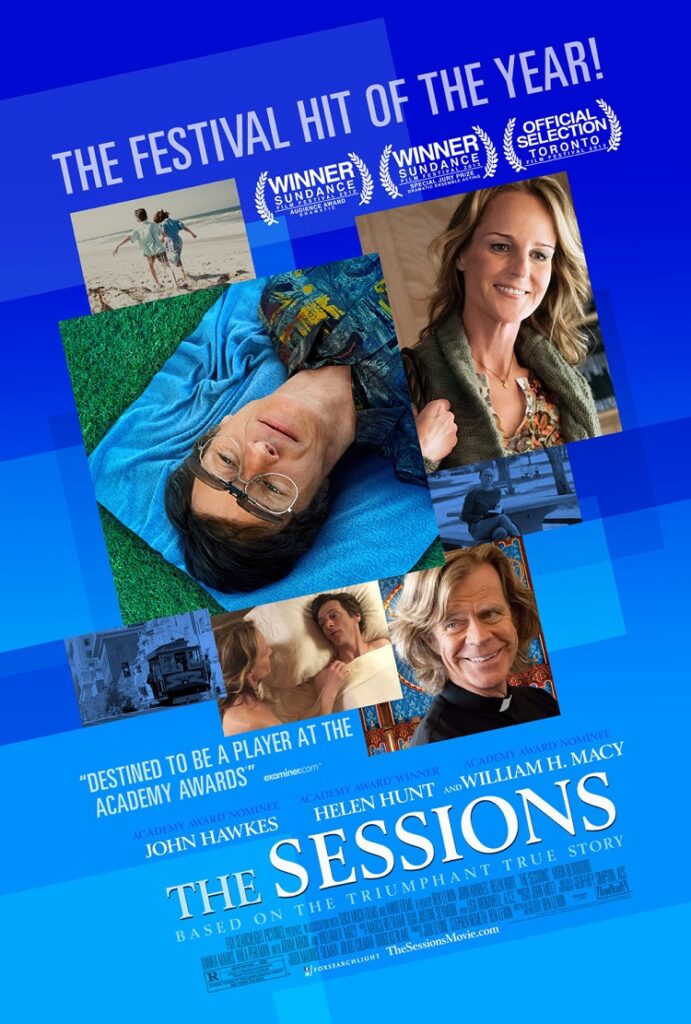 The Sessions is based on the true-life experiences of poet and journalist Mark O'Brien, who has spent most of his life in an iron lung due to the crippling effects of contracting polio at age six. Although his body failed him in several ways, his mind and spirit remained intact. At the age of 38, while writing some articles about the disabled and sexuality, O'Brien (John Hawkes) embarks on a quest to lose his virginity. With the support of his priest Father Brendan (William H. Macy), he finds Cheryl Cohen Greene (Helen Hunt) a sex surrogate who agrees to embark on this journey with O'Brien.
This is a beautiful story for the simplicity of the story. Writer-director Ben Lewin used O'Brien's real-life article, "On Seeing a Sex Surrogate," and fleshed it our into a film about the basic desires for love and sex all human beings have. This is a great film because Lewin does not try to make it a bigger story than it is. He did not try and add distracting side stories to makes this film more than what it was actually about. That being said, this film has many levels to it. Although it is a story about love, sex, and desire. It is also a story about faith and forgiveness, as well as acceptance and letting go of the past.
John Hawkes plays Mark O'Brien so well that you forget you are not actually watching a disabled actor on the screen. Helen Hunt plays Cheryl Cohen Greene with such fierce confidence and tenderness that you are not left feeling uncomfortable when she strips down for the intimacy scenes with Hawkes. William H. Macy as Father Brendan is at first an odd fit, but then dissolved into a character that in real life probably saved more souls by being real than turned away for just being human. Moon Bloodgood, who plays Vera, one of O'Brien's caregivers, delivers a great performance as well as Adam Arkin who plays Josh, Cheryl's husband.
This Blu-ray edition also has the Ultraviolet technology that gives you a code for a free digital copy for various mobile devices. This edition also has only two deleted scenes, One was a variation on a scene that is in the film and the other is a scene between Cheryl and her son that would have been distracting had it been left in. A great editing choice to not include it.
There are also five film featurettes that talk more about the process of making The Sessions as well as the real life people that inspired these characters. They are all definitely worth watching, and I walked away feeling like I knew more about the these incredible real-life people. I don't want to give anything away about them but watching John Hawkes process as well as learning more about Ben Lewin and his inspiration adds even more levels to this film.
I know some people make look at The Sessions is not for them, but I think that is a huge misconception about this film. Regardless of our tastes or our abilities in life, in the end we all have the same desires that make us human.