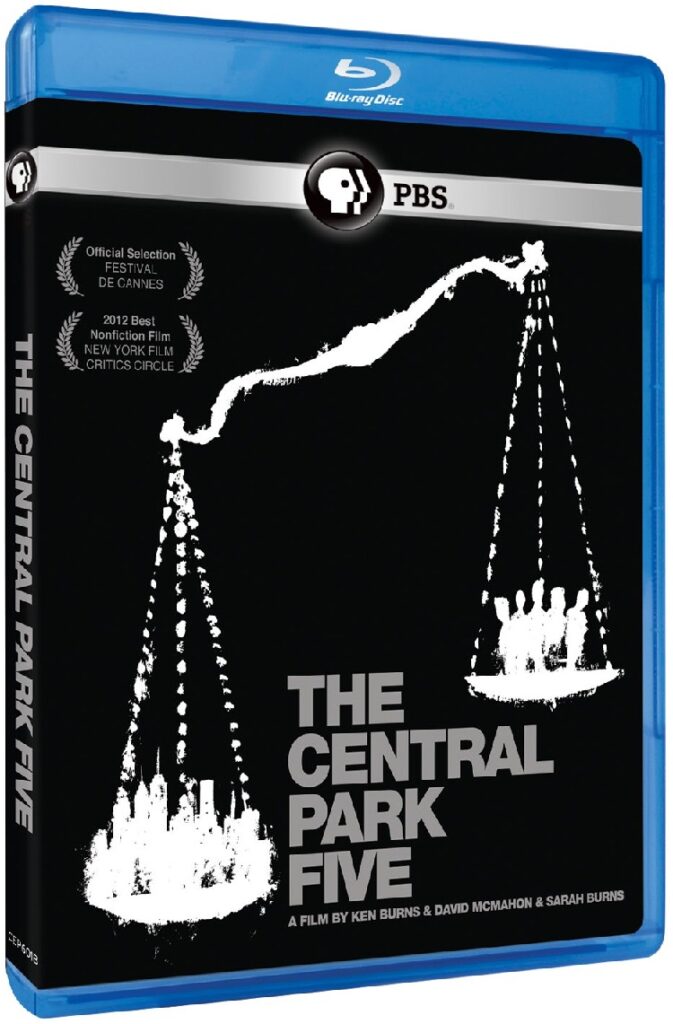 Joining in the award-season festivities, we here at the site wanted to mention a few of our favorites from 2012.  That's "favorite" not "best" as so many groups falsely designate their award categories. Woody Allen's assessment that "the whole concept of awards is silly" is an apt one when it comes to art, yet that won't stop the most of us from tuning into award shows.  And now, our choices for Favorite Film of 2012 are: 
Central Park Five selected by Gordon S. Miller
Though I haven't see a few of the more notable releases earning critical acclaim, I enjoyed a number of films from last year.  Wes Anderson's Moonrise Kingdom was a charming love story presented through the director's quirky prism.  Marvel's The Avengers and The Dark Knight Rises were enjoyable superhero blockbusters.  James Bond returned in Skyfall, one of the best installments of the long-running franchise.  I anticipate them all being in my collection and revisiting each multiple times, which is normally how I gauge the quality of a film.  Yet, the film that was my favorite of last year is one I don't think I will see again.
Based on her book The Central Park Five: A Chronicle of a City Wilding, Sara Burns, her husband David McMahon, and her famous documentarian father Ken Burns have createda heartbreaking film about a stunning conspiracy that will surely ruin whatever faith viewers have in the U.S. justice system and those tasked with running it.  I had an extremely strong reaction to it, unable to believe so many involved in the legal system would not only knowingly lock up innocent young boys but that they would also knowingly allow a rapist to continue roam the streets freely.  Central Park Five is the film of 2012 I would recommend everyone see.
The Hobbit: An Unexpected Journey selected by Shawn Bourdo
In the year of adaptations, it took Peter Jackson to show everyone how you do it.  He changed just enough but understood the source material as if he had written it.  I couldn't have imagined a Lord of the Rings adaptation as good as they were 20 years ago.  Now, I'm ready for him to go back and redo LOTR trilogy in about nine movies.  Like a good friend – I felt comfortable and at home in the theater with this universe. It was my comfort food, like a heaping three-hour plate of the best mac and cheese.
The Imposter selected by Kristen Lopez
How well do you know your family? If someone imitated them, how quickly would you discover it? These are questions that scratch the surface of director Bart Layton's documentary The Imposter. The documentary is equal parts crime procedural, dramatic-narrative, and documentary swirling around a missing boy, and the conman that was able to impersonate him and dupe the boy's own family. Layton and crew don't waste any of their 99 minutes setting up the story of missing boy Nicholas Barclay, and the 23-year-old French conman who was able to imitate him, and enter into the United States. As if that isn't disturbing enough, the film presents various theories on how, and if the family of the missing boy were aware of the deception played against them…and if their closed eyes masked more nefarious purposes.
Maybe it's because I enjoy true crime so much, but Layton's documentary is not just the best documentary of the year, it's easily the best movie. By combining the documentary footage with dramatic re-enactments the scope widens, and ultimately you feel you're getting everyone's perspectives at once. It's just as easy to understand why Nicholas Barclay's sister Carrie wanted to believe it as Nicholas, as it is easy to understand why her treating of the French imposter seems suspicious. Convicted conman Frederic Bourdan, the man who impersonated Barclay, is a compelling figure despite the horrific things he's done, but the way he retells his story equally entrances and disgusts you. When Bourdan starts to accuse the Barclay's of being murderers, you ask whether that's true, or if you believe it because this man has manipulated the audience themselves?
You're constantly questioning not just the aforementioned impersonator, but the family, and yourselves. If you were told this was your family member, after several years, would you believe it? Would that belief come out of misplaced hope, or fear of a past misdeed? The documentary doesn't present answers, as the case itself has never been solved, and really the film is solid enough that you never feel as if you've been given a half-hearted effort. I highly recommend seeking out The Imposter soon; it's one of the must-sees that will probably slip under the radar.
The Master selected by Ben Platko
The Master stumped me. Coming out of the theater, I had no idea what to think about it – normally, I can assess a movie while I sit through the credits, but this one was different. It took a two-hour discussion with a dozen other film students before I really understood what The Master was. It wasn't just a discussion about P.T. Anderson's flawless camera technique and intriguing script, or Mihai Malaimare's stunning cinematography (some of the best I've seen since Atonement) – indeed, we scoured the story, and tore the characters to pieces trying to sort out Anderson's vision.
Loosely, The Master is a story about L. Ron Hubbard (Philip Seymour Hoffman) founding Scientology. Joaquin Phoenix plays a lost soul – a man without a place in a postwar society (his performance is perhaps a close second to Daniel Day Lewis's Lincoln). Hoffman takes Phoenix under his wing, and attempts to correct his social ineptitude with his own pioneered Scientological methods. What develops onscreen is a character study of two competing – and complimentary – egos; a story of love and compassion. At its very core, though, The Master is just a story about a boy and his dog. Unfortunately, this exceptional piece in P.T. Anderson's filmography will likely be one of the most under-appreciated films in recent memory, and with Joaquin Phoenix's denunciation of the almighty Academy, it will probably be under-represented at the Oscars.
Your Sister's Sister / The Dark Knight Rises selected by Amanda Salazar
Often it is difficult for me to have to choose my favorite film of the year but 2012 was a piece of cake. Of course, the winners in the category for my personal favorite had to share the spotlight but that is for two reasons. First, one of the choices was not a mainstream release and not many people were able to catch it in theaters and second, there were just two films that really shined and stuck with me from the moment that I saw them, equal in greatness. So here they are:
Your Sister's Sister: This was a quiet little film. It was not widely released and certainly was not widely talked about because of that release, but it was a brilliant film. It made its debut a year ago at Sundance Film Festival and hit the theaters in June of 2012. I was sure to tell everyone that I knew to go see it and I made sure to see it multiple times myself as it never getting old. Your Sister's Sister takes place in a cabin owned by the family of two sister's, Hannah and Iris. When Iris invites her friend Jack to stay at the cabin after his brother has passed, he has an interesting encounter with Hannah that complicates everyone's feelings for one another and themselves. YSS is a quintessential independent film in that it is a character piece, with three actors and one setting and it all works. Credit must be given to the very talented writer and director of the film, Lynn Shelton, as she made an honest, funny comedy about relationships that was charismatic and new. This is a must see!
Now I didn't just want to pick a film that many people didn't get to see this year, so my other favorite film of 2012 was The Dark Knight Rises. Talk about anticipation. There were a few films this year that got me excited for getting to the theater (Prometheus, The Hobbit, The Master) but this one brought back that tickle in the pit of my stomach that only comes around when watching a great film. The third installment to the Batman trilogy was epic and delivered on every level. Dark Knight Rises exceeded my expectations and finally Batman was given a rival in Bane that was truly frightening while stealing every scene that he was in. Gothem became personal, fragile and weakened and yet hope survived. I was entertained from the moment that film started until it ended. The only criticism I had about the film is that I didn't want it to end, I wanted to stay in Gothem, stay with my beloved characters as I knew that this would be the end of this phenomenal trilogy. Christopher Nolan had created a world that brought new life and perspective to Batman and his grand finale was perfect.
Holy Motors selected by Dusty Somers
As is always the case, now is the time to take a deep breath and remind yourself that the Oscars don't really matter, and any hopes you had that they would validate your love for truly great art were inevitably going to be dashed. Sure, it's nice to see the legendary Emmanuelle Riva recognized, along with The Master's three astounding performances, but Beasts of the Southern Wild, really? Let's just be glad Tom Hooper was shut out and move on.
All that to say, 2012 was a pretty strong year for film, even if the truly great American films of the year (The Master, Moonrise Kingdom, Cosmopolis) didn't make the inroads they should have awards-wise. When it comes to my favorite film of the year, I knew there was never any hope, which makes the whole process easier, I guess. Leos Carax's Holy Motors, the French director's first feature in 13 years, is a thrilling masterpiece of self-reflexivity, philosophical inquiries both wry and poignant, and unabashed, unrestrained love for the magic of cinema.
Joaquin Phoenix gave a performance for the ages in The Master, but Denis Lavant somehow tops that virtuoso work with his own indefatigable, incredibly varied and viscerally magnetic work as Monsieur Oscar, a man with a thousand faces whose own identity has been swallowed up in his work.
After a prologue featuring Carax himself as a man who discovers a movie theater behind a secret door in his apartment, we see Oscar settling into the back of a limousine driven by his confidante Céline (Édith Scob). He's given a series of assignments that require him to act as various characters in a number of scenarios — a disheveled street beggar, a disappointed father, a motion-capture artist, a crazed madman, a ruthless gangster and a wistful former lover. Oscar — and necessarily, Lavant — gives himself over completely to every role, making it harder and harder to discern who the real man is beneath all those elaborate costumes and makeup effects.
Holy Motors comments on both the artifice and the essentiality of cinema. We know every scenario Oscar enters is a fake, but that scarcely robs any individual scene of its power to move, shock and engorge the senses. It's like watching 15 movies in one sitting, and also like watching the only movie. I can't wait to experience its unique jubilation all over again.