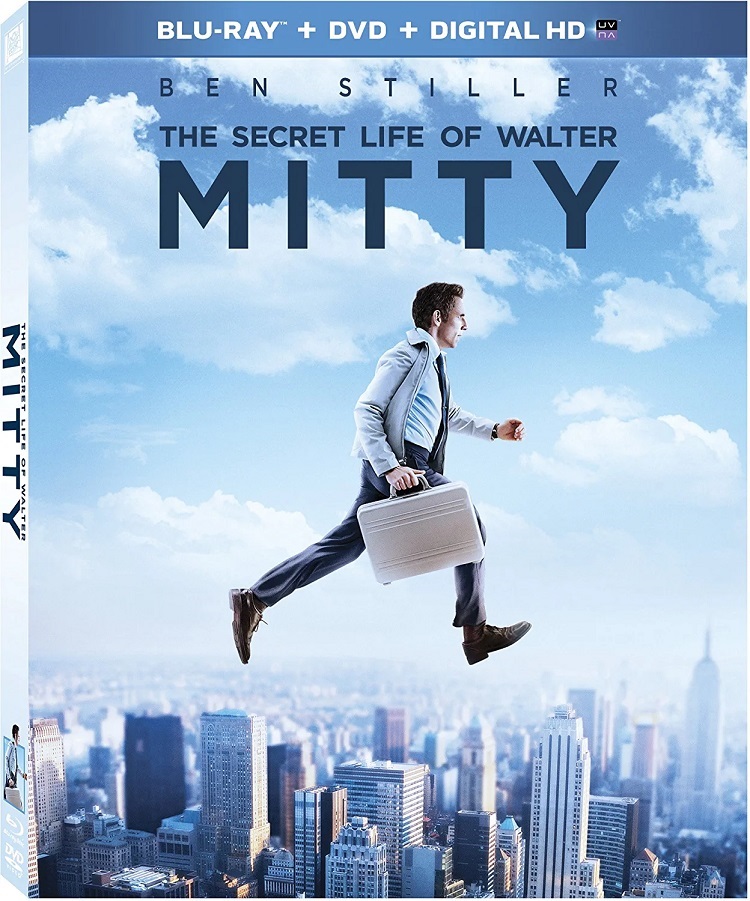 One fateful day as a geeky movie kid in the late '80s, I discovered a recently-released-to-home-video VHS of something called The Secret Life of Walter Mitty. It had the wonderful Danny Kaye. And horror icon Boris Karloff. And silly musical numbers – which I still could probably recite from memory to this day if someone gave me five bucks. Essentially, it was the perfect movie for a fresh classic movie lover such as my younger self, and while the first DVD release of the 1947 classic became one of the hardest movies for me to find at a reasonable price (it was only recently re-released to disc, for reasons which will soon become apparent once I move onto the true subject at hand here), has always held a special place in my heart.
Now then, as anyone who has ever seen a contemporary Hollywood knows, it's hard for people who get writing credits – who are often referred to as writers – to come up with new ideas. But sometimes, it's really hard to get an old idea to work for a new audience. Originally conceived way back in 1994 – that's twenty years ago, kids – as a starring vehicle for a then-top-rated comedian named Jim Carrey, the impending remake of The Secret Life of Walter Mitty went wisely unmade for the longest time. Mike Myers and Owen Wilson were even considered during its super-extended developmental phase, neither choice of which caused much of an uproar in the positive sense – mostly because they were taken into account long after the general public considered them to be past the point of still being funny (although there is much speculation today that Owen Wilson was everconsidered funny at all).
And then, as if someone finally said "Look, we have the rights and they're going to expire if we don't produce something!", the remake project was finally realized in 2013 – with Ben Stiller at the helm (well, that's something, I guess). Now, had Stiller done the title about, ohh, say twelve years earlier when he too was at that lucrative point in his career wherein folks still thought he was funny, this might have been a hit. Instead, the 2013 version of The Secret Life of Walter Mitty was gift-wrapped and delivered to audiences on Christmas Day – most of whom failed to realize the movie was little more than a big lump of coal. Indeed, despite having been praised by many average moviegoers and even managed to win an extraneous award or two sometime after opening day, this Mitty ultimately has very little going for it.
For starters, it's a Ben Stiller flick. And I don't mean that in a Ben-Stiller-is-in-it kind of way, I refer to the fact that the character now reflects the same persona Ben Stiller usually inhabits in every other Ben Stiller film (read: Ben Stiller). Here, our hero Walter Mitty is given the profession of being a negative assets manager at Life Magazine. He's a minor minion who has a major crush on a co-worker (SNL alumni Kristen Wiig, whom I had never seen in anything at all until this) and a nasty habit of daydreaming – which allows for several segments which allow the boys in the CGI department to earn their paycheck. Ultimately, Walter must abandon his James Thurber-penned roots and trek off across the globe in order to become something resembling a man.
And, in order to do so, he absolutely positively must promote the living hell out of Papa John's Pizza, eHarmony, and the entire country of Iceland – which not only doubles, but triples for several different places on the planet that Walter travels to in his plight to become an advertising tool/motivational poster boy.
While the film does occasionally near the point of being funny on several occasions, director Ben Stiller (yes, that's right) attempts to keep everything so subdued that it usually comes off as just plain weird. A far-too-dated reference to The Curious Case of Benjamin Button is not only out-of-place and far too Ben Stiller-ish, but the comedy just isn't there. In any sense. Speaking of sense, Sean Penn was apparently all tapped-out of such when he agreed to play a minor (but important) role as the photographer who inadvertently sends Mitty on a crash course with real life, Shirley MacLaine and Kathryn Hahn portray Walter's mum and sister (respectively), Patton Oswalt literally phones most of his role in as an eHarmony rep who keeps calling our hero at the worst possible times (which should also be funny, but isn't), and Adam Scott (the new Owen Wilson) is on-hand as the story's villain.
Fox Home Entertainment brings us this tepid adventurous comedy to the home video market with a near-immaculate 1080p/AVC transfer that preserve the movie's scope ratio, and brings out the absolute visual best the otherwise dull film has to offer. Likewise, a DTS-HD 7.1 MA track inhabits every nook and cranny the world (well, Iceland and the Bronx) has to offer. The Blu-ray release contains a selection of deleted/alternate/extended scenes (oh, thank you, God) and more making-of/pre-visualization featurettes than you've ever thought possible to see on one lackluster title. There's also a music video for a song I've already forgotten about (with the exception of David Bowie's classic "Space Oddity", the rest of the soundtrack is also pretty lamentable), a gallery, and a trailer.
The Blu-ray/DVD Combo also includes a Digital HD download for those of you out there who are, sadly, not capable of daydreaming of a much better version of this movie.