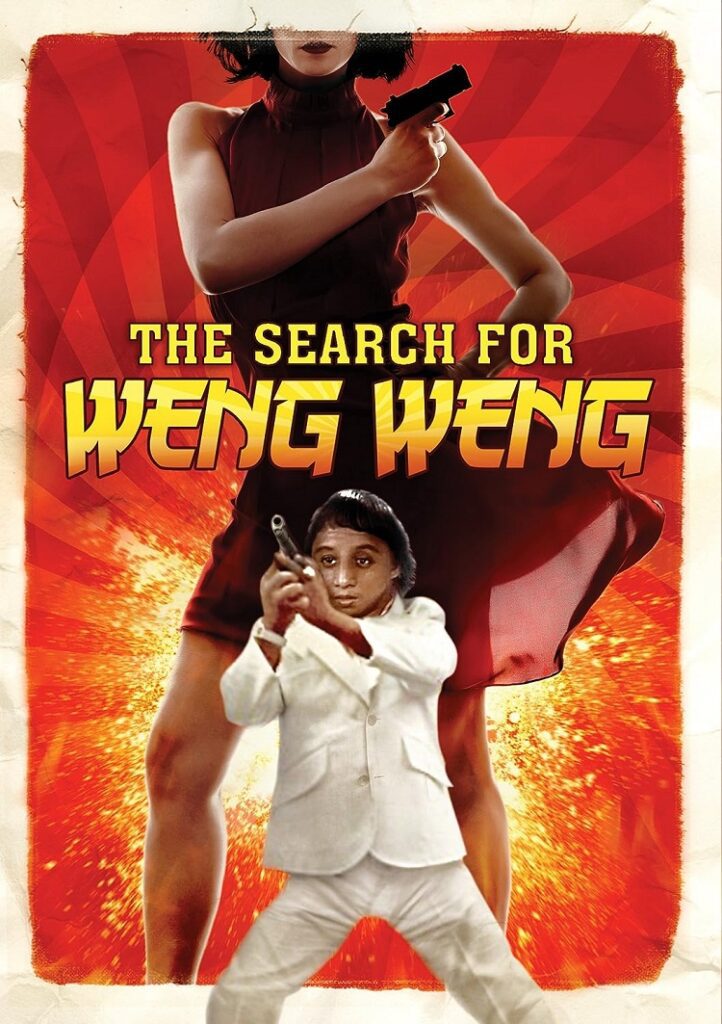 For anyone who has only experienced the mainstream world of cinema, venturing into the output of the Filipino film industry ‒ particularly its numerous exploitation movies made during the '70s and '80s ‒ can seem akin to jumping head first into a swimming pool with very little water in it. I still vividly recall the first time I sat down to cast my disbelieving orbs on Bobby A. Suarez's The One Armed Executioner, wherein Franco Guerrero and his giant pompadour sought vengeance against the evil men who killed his bride and left him minus an extremity. It was the closest thing to mind-altering drugs my teenage self would ever reach, and its long-lasting effect on the funny bone was only heightened by a strange sense of surrealistic satisfaction.
And that was before I discovered the amazing, jaw-dropping hijinks that would be created, committed, and commemorated on celluloid by a 2-foot 9-inch novelty actor named Weng Weng. Thanks to an illustrious career as a clerk in a video store (back when there were such establishments), I was able to check out what became Weng Weng's most famous film, For Y'ur Height Only ‒ an unbelievable exploitation spoof of James Bond movies where the diminutive actor not only played the lead part of a secret agent, but performed his own stunts as well. Needless to say, I was in bad movie heaven, and For Y'ur Height Only has became a loving addition to my personal collection of strange motion pictures from that moment on.
As the years went by and the world became connected via the Internet, other pitiful souls who had heard a similar calling began to not only share their unusual passions, but also discovered there were other movies to star the pint-sized lead, including two sequels to For Y'ur Height Only. Alas, the Philippines wasn't entirely up to date when it came to their motion picture heritage: the country only established a national film archive in 2011, and approximately 80% of their output was lost or destroyed since the first native filmmakers began producing movies in 1919. And when you stop to consider the Philippines was once the second-most productive country when it came to making movies, ranking in just below the U.S., that really says something.
But when it came to the mysterious Weng Weng himself, there was very little (no pun intended) information to be found. So, with nothing more than a powerful desire to fulfill an even stronger obsession, Australian cult video store owner (naturally) Andrew Leavold set forth off to the land where exploitation gurus such as Cirio H. Santiago, Eddie Romero, Bobby A. Suarez, Teddy Page, Bruno Mattei, and even Francis Ford Coppola once roamed like giants. His destination was simple: the truth. It was a likely objective, but one which would take the better part of a decade to accomplish, as Leavold had to wade through a heap of misinformation passed on from one generation to another, usually compromised by faulty memories and just plain urban legends.
For years now, I have been seeing teaser trailers for The Search for Weng Weng, but it wasn't until recently that Ms. Leavold was able to finally wrap production on his seemingly insane quest. And after only viewing from yours truly ‒ and I should preface that I am not the sort of individual who routinely watches the same movies over and over ‒ I was certainly ready to view this incredible documentary again. Interlaced with footage from numerous Filipino productions, most of which may test your delicate sense of reality, The Search for Weng Weng takes our mostly unseen protagonist from city to city as he meets up with and taxes the brains of many colorful characters, including several members of the once-prominent Filipino film industry.
From the aforementioned charismatic Franco Guerrero himself to various other cast and crew who worked on several of Weng Weng's eleven confirmed titles, the real story behind one of low-budget foreign cinema's most enigmatic figures comes to light ‒ including his lonely life as a novelty item and the history he shared with the husband and wife team of exploitation moviemakers, Peter and Dora Caballes, who "adopted" him and produced most of his starring role vehicles. Several contemporary filmmakers/historians are also interviewed, but nothing will prepare you for when the infamous former First Lady of the Philippines, Imelda Marcos, shows up to wow both viewer and interviewer alike with her bizarre behavior and outrageous antics.
In fact, it was Marcos ‒ who once declined to buy the Empire State Building on the grounds it was "too ostentatious," but who has preserved many of her 1,000+ pairs of shoes in a museum ‒ who is indirectly directly responsible for Weng Weng's introduction to a world that would quickly forget about him. In 1981, when her late husband President Ferdinand Marcos was still in power, Imelda set up the first Manila International Film Festival. Calling celebrities and distributors from all over the globe in the hopes of selling Filipino-made product for export purposes, the venue was all but a bust, and nary a buyer showed any interest in the many films shown ‒ with the exception of one title: Eddie Nicart's For Y'ur Height Only, which sold for a whopping US$2,500!
You can imagine how tall everyone felt when that happened (pun intended this time).
But that's just one of the many fascinating tidbits Andrew Leavold has uncovered and assembled for us in this final cut of The Search for Weng Weng (which doesn't feature enough of B-movie legend Jim Gaines, who appears briefly as part of Leavold's crew, but is never credited or mentioned), which lands on DVD in the US from WildEye Releasing along with several bonus features. Even though most everyone interviewed is fluent in the King's language, default subtitles pop up when anyone who isn't Australian opens their mouth, which is a godsend as some of accents are quite thick. Sadly, due to what I'm certain are rights restrictions, a bonus feature film found on international DVD releases ‒ a 1982 western spoof called D'Wild Wild Weng ‒ is not present here.
While it may be "missing" a movie, we are privy to many of the other special features found on the international releases. This includes an audio commentary by Mr. Leavold, several extended/deleted interviews, a music video, a trailer for our main feature documentary itself, and a bonus teaser for Leavold's forthcoming homage to the work of Doris Wishman, the sensitively titled Gone Lesbo Gone. (For the record, For Y'ur Height Only and its 1982 sequel The Impossible Kid have received DVD releases in the US, and the former, highly recommended title is available on a double-bill from Mondo Macabro with an equally mesmerizing piece of film, the 1980 Bruceploitation knock-off Challenge of the Tiger with Bruce Le and Richard Harrison.)
In short, The Search for Weng Weng is one of the finest documentaries ever produced about a time when Filipino cult/exploitation cinema was at its height. Combining this with Machete Maidens Unleashed could serve as a great introduction to the entire world of cult movies from the Philippines if paired together. Or it could send Filipino movie virgins to an early retirement in the funny farm, one or the other. Personally, it was a sheer delight to watch a fellow cinemasochist/video store reject achieve such an amazing accomplishment as The Search for Weng Weng, and I cannot recommend this niche documentary on a world of cinema few contemporary explorers dare to venture in highly enough.