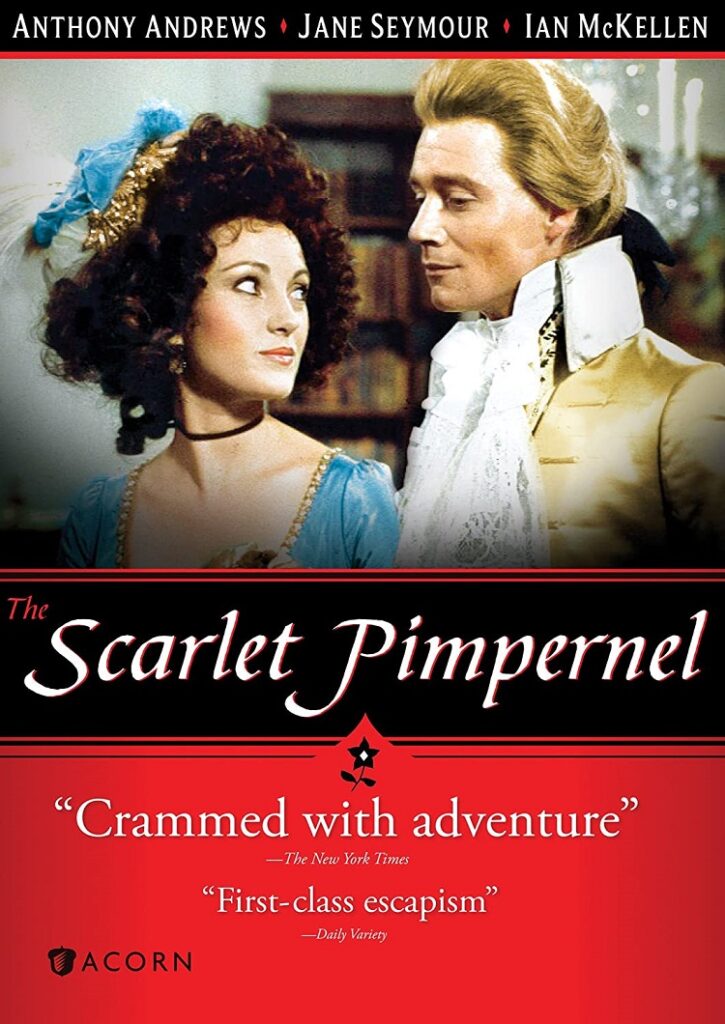 Written by Michael Nazarewycz
I've reviewed a lot of catalogue titles over the years and through most of them, one thing has remained consistent: I tend to review films that I think will interest me (regardless of whether I wind up liking them). I don't think this practice is a bad thing, because familiarity with a given subject can translate into a keener critical eye. But getting outside of my comfort zone is something I want to do because I think it will help me be a better critic and a better writer.
With that, I raised my hand and asked to review The Scarlet Pimpernel because it consists mostly of elements I would not look for in a film: its roots are British-made-for-TV (I am not in the Downton Abbey camp); it's a period drama (not my least favorite subgenre, by mighty close); and it takes place during the French Revolution (the scars from watching Les Miserables … twice … are still fresh). Its only saving grace was that it was made in 1982, and I love the '80s. I mean, it's not like I was expecting to see spandex or Wayfarers in the movie, but at least I knew going in that the overall look might have that Rock Me Amadeus music video vibe.
Based on works by Baroness Emma Orczy and set during the Reign of Terror of the French Revolution, The Scarlet Pimpernel tells the tale of Sir Percival Blakeney (Anthony Andrews) who, by day, is a foppish wealthy Englishman. But by night, he is the Scarlet Pimpernel, a vigilante who rescues French aristocrats who are targeted by revolutionaries for a one-way trip to the guillotine. As Sir Percy he meets, falls in love with, and marries French actress Marguerite St. Just (Jane Seymour). This scorns her past love, Chauvelin (Ian McKellen), who, as an agent of influential revolutionary Robespierre, is charged with determining the identity of the Scarlet Pimpernel.
Despite all of the reservations I mentioned above, I really liked this miniseries. The high-level structure of the story is reminiscent of a Zorro/A-Team mash-up, with the former representing the "rich by day, rescuer by night" aspect, and the latter representing the fact that Pimpernel is a master of disguise and has several men helping him. Within the details of the story, though, the triangle formed by the three primary characters is interesting, and so much rests with the Chauvelin character, because he's been scorned by Marguerite, he must watch Sir Percy be with her, and he must try to find Pimpernel, who he doesn't know is Sir Percy.
And because of the criticality of the character, the criticality of the actor playing him is equally as important, and McKellen more than rises to the occasion. In a miniseries that features fine performances by the other two leads, McKellen stands out with a sparkling, well-measured performance that could easily slip into caricature but never does. McKellen was 43 when he made this, and I've never seen him that young; now I want to find more of his earlier work.
Andrews is good as Pimpernel but even better as Sir Percy, taking "dandy" to a whole new level in an effort to keep his identity secret, especially when he delivers his signature (and secretly self-referential) poem:
They seek him here, they seek him there.
Those Frenchies seek him everywhere.
Is he in heaven or is he in hell?
That damned elusive Pimpernel.
And what can be said about Jane Seymour that hasn't been said before? She is simply stunning. It's hard not to stare at her in every scene she's in, and in addition to that, her acting here is wonderful. I've been a little dismissive of her body of work (perhaps a reflection of my disdain for Dr. Quinn, Medicine Woman), but maybe I've been too hasty in my judgment. Don't get me wrong, she's no Meryl Streep, nor is her role here overly taxing, but she is a delight to watch in this.
The costumes and sets are of excellent quality (the minseries won an Emmy for Costume Design and was nominated for Art Direction), and because it's a period piece, there is really nothing in the production value to differentiate that it was made 30 years ago versus today. However, the one drawback of the DVD is perhaps its most endearing quality: it's quality.
There is a disclaimer at the start of the disc:
Due to the age of this program and the improved resolution that DVD provides, you may notice occasional flaws in the image and audio on this DVD presentation that we were unable to correct.
Quite frankly, I don't know how much of this film Acorn attempted to correct, because the video looks like a VHS copy, a first-gen VHS copy, grant you, but a VHS copy nonetheless. Still, that gives it a very nostalgic feel, at least for me. I saw the birth of VHS, and I still have a handful of tapes of films I can't get anywhere else (or that, as tapes, have sentimental value to me), so in addition to taking me back to the French Revolution, the disc also takes me back to my high school years, and that's pretty cool.
There are no extras on the DVD, save a couple of promotional trailers for other Acorn DVDs. The disc includes SDH subtitles.
So, if you are into one of the many subgenres this film falls into, picking this up is a no-brainer. And if, like me, you aren't into any or all of those subgenres, the film is still very much worth a look.