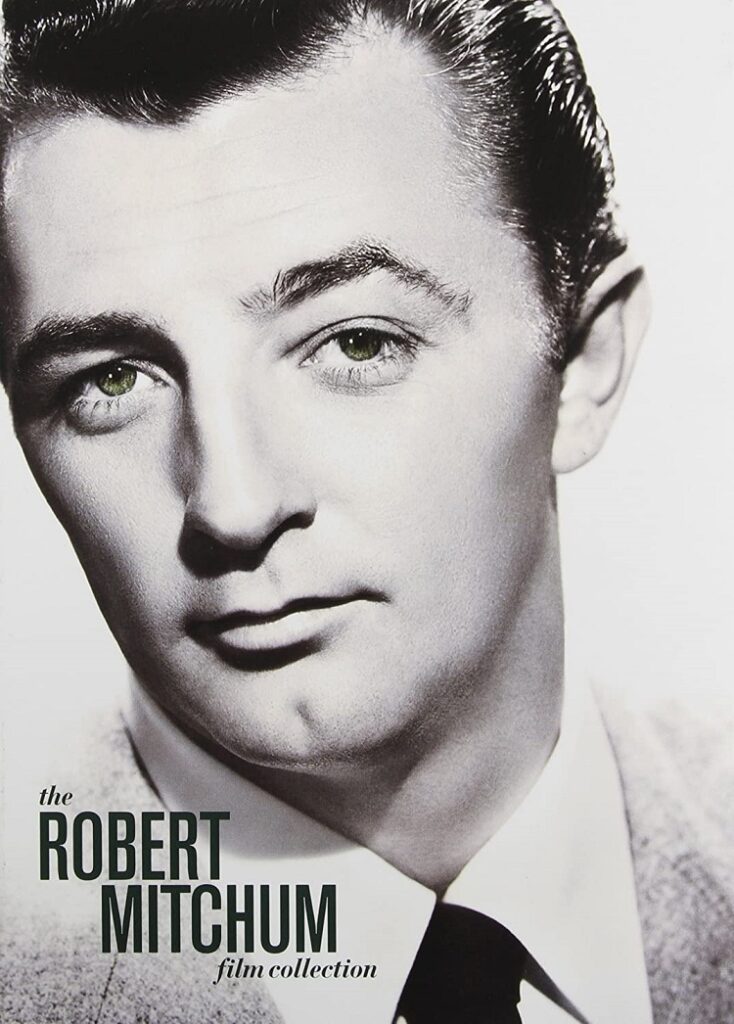 In keeping up with their recent line-up of Film Collection releases (box sets featuring highlights from Frank Sinatra, John Wayne, Denzel Washington, Liam Neeson, et al), the folks at Twentieth Century Fox have once again assembled a set of classic, well-known titles from one of Hollywood's most legendary bad boys: the one and only Robert Mitchum. The Robert Mitchum Film Collection repackages ten of the most famous titles from the Fox and MGM libraries (in two volumes) to star the iconic actor (any actor who shares the same name as my deodorant is A-OK in my book), and includes feature films that cover an impressive thirteen-year span in his near-legendary career.
Volume One in the set begins with the western adventure, Otto Preminger's River of No Return (1954). Paired with sexpot Marilyn Monroe, Mitchum stars here as widower Matt Calder, who — after being released from a spell in prison for murder (the defending of another human being) — arrives in a cold, unforgiving mining tent town to pick up his ten-year-old son (Tommy Rettig), whom he has never met. His plan to start a new life with his boy on their new ranch quickly goes awry when a crazy cocky gambler (Rory Calhoun) and his dance hall singer fiancé (Monroe) wander into the picture, leaving Matt, his son, and the singer to set sail down the dangerous rapids on a wooden raft.
The highly effective and atmospheric The Night of the Hunter (1955) — one of Mitchum's best films, as well as the only directorial feature by actor Charles Laughton — finds our man Bob cast as a psychotic Southern reverend (are there any other kind?) who is also a serial killer with a passion for money. A stint in the hoosegow lands him in the company of a convicted robber (Peter Graves) doomed to die in the gallows, wherein he learns the thief's children know the whereabouts of the man's stash. Released unto the world once more, Reverend Harry Powell woos his way into the heart and mind of the burglar's widow (a young, thin Shelley Winters), determined to slash his way through the broken family and into the moolah.
John Huston directs the WWII drama Heaven Knows, Mr. Allison (1957), which co-stars Deborah Kerr, and takes place on an unnamed island somewhere in the Pacific. Washing ashore after his recon party companions are sunk by the Japanese, Corporal Allison (Mitchum) finds his only companion on the tropical isle is a lonely nun (Kerr), whose priest recently passed away. The two enjoy a somewhat polite relationship (sake-fueled conversations aside) until a troop of Japanese soldiers arrive to set up shop, forcing our hero and heroine to hide in a cave and steal provisions at night. Hunger, fear, and illness all try their hand at driving both parties to madness in this Academy Award-nominated tale about the toils of the human spirit.
More World War II goodness follows in The Enemy Below (1957), which finds Mitchum as an American destroyer escort captain, who happens upon a German U-boat in the deep dark sea below. The great Curd Jürgens plays the submarine commander, who engages his Yankee opponent above in a game of cat and mouse — the two men taking the time to admire the other's cunning and use of strategy the whole way through. Actor/filmmaker Dick Powell directed and produced this sea-faring wartime adventure, having just filmed the doomed John Wayne vehicle, The Conquerer, the year before. Al (David) Hedison, Theodore Bikel, and Kurt Kreuger also star, and there are early appearances by Doug McClure and Clint Eastwood.
The cult classic Thunder Road (1958) — one of my favorite Mitchum movies — was a bit of a personal project for the star, who produced and penned the story for the film, as well as writing the theme song and casting his oldest son, James in a supporting role. Lucas Doolin (Mitchum) is a moonshine runner with a Treasury Agent (Gene Barry) hot on his trail, and a kid brother (James, in a role that was written for Elvis Presley) as his personal mechanic. Also starring b-movie favorite Sandra Knight (the future former Mrs. Jack Nicholson), Keely Smith, Jacques Aubuchon, and Trevor Bardette. Interestingly, James Mitchum would later star in a similar feature, Moonrunners, which in-turn inspired The Dukes of Hazzard.
Also from 1958 is The Hunters, a big-budgeted CinemaScope flop which re-united Mitchum with producer/director Dick Powell. The story here finds ace WWII pilot Major Cleve "Iceman" Saville once again called into action — albeit this time in the Korean War, where he is assigned to watch over a foolhardy young feller (Robert Wagner) whose impetuousness results in a dead pilot, and an insecure alcoholic (Lee Philips) with a hot wife (May Britt), whom Saville starts to fall for (and vice versa, naturally). Eventually, all three wind up shot down behind enemy lines, wherein they must make their way to safety. Richard Egan also stars, and Victor Sen Yung and Leon Lontoc also appear.
Volume Two opens with D-Day: Hollywood style! Boasting one of the biggest, most grandiose casts of international stars ever (there are so many, I dare not name them all for fear of taking up the rest of this review), Darryl F. Zanuck's pretentious all-star World War II epic The Longest Day (1962) is the quintessential black-and-white war flick, and features Robert Mitchum in one of the more prominent roles as Brigadier General Norman Cota (most of the actors portray real life people). John Wayne and Henry Fonda are also featured in leading roles, with the likes of Richard Burton, Sean Connery, Christian Marquand, and Wolfgang Preiss (among several dozen others) appearing in roles ranging from major to cameos (with the French and German folks speaking their own native languages).
Once again, we return to the days of the Second World War with Man in the Middle (1963). This time, though, we're not in the thick of a battle as we are in the heat of a courtroom trial. Mitchum plays Lieutenant Colonel Barney Adams, a military attorney who has been assigned the task of defending an American officer (Keenan Wynn) who has been accused of killing a British soldier in India. Though he has been advised by the higher echelon to do very little in the way of defending the man and ensure the case go by as quickly as possible, Adams soon discovers that his client is a total nutter — and finds he is the only one who gives a damn about the man, as both the Yanks and the Brits want to see the alleged killer hang.
Money is the object of What a Way to Go! (1964), the next-to-final film in this set, which is also the only comedy in the entire collection. Well, make that money and sex — early '60s American style, of course. Shirley MacLaine stars in this one as a young lass who is on the lookout for love, but whose husbands inevitably wind up dead, leaving her a large sum of money behind. No, Robert does not reprise his role from The Night of the Hunter here (though that would be funny unto itself), but instead plays one of MacLaine's ill-fated hubbies. Paul Newman, Dean Martin, Gene Kelly, Robert Cummings, Dick Van Dyke, and Marx Brothers regular Margaret Dumont co-star.
Finally, we find ourselves in the direction of The Way West (1967), wherein we return to the exact same kind of genre The Robert Mitchum Film Collection started with: a western. Director Andrew V. McLaglen (who also directed the cult favorite Mitchell) weaves us a tale of pioneers and settlers, casting Kirk Douglas in the lead as a U.S. Senator en route to Oregon via the Oregon Trail with his son and slave (oh, mercy) in tow. Mitchum (not Mitchell!) plays an aged guide hired to lead Douglas' party — as well as several other families — to their destination safely. Unfortunately, such treks rarely go well in Hollywood western epics. Richard Widmark, Lola Albright, Jack Elam, and Sally Field co-star.
While it's nice to see a collection devoted to such a memorable performer like Robert Mitchum, the fact that this is basically a repackaging of ten previous-released Fox/MGM titles might dissuade fans who may already own a majority of the feature films included here. Essentially, these are the same releases we saw before on DVD, and carry the same special features (when applicable) and language selections. The only difference is that the artwork on the discs have been changed to reflect the tone of this set. Strangely enough, The Hunters is presented as a flipper disc, with widescreen and full frame versions available (it's mislabeled to boot).
The most annoying feature of this otherwise fine set is that The Longest Day is only featured in a non-anamorphic widescreen presentation, with subtitles for the French and German scenes appearing in the black bars below the movie itself. If memory serves, that was the 2000 release, which was also a flipper disc, and featured an alternate cut of the film wherein all of the foreign actors spoke English (please correct me if I'm mistaken there, kids). As to why Fox couldn't include one of the more recent DVDs of this film is beyond me, as the one we get here certainly won't fare well with modern 16:9 television owners.
Were it not for that, The Robert Mitchum Film Collection would come highly recommended. Instead, it gets a plain ol' "recommended" — providing you don't already own any of the titles in the set, that is.