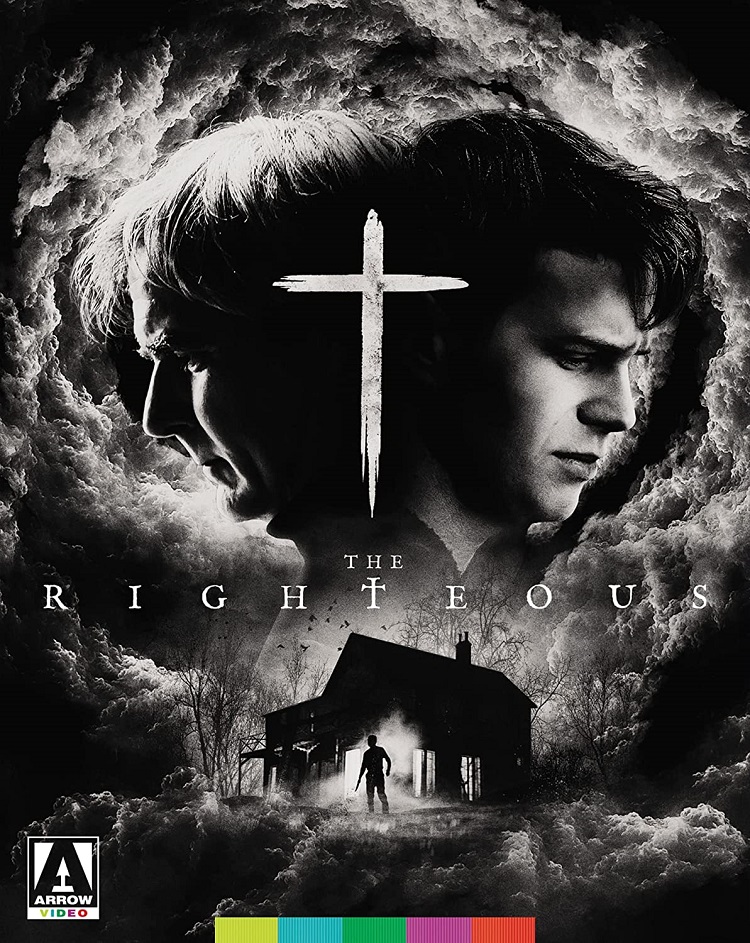 A married couple grieving for their lost daughter. A stranger at the door asking for help. Then asking for something more. Something sinister. Stark black and white photography. Bergman-esque questions about God and sin, guilt, and shame. Mark O'Brien's debut film The Righteous takes a very big swing right from the start. That it never quite hits it out of the park shouldn't be counted too hard against it. We should be thankful there are still films trying for something original, something more than just obtaining another sequel or becoming a franchise.
A young girl has died in a tragic accident. A former priest, Frederic Mason (Henry Czerny), and his wife Ethel (Mimi Kuzyk) had adopted the girl when her mother (Kate Corbett) just couldn't take care of her. They are in deep grief when the film begins. Comforting words from their priest don't help, and a visit from the mother only reminds them of what they've lost.
Late one night, Frederic hears something outside. A man is crying for help. He says he's hurt his foot, but when questioned about it, he is evasive. When asked what he's doing out in the middle of nowhere he says he was meeting a friend, but he got lost. When asked what the friend's name is he says he can't remember. Neither does he know when or where they were to meet. He says his name is Aaron Smith which sounds made up. It all sounds fishy. Frederic wonders if it's some kind of scam. Will the man rob them? Or worse? His Christian instincts kick in and he says he'll get the man some first aid. Ethel calls the cops.
When he returns, Aaron (played by writer/director Mark O'Brien) is laying on the ground crying out in pain. Frederic carries him into the house. When the cops arrive, he tells the officer a story, says that it was all a misunderstanding, the man is actually a long, lost cousin, and he sends the cop away. Frederic has decided to help the man. Ethel isn't so sure but she doesn't go against her husband's wishes. By the morning, she'll be fixing him pancakes and asking him to stay a few more days.
The score is eerie; the black and white photography gives every scene a foreboding presence. This isn't a film that lulls you into a sense of comfort and then surprises you with a shock. You spend the film waiting for something terrible to happen. A sense of dread fills every frame.
Aaron seems to know more about Frederic than he lets on. Frederic has a dark past. The film slowly reveals their connection while asking big questions about God, father, and forgiveness. The questions aren't all that enlightening. To its credit, it never really tries to answer them. At times, it feels like the filmmakers spent some time in a Theology 101 class and came out thinking they has something important to say.
The film works best as a character study. The camera rarely strays far from Frederic. It gazes at Henry Czerny's face. He's quite good in the role. There is deep emotion rolling behind those eyes. He rarely lets it out. There is dark anger in every move Aaron makes. But he's never quite sinister enough. For a film like this to work for me, I need to really feel that he's capable of anything. That who is really is and what he really wants is going to be shocking, and it could be anything you can imagine. When the truth does come out, it felt more 'meh' than 'oh, wow'.
It does look fantastic. Scott McClellan's cinematography is beautiful to look at. The performances are good. It is a well-made film all around. For a debut film, it is pretty darn terrific. I may not have been wholly satisfied with the film, but I'll definitely be looking forward to seeing what Mark O'Brien does next.
Arrow Video presents The Righteous with a gorgeous 1080p transfer. Extras include an audio commentary by writer, director, and actor Mark O'Brien and editor Spencer Jones; cast and crew interviews; a roundtable discussion with the director and hosts of Radio Silence podcast; a couple of Q&As from film festivals; the film's original soundtrack; and an image gallery. The booklet features an essay from Sean Hogan.