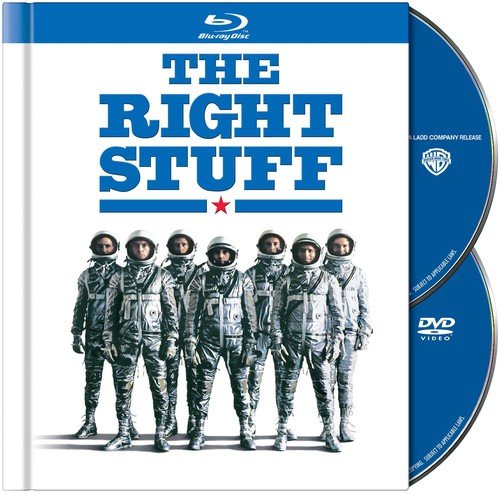 Halloween has just ended. Thanksgiving is still weeks away. Is it too early to start thinking about Christmas? The makers of home video apparently think not for they sure have released a bunch of nice looking Blu-rays and DVDs that are sure to go on my Santa's wish list.
It was difficult to choose just one thing as my Pick of the Week, and likely I'll change my mind if I think about it some more, but for now I'm going with the 30th anniversary of Phillip Kaufman's masterful telling of the early days of the Space Race in The Right Stuff. I only just watched the film for the first time last year but was blown away by its incredible storytelling and remarkable acting. The story of how we simply decided to go farther than man had ever gone and reach into the stars is dazzling in its own right, and the film manages to capture the mix of ingenuity, bravado and magic in all the right ways.
For this 30th Anniversary edition Blu-ray comes with an additional DVD disk full of extras including scene specific commentaries by the director and some of the cast and crew. Plus there are bonus scenes, a PBS documentary on astronaut John Glenn, several featurettes on the making of the movie, and a 40-page book. The Right Stuff is one of the great American movies depicting a hugely important moment in our history. This special edition Blu-ray looks to be an amazing production of the film which is why it is my Pick of the Week.
Also out this week that looks interesting:
The Hobbit: An Unexpected Journey (Extended Edition): As with the Lord of the Rings movies, Peter Jackson has loaded this first part of The Hobbit with loads of special features, extras, and extended scenes. Unfortunately I don't think any of it will be able to make it an actually good film.
Oldboy: The classic Korean vengeance thriller gets a nice high-definition upgrade with an extra disk of special features.
Mad Men: Season Six: This season took a bummer turn. The pacing was off, it was way too slow, and the shocking finale wasn't very shocking at all. Still, it was very well made and even less-than-stellar Mad Men is still pretty darn good. Here's hoping they can pull it out for its final season.
Naked City: The Complete Series: I've never seen a moment of this classic detective series, but I've always heard good things.
Seinfeld: The Complete Series: Though I loved it for many years, Seinfeld has not aged well in my eyes. I catch reruns now and again and while it still makes me laugh, they come slower now and without much passion. This is a nice set for those who don't already own the individual seasons. The real question here is why it hasn't been given a Blu-ray upgrade.
Farscape: The Complete Series: A sci-fi series I keep meaning to check out.
Boy Meets World: The Complete Collection: I'm too old for this series to have impacted me in any real way, but I always liked it when I caught it. This complete collection comes not long after the announcements that a new version of the show is being made with some of the original casts character children experiencing the pains and joys of growing up.
Under the Dome: The Complete First Season: Based upon a Stephen King novel, this show about a small town being encapsulated inside a mysterious dome has such potential, but blew it completely very quickly. I made it through about four episodes before giving up.
Magic City: The Complete Second Season: A show I've not seen, but continue to look at with interest. I guess it's time I actually sat down and gave it a try.
Passion: Brian De Palma hasn't done anything interesting in a very long time, but I always want to give him another chance. This one has Noomi Rapace and Rachel McAdams in it which ought to at least make it fun to look at.
Renoir: A French movie about the brilliant director (and son of the brilliant painter) Jean Renoir.
Parkland: This film about the events that occurred just after JFK got shot sounds intriguing, but unfortunately has been pretty slammed in the reviews.
Doctor Who: Seasons 1-7 Giftset: A big set of the new Doctor with some silly gifts (including a sonic screw driver/universal remote) with all the episodes, Doctor Who Confidentials, Christmas Specials and the recent Proms.
Lovelace: Amanda Seyfried stars as Linda Lovelace the complicated actress who starred in Deep Throat and later became a feminist activist.
Robotech: Complete Set: Robotech was my very first entry point into Japanese Anime. I used to rush home from school every day to catch The Macross Saga. This set includes that series plus Robotech Masters and The New Generation.
Weeds: Complete Collection: The first three seasons of this pot dramedy were a brilliant, subversive, and hilarious. Sadly after that, it quickly slid further and further downhill.
Absolutely Fabulous: Absolutely All of It: Many of my friends in college loved this British comedy import. I never managed to catch it, but for those who did this set includes the entire show plus loads of extras.