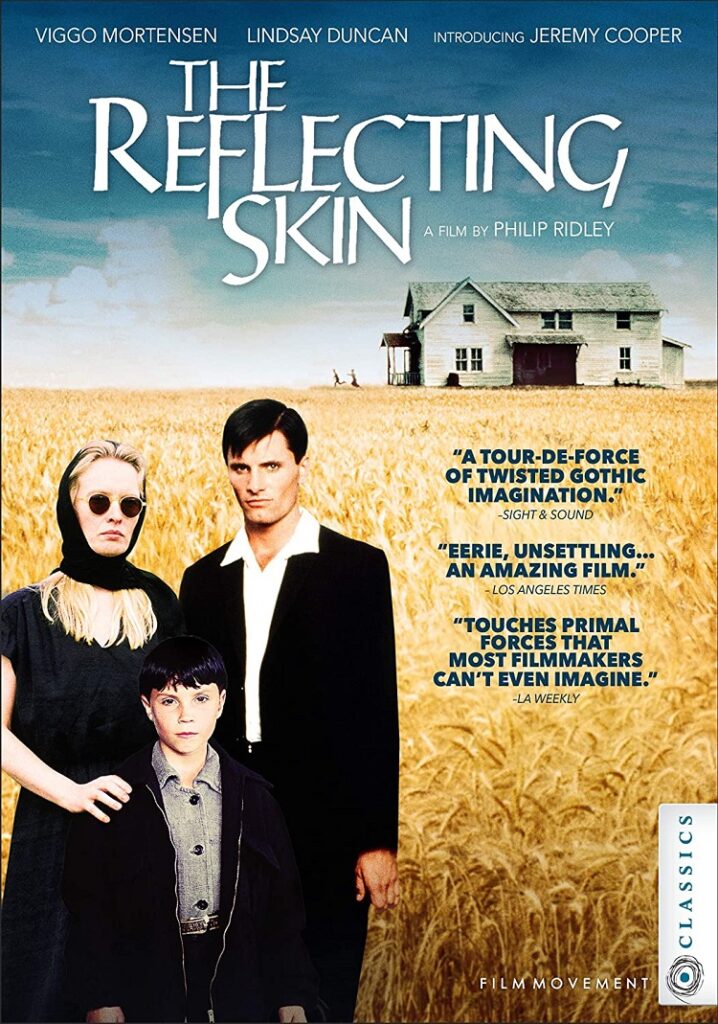 When it comes to youth, the rites of passage are always paved with dark uncertainty and a cerebral outlook on life. The imagination of children seems to come from bouts of incoming trauma and fear of growing up in a world that often doesn't share the same viewpoint. In a shocking way, The Reflecting Skin, director Philip Ridley's 1990 nightmarish portrait of American Gothic seen through the eyes of a child, definitely does just that while reaching levels of boldness that most directors wouldn't dare tread.
Set in 1950s rural Idaho, mischievous eight-year-old Seth Dove (Jeremy Cooper) lives with his unhinged mother and guilt-ridden father in a farmhouse next to their family's decrepit gas station. To makes his matters worse, a series of mysterious deaths cause him to believe that Dolphin Blue (Lindsay Duncan), the beautiful and nearly invalid British widow living next door, is a vampire. Around Seth, the fear and paranoia leaves the town in constant peril as his father is the prime suspect, which leads him to commit self-immolation. The only bright light in the limitless darkness comes in the form of his older brother Cameron (Viggo Mortensen, in one of his first film roles), who returns home from military service and falls in love with Dolphin. But in a tragic way, Seth finds that you shouldn't always judge a book by its cover, because he learns too late that she isn't the killer and that she herself becomes the latest victim of a local greaser gang prowling the roads. This leaves Cameron in despair and Seth in a rage as he runs away in embarrassment. In the film's haunting final shot, he is seen screaming and lifting his hands in the air as if he is asking for forgiveness for his sins.
When it was first released, it was met with half praise and half scorn, considering the subject matter and overall confusion that it left critics and audiences. For me, I can see sort-of see why; it's a very odd but oddly beguiling film full of stunning cinematography and bleak atmosphere. It's a definite head-scratcher. Is it a twisted romance? A fairy tale gone bad? Someone's disturbing fever dream? However you interpret it, it is one of those films that's difficult to forget but impossible to see only once.
The new Blu-ray release by Film Movement includes a new pristine 4K restoration and a few special features including Angels & Atom Bombs: The Making of The Reflecting Skin; commentary with Ridley, and trailers (The Quiet Earth, Kamikaze '89, and All About Lily Chou-Chou). There is also a booklet with new essays by Travis Crawford and Heather Hyche.
Reflecting Skin is a brutally surreal coming-of-age gem that's obviously not for everyone, but if you love outsider cinema and films that don't fit one particular genre, then you'll be hard pressed to find a film more primal and squirm-inducing than this.