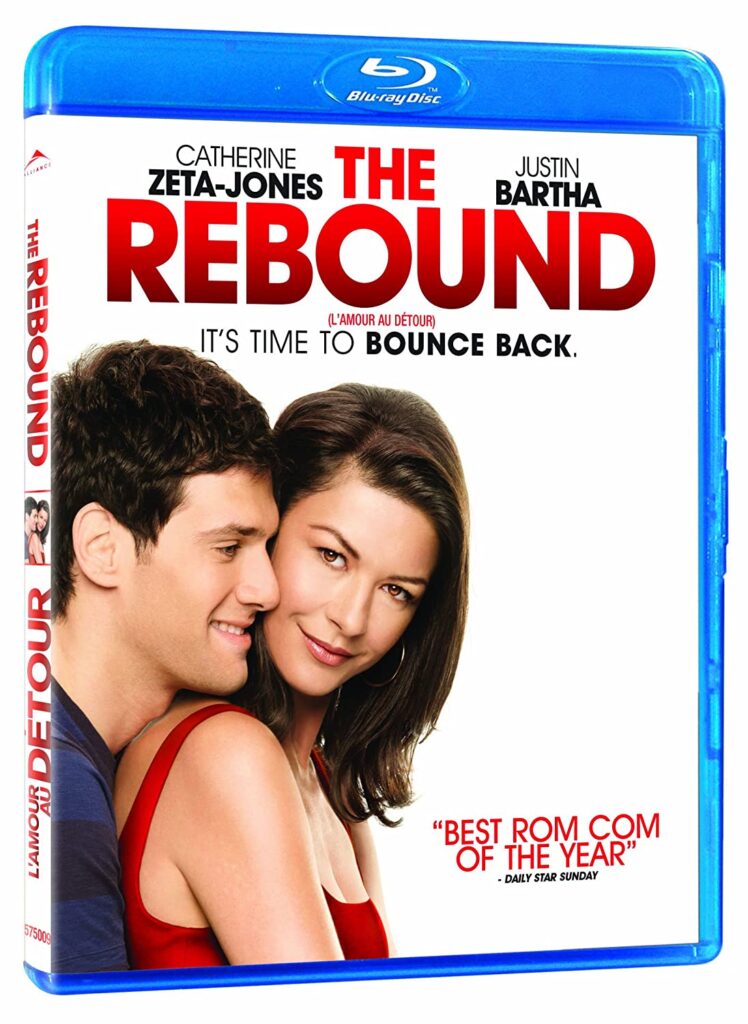 Yup, it's another chick flick, kids. But what sets The Rebound apart from its multiple competitors out there is that this title tackles that often-taboo subject of an older woman bedding a younger fellow. Now, having been a cougar and MILF (not to mention psycho) magnet for many, many years, I can wholly relate to this premise — and the moment wherein 25-year-old Aram Finkelstein (Justin Bartha) is being razzed by the friends of his twenty-years-his-senior girlfriend, Sandy (Catherine Zeta-Jones), brought back a irksome memory or two. The appealing part of the segment, of course, was that Aram is a total smartass — and is able to turn the table on his would-be harassers.
But I'm getting ahead of myself. The Rebound opens with an average soccer mom (Zeta-Jones) discovering her husband has been getting a little on the side, to wit she packs up the kids (Andrew Cherry and Kelly Gould) and moves to New York City. There, she meets a nice young Jewish boy: Aram (Bartha), freshly divorced from a sham marriage and still-a-hurting — and who works at the coffee shop downstairs. The two have more in common than separation, though: Sandy is figuring out what it takes to start her life all over again, while Aram (whose parents are played by Joanna Gleason and Art Garfunkel) has yet to figure out where his is going.
While it isn't exactly standard protocol for newly-single mums upstairs to hire coffee shop employees for the purpose of supervising young children, Sandy winds up hiring Aram as a babysitter for her kids — partly because she senses the kindhearted nature of the lad, but mostly because her relentless friend Daphne (Kate Jennings Grant) is trying to set her up on a date so she can get laid and move on. But the men Daphne finds for Sandy are anything but keepers — they're not even fit for one-night stands as far as our heroine is concerned (John Schneider has a nice cameo as a kooky suitor) — and our two main characters soon start to form a relationship together. Sadly, though, there's an age factor to contend with — as is there an issue with Aram's undiscovered sense of being.
Those of you who are looking for a laugh-out-loud rom-com with a heavy emphasis on hilarity will no doubt be disappointed here, as The Rebound keeps its humor at a rather discerning level. The romance, too, is somewhat on the minimalist side. When combined and scrutinized, it's easy to see why it took two years for The Rebound to make it to cinemas in the U.S., and another year to hit home video: it's not just formulaic enough for the market. While the film isn't a terribly superb one, it still emerges as passable "chick flick" fare (which I tend to enjoy for some reason). Sadly, any chance of the film becoming a hit went out the window as soon as it sat on the shelves for several years.
The Rebound's home video release on Blu-ray and DVD is just as low-key, with little to no promotion, and a singular special feature (cast and crew interviews) accompanying it. The release features a nice 1080p transfer, though, and a DTS-HD Master Audio 5.1 soundtrack that suffices admirably for this kind of movie.
In short: The Rebound is best viewed with a date and a bottle of wine, but don't go expecting it to get you laid.