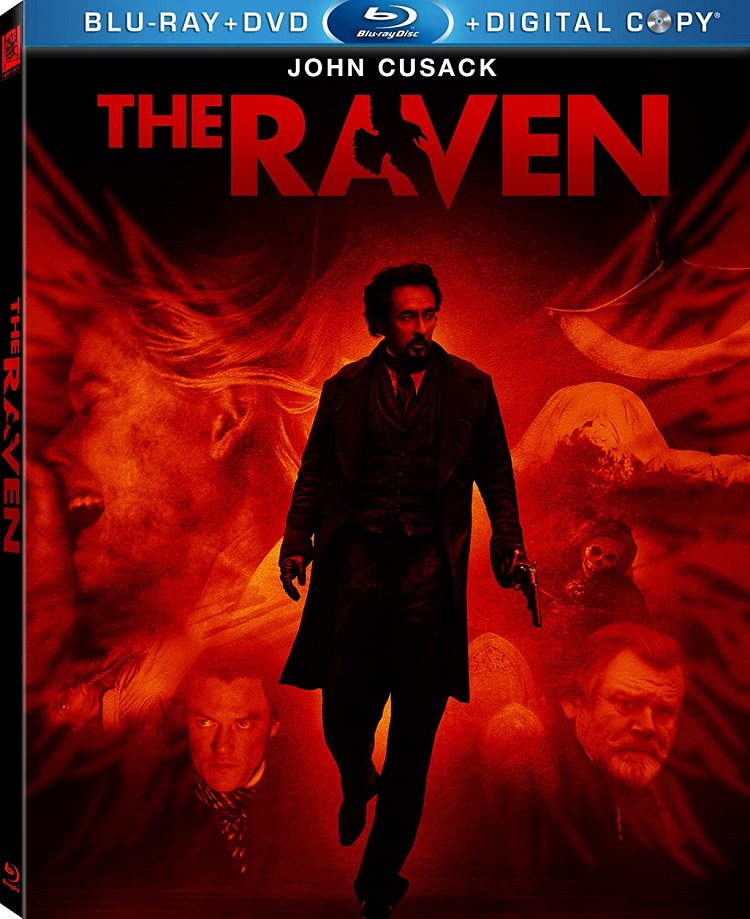 Directed by James McTeigue, The Raven is a silly film with a silly premise that has no idea how silly it needs to be. The 2012 thriller comes written by Ben Livingston and Hannah Shakespeare and purports to be a fictionalized account of Edgar Allen Poe's mysterious last days. With the audacity to take such brave creative license comes no levity, however, and the film's stone-serious tenor sinks the ordeal.
The writers apparently used some details of Poe's life in putting together the screenplay, with insinuations to his alcoholism and peculiarity coursing through the movie's dark veins. There were indeed some real mysteries surrounding Poe's last days on earth, but The Raven's only interest in probing them comes along to serve up a timeworn, tiresome mystery tale tinted with CGI gore.
John Cusack, a long way away from a certain Peter Gabriel concert, stars as the writer. He is introduced as a destitute drunk wandering the Baltimore streets in search of liquor and some semblance of creativity. The well, as he would put it, has dried up and there are no more stories like "The Raven" and "The Murders in the Rue Morgue" to speak of.
In what turns out as a happy accident, a series of murders that closely resemble published Poe works involve the writer on a deeply personal level. He is drawn in after a critic turns up dead "The Pit and the Pendulum" style. Teaming up with Inspector Emmett Fields (Luke Evans), Poe takes to the case as a consultant to track down the killer before it's too late.
The Raven is a ridiculous film. The killer's justification for targeting Poe is hysterical, but McTeigue plays it so earnestly that it's hard to make sense of it. That the bad guy proposes taking his gig on the road to target Jules Verne should prompt plenty of guffaws, but sadly The Raven leaves those prospects on the sidelines.
There's little doubt there's a market for this kind of material. After all, Abraham Lincoln has been slaying vampires and zombies have overrun the works of Jane Austen. Taking creative license with historical figures is nothing new, but treating said license with such outward condescension is a sure way to drag audiences to tears.
Cusack is bewilderingly miscast, for one thing. His solemn portrayal of Poe works him through lines like "I'll send you to hell, huh? Hell!" with campy indignation, but he never reaches the breaking point that personalities like Nicolas Cage or Johnny Depp could've pulled off in the same shoes. Cusack is a fine actor, but perhaps that's the problem.
McTeigue's film looks the part, saturated in Gothic night and sinister set design. The characters are well-costumed and the use of Poe's love interest (Alice Eve) in a buried alive situation is an interesting touch thanks to some creative camera angles. But the organic gloom is diluted by the startling dose of gore, distributed via CGI to its most extreme extent during the "Pendulum" sequence.
As mentioned, The Raven is a ridiculous motion picture. It should be. The problem is that it isn't outrageous enough, choosing to traverse its farcical path with a stony stare as opposed to a glowing smirk. McTeigue's film boasts promise, but a miscast star, tortuous plot and whispery pacing proves ultimately more terminal than anything imagined on Poe's pages.
The Blu-ray (and DVD combo pack) release includes a DVD version of a flick, an audio commentary by McTeigue and the film's producers, and some behind-the-scenes features pertaining to the music, cast and feel of the feature. There is also a historically-inclined feature about Edgar Allen Poe.
As far as the visuals go, the Blu-ray presentation is pretty soft and hazy – but that's largely the fault of the source material. The Raven is a fairly gloomy film initially, so it's hard to say that it benefits much from high definition. The blockbuster blue tint is also present throughout, so that can be a bit off-putting. Digital effects, like when the blood flies from the "Pendulum" sequence, look even worse in 1080p.
Audio is delivered in 5.1 Dolby True HD, but there isn't much "surround" in the final analysis to be concerned with. It's not bad overall, but there's very little here to really bring out the richness of a full audio experience.