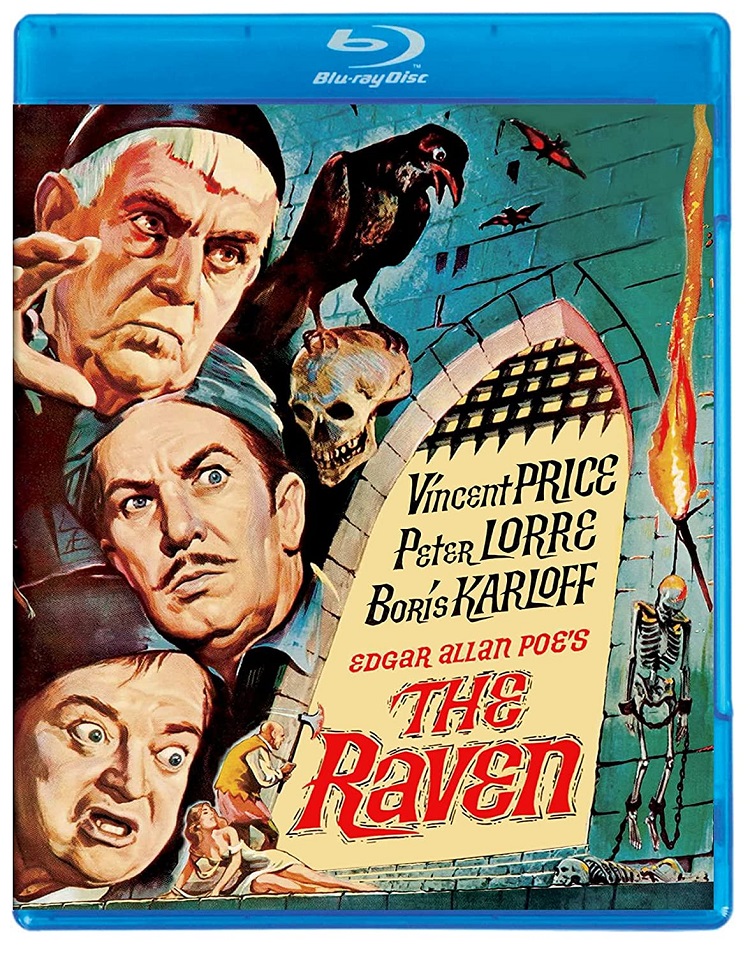 In the early 1960s, producer/director Roger Corman made a series of movies adapted (to varying degrees) from the work of author Edgar Allan Poe. The Raven was the fifth but Richard Matheson's (under the name Logan Swanson) script goes way beyond the story of Poe's famous poem and is turned into a horror comedy.
The film opens with the wizard Dr. Erasmus Craven (Vincent Price) reciting Poe's "The Raven" off screen. He is seen conjuring a raven by way of special effects, which are dispelled by the wind. Going to close the window, he bonks his head on a telescope in a silly manner, revealing the movie won't be as spooky as it has been suggested by what has been seen before.
Like Poe's narrator, Craven longs for his dead Lenore, who has been gone for two years. Back in his study, "there came a tapping" at the window and Craven lets in a raven, who is actually the wizard Beldo (Peter Lorre) bewitched by Dr. Scarabus (Boris Karloff). Reversing the effects of the spell takes a bit, which suggests Craven isn't as good a wizard as Scarabus but Beldo frustrated because he is partially a bird leads to some laughs. Beldo wants to return to Scarabus' castle to retrieve his magical equipment. After mentioning he saw Lenore there, Craven goes with him to see if Scarabus has trapped his late wife's soul. Craven's daughter Estelle (Olive Sturgess) and Bedlo's son Rexford (Jack Nicholson) join them on the journey but don't add much to the story.
Not sure who The Raven was marketed to, but it comes across like a silly, spooky movie for children, though not sure kids of today would sit still even with its short run time of 86 minutes. The comedy is more amusing than laugh-inducing, and the scares aren't chilling. Matheson's script, which fans of the poem will hardly recognize, offers a good plot twist when Craven learns what happened to Lenore. The film concludes with a magic battle conducted through film trickery and special effects.
The video is presented in 1080p AVC/MPEG-4 encoded transfer displayed at aspect ratio of 2.35:1. Colors appear in strong hues. Black are inky and whites bright, contributing too a strong contrast, put to good use in cinematographer Floyd Crosby's lighting design. The focus is sharp and texture detail can be seen in costumes and sets. The image look free of dirt and damage. There are a couple single shots of the raven on a bust that are out of focus. Am curious what happened to the source/
The audio is available in DTS-HD MA 2.0 Mono. The Blu-ray jacket states this is a "musically edited version." As this is my first time seeing the film, I can't comment on how much of Les Baxter's score has been replaced or altered, but what's here comes through with good clarity. Dialogue is clear even Lorre's voice when altered to convey he's a raven. The effects are adequate while augmenting the scene and contribute to the mood.
The extras, which include interviews with crew members taken from previous home releases, are
Audio Commentary by film historian David Del Valle, who delivers an entertaining talk about the film and those who worked on it.
Corman's Comedy of Poe (8 min) – The producer/director discusses the making of the film.
Richard Matheson: Storyteller (7 min) – The screenwriter reflects on creating the script.
Trailers from Hell with Mick Garris (3 min) – the filmmaker reminiscences about enjoying the film.
Theatrical Trailer and nine other trailers of films starring Vincent Price.
Corman's The Raven may have its fans, particularly those who grew up with, but as it lacks in the areas of horror and comedy, I didn't connect with it. That said, it was fun to see the main trio play comedic roles, a rare occurrence in their careers. The Blu-ray's delivers pleasing video and fans will be happy with the few extras included.