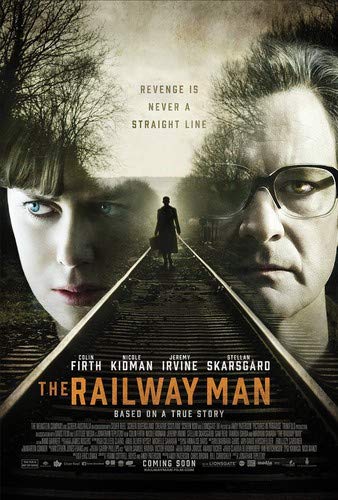 My wife, like all red-blooded women (and more than a few red-blooded men) loves Colin Firth.  She practically drools anytime his name gets mentioned and goes weak in the knees when he appears on screen.  This is mostly due to his appearance as Mr. Darcy in an old A&E miniseries adaptation of Pride and Prejudice.  I've tried to watch that thing several times myself, but can never get more than half an hour in before I'm digging my eyes out with a salad spoon out of sheer boredom.
But I can see what she means about old Colin.  He has a wonderful handsomeness to him and a deep, affecting charm.  He's also a wonderful actor and seems like a genuine human being.  Throw in that affable English accent and you might just see my knees go a little wobbly, too.
I'm always interested in seeing the films he's in because even if the film's rubbish, you can count on his performance.  This is true in films that I've never heard of, too.  For instance this week's pick is a movie I'd never heard a thing about until I was looking through the new releases.
The Railway Man stars Colin Firth as a real-life British Army officer who was captured by the Japanese during WWII.  He was sent to a POW camp where he was tortured and forced to work on the Thai-Burma Railway.  Decades later, he and his wife (Nicole Kidman – another actor whose work I'm always willing to check out) discover that the Japanese soldier responsible for his treatment is still alive and the two set out to confront him.
That's a pretty interesting story line and with those two actors in, it I'm ready to call it my Pick of the Week knowing nothing else.
Also out this week that looks interesting:
Filth:  I'm right in the middle of the Irvine Welsh novel this one is based on. Much like Trainspotting, the novel is filled with all sorts of sexy, drugs, and debauchery, and hilarity.  The film starring James McAvoy seems to have slipped out without much notice, but I still have hopes Welsh's words can translate at least somewhat to the screen.
Low Winter Sun:  AMC has done well with dramas but this one doesn't seem to have caught on well with critics or audience.  Still, it seems worth checking out.
Mr. Majestyk:  Charles Bronson starred in this 1974 film based upon an Elmore Leonard novel.  I'm actually reading that book as well, which puts us at two films coming out this week based on novels I'm in the middle of.
Blacklist: Season 1:  James Spader stars as one of the FBI's most wanted who suddenly turns himself in with a strange offer:  he'll help them catch the bad guys but only if he can speak exclusively to a new rookie officer.  That sounds terrible, but I really like James Spader and am willing to give it a shot.
Batman: Assault on Arkham:  I'm not at all an expert on all things Batman, nor even animated Batman.  But I've liked everything I've seen, including this one.  I hope to have a full review soon.
The Marx Brothers TV Collection:  A big collection of over 50 appearances by one or all of the comedians on various television programs.