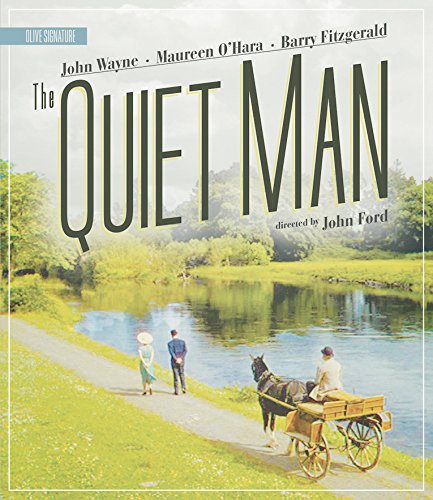 Based on Maurice Walsh's short story of the same name, The Quiet Man is the eighth pairing of actor John Wayne and director John Ford. It's a feel-good story where two people fall in love at first sight, which is easy for the viewer to believe if all one needs is for your partner to look like the rugged Wayne or the beautiful Maureen O'Hara.
Sean Thorton (Wayne), born in Ireland and raised in America, returns to his native land to buy his old family homestead. He immediately falls for Mary Kate Danaher (O'Hara), a red-headed Irish lass, when he sees her tending sheep. Her brother, Will Danaher (Victor McLaglen), has an immediate falling out with Sean because he had long wanted to buy that property, but Sean outbids him. Sean wants to marry Mary Kate, but Will refuses. That is until some townsfolk convince Will that to obtain the hand of Widow Tillane (Mildred Natwick) he must get his sister out of the house. Sean must then court Mary Kate in the customary traditional manner, which he bristles against.
The story goes on a bit long after their marriage as Will refuses to give up Mary Kate's dowry when he learns he was tricked into giving the pair his consent. This causes a bit of strife between Sean and Mary Kate. He doesn't see the need for it, but she believes in the principle, yet not enough to get legal authorities involved, which undercuts her position.
After that matter is resolved, the brothers-in-law battle throughout the village in the film's legendary, silly fist-fight sequence, which includes them taking a drink break at the local tavern. There's a backstory about Sean not wanting to fight anymore because of an incident in his past, but that is easily dismissed for the raucous climax, rendering another story element moot.
The Quiet Man is lighthearted entertainment that deals with love and marriage at a superficial level. The two leads and Winton Hoch's Oscar-winning cinematography are delightful to look at, and that will be satisfying enough for some, but the story and characters would have been served with more complexity.
Mastered from 4K scan of original camera negative, the video has been given a 1080p/MPEG-4 AVC encoded transfer displayed at an aspect ratio of 1.37:1. Hues are vibrant, as seen in the spectacular greens of Ireland's countryside and O'Hara's red hair. Blacks are solid. The image looks clean, free from dirt and defect. The phoniness of the rear projection is made more apparent. The audio is available in DTS-HD Master Audio 2.0. The music gets a touch too loud at times and clarity slightly diminishes. Otherwise, there are no flaws from age or wear. Unfortunately, the subtitles don't punctuate with commas when speakers refer to someone, which is a pet peeve of mine.
The extras, the video of which are in HD unless noted, are:
Audio commentary with John Ford biographer Joseph McBride – A thorough track that examines the making of the film including details about Ford's life and why he had a connection to the material
"A Tribute to Maureen O'Hara: with Hayley Mills, Juliet Mills, and Ally Sheedy" (10 min) – The three actresses who worked with O'Hara sing her praises.
"Don't You Remember It, Seánín?: John Ford's The Quiet Man" (18 min) – A visual essay by historian and John Ford expert Tag Gallagher covers elements such as repeated motifs in Ford's work and the relationship of Sean and Mary Kate
"Free Republic: The Story of Herbert J. Yates and Republic Pictures" (6 min) – A brief look at the studio and its founder, which financed and distributed The Quiet Man.
"The Old Man: Peter Bogdanovich Remembers John Ford" (13 min) – Bogdanovich talks about The Quiet Man and his encounters with Ford, whom he profiled in the documentary Directed by John Ford.
"The Making of The Quiet Man" (SD, 28 min) – Written and hosted by Leonard Maltin, this featurette from 1992 is as the title advertises.
Although light on substance, The Quiet Man delivers a good bit of escapism. This Olive Signature release continues the label's impressive high-def standards, and the extras do a great job of telling the story of the film's creation and about some of those responsible.