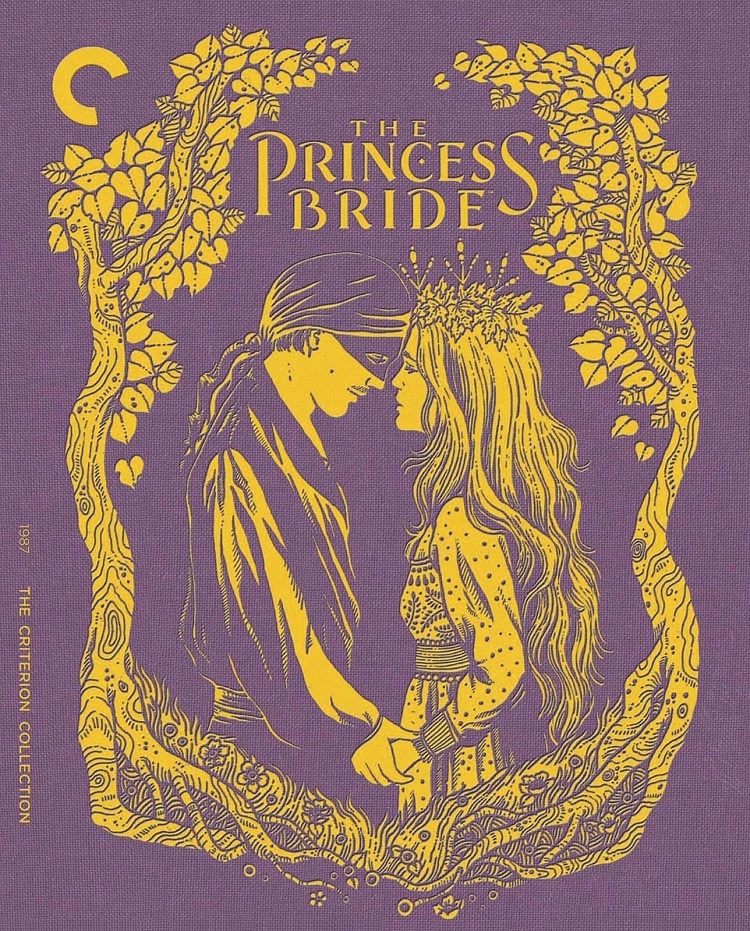 Westley, Buttercup, Inigo Montoya, Prince Humperdinck, Count Rugen, Vizzini, Fezzik, Miracle Max, and other memorable characters inhabit the 1987 whimsical and seminal The Princess Bride, beautifully directed by Rob Reiner and wonderfully adapted by William Goldman from his 1973 novel.
A bedridden kid (Fred Savage) reluctantly allows his grandfather (Peter Falk) to read to him a fairy tale that centers on the newfound romance between the lovely Buttercup (Robin Wright) and the dashing Westley (Cary Elwes) as he attempts to save her from having to marry the monstrous Prince Humperdinck (Chris Sarandon). Along the way, he meets a mysterious pirate (Wallace Shawn), a vengeful Spaniard (Manny Patinkin), and a good-natured giant (Andre the Giant), who eventually helps the Black Pirate (a disguised Westley) save Buttercup and the day itself.
This classic film is full of clever gags, brilliant swordplay, and amazing turns from Elwes, Wright, Patinkin, Shawn, Sarandon, Andre the Giant, as well as Christopher Guest, Peter Cook, Billy Crystal, and Carol Kane, and it continues to be prime example of how to take a tired-and-true formula and make it inspired and incredibly refreshing.
Joining the ranks of 4K UHD from Criterion, it's still packed with the same amazing supplements as the Blu-ray, which include audio commentary featuring director Rob Reiner, screenwriter William Goldman, producer Andrew Scheinman, and actors Billy Crystal and Peter Falk; edited audiobook reading of Goldman's novel The Princess Bride by Reiner; interviews with Reiner, Goldman, and actors Crystal, Elwes, Guest, Patinkin, Sarandon, Savage, and Wright; on-set video diary filmed and narrated by Elwes; and much more! It also comes with the original essay by author Sloane Crosley and Goldman's introduction to his Princess Bride script from his collection Four Screenplays.
Obviously, I wholeheartedly recommend adding this all-time classic to your collection. A film this good and enchanting should always be celebrated.
Other releases:
Night of the Comet 4K UHD (Scream Factory): An entertaining 1984 cult apocalyptic classic starring Catherine Mary Stewart and Kelli Maroney as two sisters/Valley Girls having to rebuild their lives after a comet wipes out most of Earth.
Master Gardener (Magnolia): Paul Schrader's latest film stars Joel Edgerton as a pitch-perfect horticulturist who tends to the grounds of a beautiful estate and panders to his employer (Sigourney Weaver), the wealthy dowager.
Sleepy Hollow 4K UHD (Paramount): Tim Burton's moody 1999 horror tale loosely based on Washington Irving's classic tale "The Legend of Sleepy Hollow" about Ichabod Crane (Johnny Depp), the eccentric investigator determined to stop the murderous Headless Horseman, and Katrina Van Tassel (Christina Ricci), the beautiful and mysterious girl with secret ties to the supernatural terror.