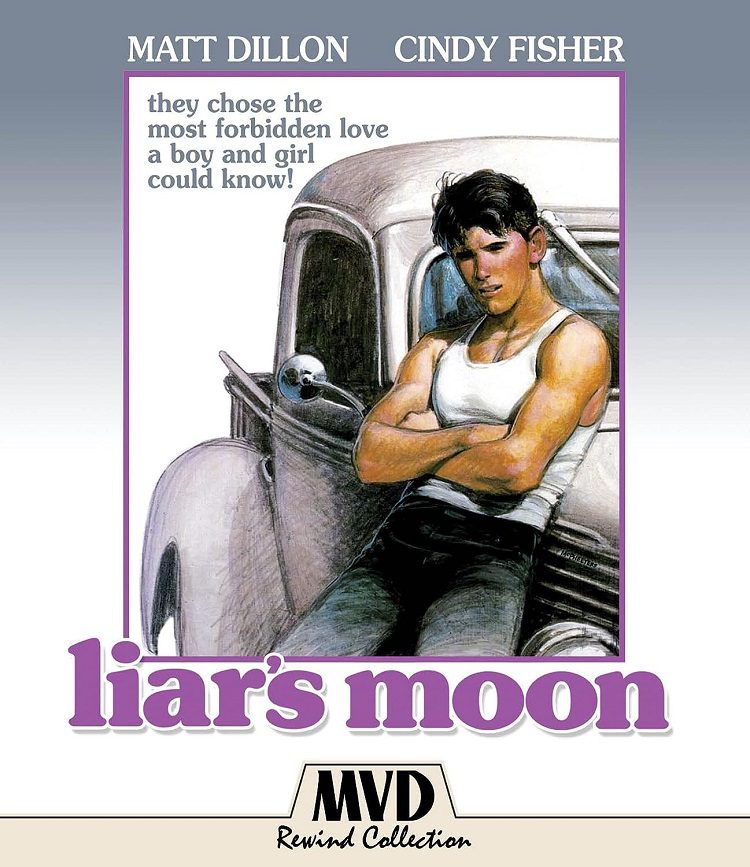 Rich girl, poor boy. Good kids tangled in a web of deceit spun long ago by their parents. It's Romeo and Juliet set in 1940s Texas with a double twist, a choose-your-own-ending "option," and a swinging country soundtrack. 
Texas, summer 1949, Jack (Matt Dillion), a hard-working poor kid, meets Ginny (Cindy Fisher), a rich girl who's home from a fancy eastern boarding school. Jack apologizes for knocking her to the ground while chasing a greased pig and it doesn't take long for them to fall hard for each. Little do they know their parents share a twisted, complicated past which will cast a tragic shadow on their future. Fed up with their parents pushing too hard to keep them apart without exposing that past, Jack and Ginny decide to abscond in the night to more accepting places. 
Once the couple has gone, Ginny's father (Christopher Connelly) hires a hard boiled P.I. (Ricahrd Moll) to hunt them down and bring his daughter home at any cost. Away from home, the newlyweds find a room to rent from a friendly Louisiana lady named Dubois (Yvonne De Carlo) while Jack works and Ginny learns the ways of domestic life from Dubois and a sultry streetwise lady of the night (Susan Tyrrell, who has some great lines). All's well with the happily hitched kids now expecting a baby until the doctor calls with a shocking secret, the couple are engaged in the most forbidden love of all: incest. That shocker sends Ginny into a panic and forces her to make a tragic decision. Making matters worse, the private dick has caught up to them and is heavy on their heels. 
Back in Texas, we learn that Jack's mother (Margeret Blye) and Ginny's dad were high school sweethearts until mum was left high and dry for a woman with wealth and connections. All this is hinted throughout the picture but when the two meet face to face, it's all laid out and fully explained. While Ginny's father believed Jack to be his son the whole time, Jack's mum had been lying to him just to dig at him for leaving her. What a twist…to a twist!  Except now, poor Ginny and Jack suffer the consequences of this tangled web of deceit spun under a hazy, gray liar's moon. 
Liar's Moon is a 90-minute, teenage soap opera with a good story that's a bit sappy and melodramatic yet well-meaning and good-hearted with an authentic soundtrack beating at its core. It was filmed in Texas towns that match the time period perfectly and further lend an air of authenticity to the movie. The major issue is that the story wraps up rapidly and seems a bit cramped, as if they were forced to jam pack it all into the 10 minutes before they ran out of film. 
There were two endings shot (and distributed causing confusion among fans for years), the original tragic ending was deemed too dark. Its haunting closing image works best with the photo montage and song used over the closing credits. The sad ending was replaced by the more audience (i.e. teenage girl) friendly, happy ending and that version is okay but it's corny and out of sync with that montage. Both endings made their way to the home-video release as a kind of choose-your-own-ending gimmick. 
First-time director and law student David Fisher cleaned up the script and helped bring wealthy computer industry businessman turned writer/producer Billy Hanna's passion project to the big screen. The story, co-written by Hanna's young daughter Janice Thompson, was loosely based on Hanna's life as he pictured it as a struggling kid in Illinois. Fortunately for those two, and thanks to a writers' strike, some good actors and veteran film crew folks were available to lend their skills and help out on Liar's Moon. Kathryn Bigalow benefited from that same strike as well while making her debut film The Loveless 
Matt Dillon, on the edge of stardom, lands his first lead role, and we can see him getting his feet under him and working on the persona that will pretty much carry him through the rest of the 1980s. Fisher does fine in the happier scenes but tends to over (or under?) act during the heavier ones. Jack's two redneck buddies, Bobby (Mark Atkins) and Mike (Jim Greenleaf), do well in providing the comic relief. The remaining cast includes some old pros like De Carlo, Broderick Crawford, and Hoyt Axton. Crawford as Ginny's understanding grandpa has some memorable scenes. While Axton, who stands out as always, plays Jack's dad wonderfully; this easy-going dad character we'll see again when he deals with Gremlins a few years later. 
The country/western swing soundtrack and score provided by Ray Benson of Asleep at the Wheel, with help from Michael Ochs, goes very well with the movie and its time period. Ray does an outstanding job making original, authentic music that sounds as if it came straight from the 1940s / early '50s and not like some modern knock-off. Ray's use of period instruments/equipment sets the mood and keeps the sound fresh and alive throughout; during the big country dance, the band swings and howls as its male vocalist works up the dancing crowd. The female lead hits hard with her Patsy, both Cline and Montana, like sound on the slow, heart-wrenching ballads when scenes become somber. Speaking of Patsy's, the dance choreography was done by one Patsy Swayze, whose son Patrick is somewhere in the dancing crowd and would soon go on to co-star with Matt Dillon in The Outsiders.
The Making of Liar's Moon runs about as long as the movie itself and is a well-edited collection of zoom and in-person interviews, helping to shed light on the story and filming of Liar's Moon both in front and behind the camera. The selected cast and crew are insightful and enlightening as they speak about the principle players involved with making Liar's Moon a big-screen reality. Ray Benson has a 15-minute featurette that focuses on the music and goes into more detail on how he brought it all together for the score and soundtrack. As always, I absolutely love the slipcase from MVD Entertainment. As part of its "Rewind Collection" it looks like a beat up old VHS cover, slightly exposing the cassette at the bottom.
Special Features include
New! "The Making of Liar's Moon" (HD, 105 min) featuring writer/director David FIsher, co-writer Janice Thompson, actress Tonja Walker, composer/song-writer Ray Benson, Jeanine Hanna (wife of producer Billy Hanna), production manager Susan Vogelflang, and set decorator Maria Caso
New! "The Music From Liar's Moon" (HD, 14 min) featuring composer/songwriter Ray Benson and director David Fisher
Theatrical Trailer
Reversible Artwork
Collectable Mini Poster
Liar's Moon is a watchable, teenage soap opera about love, choices, and consequences, loaded with great music. Worth the watch to see the young, future star mixing it up with some old pros.