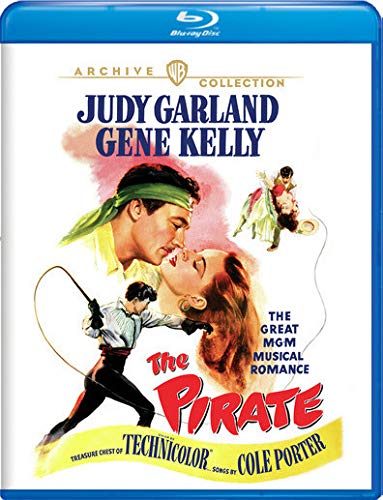 On paper, this classic musical has everything going for it. Headlined by the top-tier star pairing of Gene Kelly and Judy Garland, with songs by Cole Porter and direction by Vincente Minnelli, it's a dream team of talent that seems like a guaranteed hit. So why is it barely known today? Well, to the creators' credit, they tried to do something unique with the pirate theme, but to their detriment, it doesn't really work out. Still, it's a glorious, over-the-top mess stuffed with superb production numbers and a mercilessly mugging Kelly setting the standard for flamboyant screen pirates decades before Captain Jack Sparrow.
The film is set on an island somewhere in the Caribbean, where the prim and proper Garland is engaged to be married to a repulsive, old, rich man. Kelly's character isn't actually a pirate, but he hams it up as one as an entertainer in a travelling performing troupe. When his show comes to Garland's town and he sets his sights on her, he hypnotizes her on stage and reveals her lusty innermost desires about a mythical pirate named Macoco, causing her no end of embarrassment. Meanwhile, there actually is a dangerous and powerful Macoco on the island, although his reveal is muddled by Kelly's character temporarily pretending to be him, leading to mistaken identities and further hijinks.
Garland is great in her role, especially when she cuts loose in her numbers with Kelly and legitimately seems to be having fun. However, this is really Kelly's show, and he delivers with amazing dance numbers that even see him matching the legendary Nicholas Brothers move for impressive move in one act. He's a force of nature here with a sheer physicality that reminds why he's the most impressive dancer to ever appear on screen. He hams it up as his pirate costumes get progressively more flamboyant, and somehow pulls it off even as the movie becomes increasing ridiculous.
The pirate concept and the script are the big detractors here, as well as the uncomfortable Caribbean island setting populated by white actors playing non-white characters. Garland and Kelly both don't seem to know how to pronounce Garland's character name Manuela, adding some unintended comedy to the film. I'm curious about the studio's thought process when they greenlit the idea, and while it's refreshing that they tried something different than the typical backstage-Broadway concept, it quickly becomes obvious why the film has been largely relegated to the dustbin until now. Still, there's so much quality entertainment packed in the film that it absolutely deserves this new attention.
The new Warner Archive Blu-ray features a 1080p HD restoration from a 4K scan of the original nitrate Technicolor negatives. As a result, the image quality is impeccable, with no apparent defects or degradation. The original film grain shows at an acceptable level, and while the colors are fully in line for the film's era, they're a bit more washed out than our current HDR standards have conditioned me to expect, making me wonder how much better the film would look if had been enhanced. The soundtrack is DTS-HD Master Audio 2.0, exhibiting a bit of hiss but otherwise just fine.
The disc features an impressive amount of bonus features headlined by a 20-minute making-of featurette from 2008 containing interviews of people with knowledge about the production including Liza Minnelli, granted her insider knowledge as the daughter of the director and Garland. To complete the illusion of a theatrical presentation of the movie in its era, the disc also includes a great vintage Tom and Jerry cartoon directed by Hanna and Barbera before they moved into cheap TV animation. Elsewhere, the bonus features include separate amusing promotional radio interviews with Kelly and Garland recorded around the time of the movie's release. There's also a stereo remix version of the song "Mack the Black", as well as a handful of other song outtakes and guide/rehearsal song recordings. It's great to see so much bonus content for a lesser-known classic film, further enhancing an already excellent release.